Since my last big post,  I have been trying to get motivated to do a lot of things that I feel I put to the side during training. Since AR50, I've been spending more time with the girls, more time resting, hanging with friends and planning birthday parties for the Peanut and Squeaker.
I have also been contemplating this blog and my last big post about being Plant-Based. I am basically learning on the fly and finally diving into what this website can do or really, what I can do to this website.
What I have learned is that I cannot have a "blog" like format (i.e. multiple posts) on separate pages. So that Plant-Based page I was dreaming of, did not quite materialize as planned. Instead, I spent quite a bit of time "Categorizing" my posts into separate…well, categories. If you see on the right hand side of your screen, there are four categories listed: Trail Running, Plant-Based, Race Reports and Uncategorized.
So basically, I will have to continue posting on this page (Home) BUT if you recall a post that you read here that you'd like to go back to, or if you missed a few (hey, it happens I can't expect everyone to subscribe – hint hint) then just click on the Plant-Based category and you'll find what you are looking for (I hope anyway).
I am working on a few posts (in my head) that I need to sit down and pan out a bit. Time has been consumed lately with a certain little Peanut's 7th birthday that is quickly approaching as well as an awesome get-away weekend with some old and new friends.
The Trailmomma family traveled to La Porte, California (population 26 – maybe on a good day) for a wonderful weekend where we "unplugged" so to speak and enjoyed good company and great food.
Stonegate planned and organized the whole thing and she did a fantastic job. She assigned me to a crew that consisted of 3 or 4 other families for our Saturday evening meal prep. I was in charge of the vegan/plant-based dish. I lugged my Instant Pot all the way to La Porte and it came through 100%. Unfortunately, I didn't take a photo of my final meal, but it was pretty tasty and I used a new (to me) bean called a Pinquinto! I followed this recipe here modifying it a bit to my liking.
Also, I have a Facebook page – www.facebook.com/trailmomma that mostly consists of plant-based nutrition posts or photos. So if you like that kind of thing, feel free to head on over there as I tend to post more frequently over there than I do here.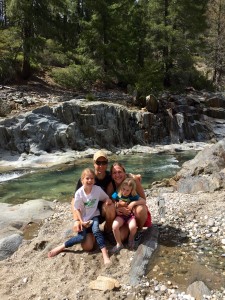 Happy Trails!
~Trailmomma