That Dam(n) Race Half Marathon and 10k race celebrated its third anniversary this past Sunday and I was FINALLY able to participate! 2012 was its inaugural year and I was all signed up to do the half and Vans was signed up to do the 10k but unfortunately, Squeaker fell ill right before the race and I stayed home snuggling her all day long. Vans went on to run the 10k and had an amazing race.
The second year, the entire family volunteered to help at the race but Vans was super sick and it was quite cold so we didn't stay long after the race. The girls and I had a blast though but I was due. I was due to finally run this race!
I registered pretty early for the race, determined to add it to my calendar. It did fall during a time in my training schedule where I was supposed to do a super long run but I tried to improvise. I reached out to my old Coach Nikon and to Pigeon to ask for their advice. Coach Nikon said I should do the race hard and then make up some of the miles before and after but he said that racing hard would be a great training run any day compared to a long slow day. Pigeon offered up running both Saturday AND Sunday. Well, as it turns out, due to a change in plans, I did end up running a little over 7 miles on Saturday and then did the race on Sunday. Boy did my legs feel it!
I left the house bright and early on Sunday because I wanted to get a close parking space. The fire-station at Cool is notoriously hard to park, particularly when a race is involved and I didn't want to be a mile or two down the haul road from the start/finish area. When I parked it was dark and I realized that I had left my headlamp at home. Luckily the iPhone has that handy dandy flashlight feature!
Stonegate Girl quickly found me and we left our cars to get our packets. I saw Coach Nikon and the whole crew. It was nice to see everyone! I have missed my old trail people!
Stonegate Girl came and sat in my car with my seat warmers and we just talked until it was time to get ready for the pre-race briefing. Coach Nikon always puts on the best races. He had some neat raffle type gifts that he was handing out to everyone. I think everyone was smiling despite the chilly air and foggy skies.
Soon it was time to line up at the start. I still had my arm sleeves on and I wasn't sure whether or not I would ever take them off it was that cold!
Coach Nikon blew his little horn and we were off and running. It took a bit for my legs to warm up and catch on that I was running and in this race, the hills come pretty quick. It felt odd at first to be running up some of the hills we typically walk during our training runs but I wanted the race to feel hard so I could say we gave it a good effort.
Stonegate Girl stuck with me the entire time. It was hard letting people pass us from time to time but we were focused on the task at hand, just running and not getting ourselves injured.
Up and down this race goes. Stonegate Girl had never been on some of these trails and was totally blown away by the beauty of it all. It was then that I wished that I had brought my camera. Luckily Stonegate Girl had her phone and snapped this awesome shot.
Soon we approached the hill for which this race is named. That Dam(n) hill is brutal. Switch back after switch back you go. What a great training hill!
I was feeling pretty good minus my stomach. I have continued to battle stomach issues lately and it was just hovering below the surface on this run. I knew I would only be able to run for so long before I needed to find a place to duck off the trail. Unfortunately on this portion of the race, there are not many spots to do this!
The volunteers at the aid-stations were awesome. They cheered us on and wanted to know if we needed any water or fuel. I don't think we stopped at one aid-station. We used our own water and our own fuel most of the race. Always good to practice using what you may use in a race down the road.
Stonegate girl and I finally came to a spot that allowed us to duck off the trail and take care of business. I hated stopping because I knew it was wasting time but I had no choice.
Once we were moving again we came upon a pond and Stonegate Girl was beside herself with the beauty of this race. It was super well marked too, no getting lost on this course!
Finally, we could hear the finish line and we could see the line of cars lining up and down the haul road. I was ready to be done. My legs were toast and it felt like I was running in quick sand at times. My legs were spent and so was my stomach (again).  As we were approaching the finish line, I saw a sight for sore eyes … and I kind of teared up a bit.
My girls and Vans were waiting right at the entrance to the finish line! I was so happy to see them and they were wearing their big clunky rain boots because it was muddy out (great for mud, not for running!).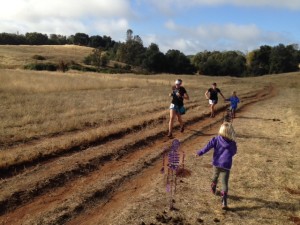 My girls love this race and they LOVE Coach Nikon and his family. I think if the Peanut could, she'd go move in with Coach Nikon's daughter Cheetah.
The rest of the afternoon was spent hanging out at the race and just talking to old trail running friends. Peanut was put to work though. She had to earn those extra "finishers" cookies.

Squeaker just follows along and was enjoying the pizza, cookies and music. I truly am so lucky to have such a great cheering section.
This was a great race and I would really like to run it hard some day. I know what I need to work on though because twos days of running had my legs feeling pretty wobbly after the race. Luckily there was a massage tent which I took full advantage of! It really helped knock the kinks out of my legs. My recovery has been slower than normal lately and I truly believe my lack of stretching is to blame (I know, duh!). I have been working on it! I also think a lack of quality strength training is hurting me as well.
I am looking forward to Coach Nikon's other race, Miners Revenge in April. This is an amazing course and I am spoiled. Coach Nikon really puts on one of the best events in town. He is race directing his first 50K this February too! Check out this link to the Salmon Falls 50K! I am VERY tempted even though I swore up and down that eventually, I'd like to go back to doing shorter distances for a while. At least until my girls get a little older. I know I say this all the time, but it is hard being away from them for so long and ultras require time to train which of course I have been doing a terrible job of lately.
This Saturday will be two weeks until my 50K. After my run this Saturday it will be taper time!! We have a busy weekend ahead which I hope to capture on camera this time around and blog about. There may be another race report coming your way involving the ENTIRE family so stay tuned (and cross your fingers).

Happy Trails & Happy Halloween!
~Trailmomma