This blog is truly an extension of me. It is usually eclectic, curious and without a real purpose or direction. Clearly if you follow me, the important things in my life are my family, trail running, friends and following a whole food plant-based diet.
So this should come as no surprise that today's post is something completely different and totally random.
A product review!
First and foremost, I promise that I will never endorse a product that I do not believe in or have not tested myself. I don't get asked to do too many reviews so when I do, I want to be fair. I want to be honest. All thoughts and opinions on here are my own.
About a month ago someone at Govivo reached out to me asking if I would be interested in reviewing one of their products. I had never heard of Govivo before so I went to their website and initially saw that they sell nutritional supplements which is something I will not review or endorse. HOWEVER, I did notice that they also sold reflective vests and running belts. Running gear? Well that is way more speed!
I chose to review their running belt.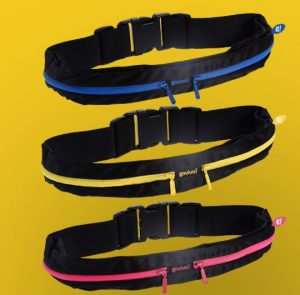 When I run during the week, it is usually before the world wakes up and with two of my best running friends. We never carry much but after some scary situations, we all carry our phones with us and so I invested in a running belt. The one I purchased initially, I got from Amazon. I just saw the cheapest thing out there and went for it. It served its purpose but after a year, it is slowly losing its tightness and has been bouncing and riding up all over the place when I run.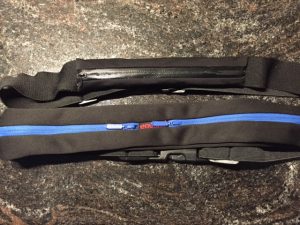 Enter the Govivo running belt. Upon first glance, it is way more "belt" than my previous running belt. The strap is thicker, the clips are thicker and the pocket itself is really two zippered pockets compared to the one pocket in my previous belt. To be honest, at first, I was a bit dismayed by it. It seemed heavier, bulkier and way more than I needed.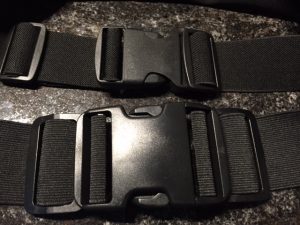 Also, in my research before receiving the belt, I noticed on their website that it says the following:
"The two double pockets (7.5″ inch wide and up to 5.5″ high) are perfect to fit the iPhone 5s, iPhone 5c, iPhone 5, iPhone 4s, iPhone 4, Samsung Galaxy S4, Samsung Galaxy S3, HTC One among others."
Hmmm, I have an iPhone 6 with a bulky case. I was a bit bummed thinking that my phone, the only reason I use a running belt in the first place, was not going to fit.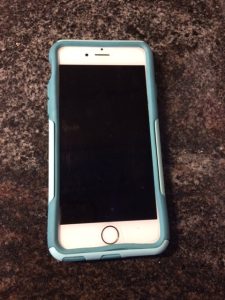 Needless to say, I was thrilled to see that my phone AND its case, do in fact fit. It takes a bit of maneuvering but it fits and it works!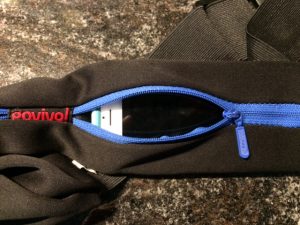 Also, what is nice about the Govivo having two pockets is that I no longer fear that my car key is going to go flying out of my belt when I stop to take my phone out for a cool morning trail selfie with my girls.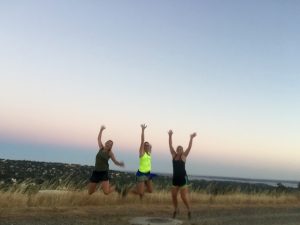 I just put the key in the second zippered pouch which is also water resistant (another bonus) and never think twice about it.
The Govivo belt is adjustable, like my previous belt. It fits perfectly and doesn't bounce or ride up at all. It also has reflective piping along the front.
The belt is sold on Amazon and currently the price is anywhere from $8 to $9 which is very reasonable and quite a deal if you ask me. My previous belt cost more than that and it barely lasted a year! I have only been running with the Govivo for three weeks now but the quality of the material is much sturdier compared to my other belt. It also comes in four colors to choose from: Pink, Blue, Black or Yellow.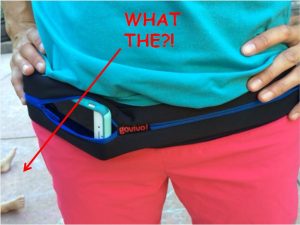 The pockets on the Govivo are quite large and I actually will consider using this during CIM (the California International Marathon). I run mostly trails and usually have a hydration pack so I don't need a running belt for those races but for a road half marathon or full marathon, where I don't wear a pack, I could conceivably wear this belt and have a place for my phone and any fuel I might want to carry. I like that.
Would I recommend it?
I would. I think for the price and the product, it is a good belt. If you can overcome the initial bulky appearance, you will barely notice that you are wearing it once you start running.  I plan to continue using the Govivo running belt because I love the no bounce and extra pocket options.
Full disclosure: Govivo contacted me and provided me their running belt free of charge in exchange for a review. All thoughts and opinions are my own. I wore the belt on approximately 10 or 11 runs ranging from 3 to 8 miles in length.
Happy Trails!
~Trailmomma