Time just seems to be flying by me lately. I swear that just yesterday it was the first of October and I was super excited for my favorite month and now, BOOM we have less than two weeks left! Halloween is just right around the corner. The girls couldn't be more excited about it.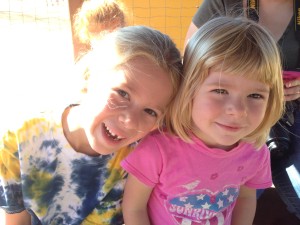 Of course the time is also flying when I look at my 50k training plan and see that we only have three weeks or so until race day! Gulp. My training has been less than stellar compared to races past but I do what I can do, when I can do it, which seems to be my M.O. for most of my races.
I am so behind in so many other areas of my life right now, why not tack on lack of mileage for a 50k? My blog has been suffering lately, I am behind in my Rouxbe assignments and now add lack of training. Vans has been traveling lately for work so my time for other things is limited but I have been enjoying my solo girl time with those two cuties above.
I did get in one last long run before Vans left on his trip. Last Sunday Burning Girl and I decided to do the route that we had done with Stonegate Girl just two weeks prior. I was pretty confident that I knew the way … famous last words.
Burning Girl picked me up and we drove to the Auburn Damn Overlook. The sun was up so I wasn't too worried about the dark and I wasn't even worried about seeing a bear like last week. We were on the other side of ADO and for some reason, in my head, that means I am safe. I know, not the best theory but I am going with it.
Off we ran down the hill and onto the single track. It was pretty darn cold compared to just two weeks ago. We were just chatting it up and we realized that without Stonegate Girl, we had to do a lot of the talking.

Which of course means that I was not paying close attention to where we were running. Yes, I took us down a wrong turn. We realized it pretty early on but we just kept going with it. We knew that the river always had to be on our right to be going in the right direction.
Up. Down. Over boulders. Under logs. We did it all. Soon we popped out onto a section of the trail that did look very familiar to me. I felt like this was the "secret" trail that I had been on a few weeks ago when I ran with another group. However, all of a sudden, things stopped looking familiar and we came across quite a few forks in the trail or turns. We'd stop, look around and make the best decision of what WE thought looked right.

Burning Girl is so easy-going. She wasn't worried one bit but I was getting a tad bit nervous and could hear Pigeon yelling at me in my head.

Soon we came across this interesting piece of Blairwitch art.
Burning Girl thought this was pretty cool and so we stopped to take some photos. I felt very secluded but was hopeful that this trail would pop us back out onto the main trail where we needed to be.
We just kept running. I stopped talking and was being more aware of my surroundings. I didn't like that some of the trail had a rock ledge above us. I always fear that something will be sitting on that ledge.
Finally however, we connected with the main trail and I was flabbergasted as to where I had made the wrong turn. We clearly came down to the river way too early and it bugged me. Burning Girl said to let it go, she loved the adventure.
I have to say, even when we were back on the normal trail, there has been lots of work lately on the trails, leaving them looking a bit unfamiliar at times. Still, now I know what I did wrong and I know where to turn next time. I swear.
The rest of the run was pretty fun. We ran into a LOT of other ultra runners out on the trail. On our route back we ran into numerous hikers and horses. So no need to worry (Dad), we were never far from someone out there. All in all, we got 15 hard miles done in a decent time and then soaked our legs in the canal again (which was WAY colder this time around).
In some other exciting news my fabulous Great Aunt Debbie came for a visit! Technically she is Vans's Aunt and the girls' great aunt – is that right? But we all call her the Great Aunt Debbie.

She came down from Idaho and we have not seen her in quite some time.
Luckily Facebook allows her to keep tabs on us and the girls and she is always my number one reader and commenter on this blog (Hi Debbie!). I wanted to share that she has lost 25 pounds recently! She has done so by really cleaning up her diet and added more exercise!
She reaches out to me from time to time for nutritional advice. She's always been plant-curious, meaning she's been thinking and asking about plant-based living. She does eat some meat but she's really increased the greens and added foods like quinoa to her repertoire. I was super excited for her visit because she always asks me for recipes for the meals that I post on my Trailmomma Facebook page.
A  lot of what I have been making lately is either part of my Plant-Based Rouxbe cooking assignments OR from my two new favorite books. Mostly, I have to say, they have been from my two favorite books (Prevent and Reverse Heart Disease Cookbook and My Beef With Meat) … and I wanted to share those books with my Great Aunt Debbie so that she can learn more about living plant-based and why it truly is the best and healthiest way to live.
She was super stoked to get these and she' s already made a few of the recipes and is sold! I am super-duper happy. These books and their recipes are EASY. Really easy. I don't have the time lately to prepare elaborate meals (although I do for my Rouxbe assignments) but I truly believe in the Esselstyn Family and their message about plant-based eating. It makes sense and for someone (like myself) who has a high family history of heart-disease, it is a no-brainer.
However, I do enjoy making some of the more elaborate meals that Rouxbe asks us to make. They are time-consuming though and I find that I can only make most of them on weekends. One dish at a time.
The cabbage soup above was a shocker for many reasons. I had no idea it was THAT easy to make your own vegetable broth. Really, 90 minutes is all that it took (I did have an issue with throwing away all the veggies though). I also didn't think I would like cabbage soup much but I was wrong. It was tasty! I made the above Esselstyn style – without any oils.
I am not a cashew sauce fan. Mostly because I do not like the flavor and I do not like the amount of fat it can add to a dish, but in honor of my assignment, I made the above and I admit it was pretty darn tasty. It also makes A LOT of sauce … so I have been sharing it with friends.
Other than cooking when I can and running when I can, I still feel like life is flying by. I look at my girls and see how big they are getting. My blog happens when it happens. I've been reading a little more lately too, trying to find time to squeeze that in to let my brain rest at night (something I am not very good at doing). With Vans out-of-town, I have also been getting more sleep. Not every night but most nights. Some nights, it is the usual, I am up late finishing laundry, packing lunches, prepping meals and trying to squeeze in a few Rouxbe assignments but I make sure to follow it with a night where I do not do that and instead I read in bed. No tv. It's been really nice actually.
Stress can come in many forms. It doesn't always come from work, it can come from the things you enjoy like cooking and blogging and worrying (about not running enough). So, I am trying hard to calm my mind. I even woke up early one morning and stretched. That was it. I did some core work but mostly, I stretched my achy muscles and it was wonderful.
I have a lot to be grateful for in this world. I have two beautiful girls, a wonderful husband who supports my running as well as other craziness and friends and family that I cherish more than anything. So for me, I plan to stay on this planet a long time and combat the genes that were given to me as best I can. Healthy eating, exercise and mindfulness is the name of my game.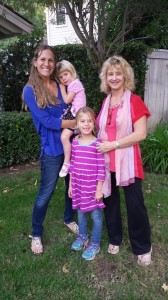 Happy Trails!
~Trailmomma