Three months and 3 days ago I had my ankle surgery and today I ran the California International Marathon.  A few weeks ago, this was not my plan. A few weeks ago I  thought about perhaps running 13 maybe 15 miles of it and then calling a friend to come and pick me up.
What changed? I am not really sure. I think when Pigeon and I ran our 14 miles in Auburn I felt a little stronger and more confident but at the same time, I had finished that run in some ankle discomfort. Then we went to Tahoe for Thanksgiving and I had some decent 5 mile runs on the road and figured, "Why the heck not? Why not start the race and just see what happens?"
When my friend and running buddy, TiggerT offered to get my packet and give me a ride to start she joked that doing all of that would require that I run all 26.2 miles with her as she had not had the best training either for the marathon.
The day before the race I had attended the Western States Lottery in Auburn and then I traveled up to Apple Hill with the family to find a Christmas Tree … in the snow.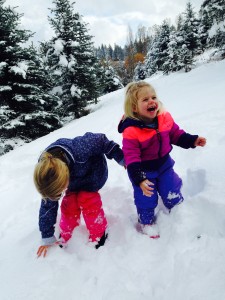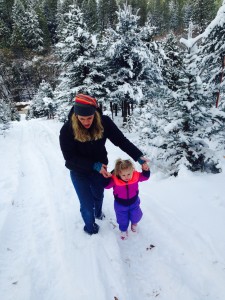 It was a wonderfully cold and wet day that resulted in a larger than life tree that is currently taking over our living room.
I went to bed immediately after the girls and had probably one of the most restful sleeps I have had in a while. I woke up at 4 am feeling rested and excited about the race. I dressed and made my way to the kitchen to have my bowl of oatmeal and tiny cup of coffee.
Soon TiggerT arrived with a truck full of trouble friends. It was 24 degrees outside. That.is.cold for this area. Super cold. Luckily I found our goodwill pile in the garage at the last-minute and discovered an old pair of yoga pants that I was going to toss. I grabbed them and cut the ankles a bit so they'd fit over my running shoes.
I have to admit, TiggerT had the whole morning of CIM dialed down complete with multiple porta potty stops. Eventually we found ourselves near the starting line ready to go. The first mile was pretty uneventful. I never stripped any of my layers the entire race because the temps never seemed to rise very much.
Mile 3 is when insanity started. All the aid-stations were sheets of black ice. We'd approach them running only to slide about 3 feet trying eagerly not to fall. I saw quite a few men slip feet in the air landing flat on their backs. I heard that a few people fell and hit their heads. It was brutal. At one of the aid-stations I slipped while walking and holding my water cup only to have the water fly up and up and out of my cup and land on my head. The lady next to me laughed. I did too.
By mile 13 the bottoms of my feet hurt. It felt like I had no padding on the bottoms of my feet. It was not the feeling I wanted to have that early in the race but I couldn't help but notice that my ankle was doing great.
At one point we caught up with one of TiggerT's friends and ran with her. She mentioned to me that the bottoms of her feet were killing her too and for some reason, that made feel a lot better. My shoes are pretty new so the only explanation is that perhaps it was lack of training (imagine that).
I took two Tylenol around mile 15 hoping that might help the pain. A lot of the in-between miles TiggerT and her friend would be chatting away to waving to people they knew. I kept fairly quiet trying hard not to go into a mental zone but I was doing an internal check to see if perhaps I might pull off and call a friend to pick me up.
The next thing I know we are at mile 20. The miles truly flew by and we walked through almost every water station (at my request) as it seemed to break up the monotony as well as keep us safe during the icy conditions. Mile 20 is a special mile. Not only is the aid-station near my old house but Vans and the girls had surprised me by being there!! It was the lift I needed. I don't think I would have quit (who quits with 6 miles to go!?) but it made it much easier to continue having seen them.
The last six miles of CIM are brutal though. You start running through a neighborhood where the streets are numbered so of course mentally you are looking at the street numbers counting down. This year I was smart and never once looked at the street numbers, not even through the downtown stretch (okay, maybe I looked once and it was bad idea).
I believe around mile 24 I turned to TiggerT and said "Tell me a story. I don't care what, but tell me a story." TiggerT came to my rescue and told me a story about running in Boston. You have to love her. At one point she turned to me and said "are we stopping for water?" and I was like, "no! no more stopping" and we pretty much jammed to the finish.
Soon the turn towards the Capital was there and we cruised into the finish. Our unofficial time was 4:30. That is by far my worst marathon time but I had a good time and I finished feeling okay. I still feel okay. Of course I am a little bit stiff and tomorrow may be a whole different story but today is a good day. This was my 5th CIM and my 6th marathon total and while I don't recommend running one without training, I am kind of on a high that I actually did it. The body is an amazing thing and often times you can find strength when you thought you had none and sometimes, that takes having an awesome friend believe in you.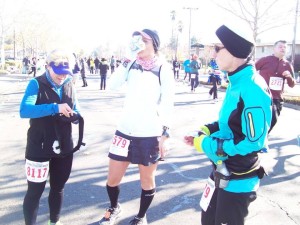 Fueling Session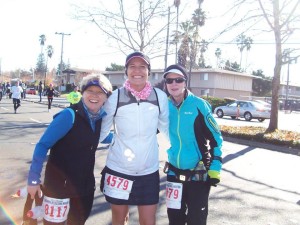 TiggerT, Me and friend
~Trailmomma