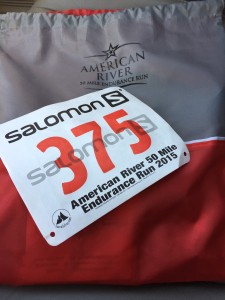 When I signed up for the American River 50 Mile race (AR50) back in February, I had just had a string of really strong and powerful training runs. I was on a high. I felt the strongest I have ever felt. And then, a series of unfortunate events started happening one after the other. I was bit by a dog on a training run that caused me to tweak my back. I ran a really super hard 50k that was primarily down hill, something my knees and back really did not like and basically, I just started losing quality sleep little by little. In my head, I was falling apart so how on earth did I think I could run 50 miles? What was I thinking!?
Yet, I kept plugging at it little by little. I pretty much took my taper more seriously than I ever have before. The week of AR50 I ran 3 miles on Monday afternoon (it sucked), I ran 4.5 miles on Tuesday morning (ugh, again it sucked) and I ran another 4 miles on Wednesday afternoon (oh boy, shoot me now). Then, I rested. Completely. No stairs at work. I tried for quality sleep each night. I ate really well. I even decided to work from home the Friday before the race.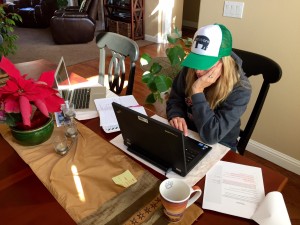 When Friday arrived, I was still super nervous. I had to go and pick up my bib and race packet and I knew the minute that I did that, my energy would change. If you have ever been at a packet pick up for a big race like this, you can just FEEL the energy of everyone that is there. You look at people and think "Wow, they are going to crush it!" or "Wow, they are running too?!" You just get sucked into the awesomeness of an ultra's race scene. It is infectious.
I brought the Peanut with me as I had to drop her off at a friend's for a sleepover. She wasn't as impressed with packet pick up as I was. 🙂 Still, it was neat showing her everything and introducing her to people.
When I got home, all I had to do was make myself dinner. I had pre-packed my hydration pack, my cooler, and everything else that I had needed earlier in the day. I made some yukon gold potatoes for dinner. Simple. Easy. Nothing that would upset my tummy and I made sure to eat early enough so as to digest it all before laying down for sleep.
Slowly but surely, I started to get a migraine. It started slow and low on my head but by 7:30 pm, I was struggling to keep my eyes open due to the pain. I kissed Squeaker and Vans goodnight and crawled into bed close to 8 pm.
I woke up a few times during the night. I had that "late for the airport" feeling that you get when you feel like your alarm might not go off. But, eventually at 3;45 am it went off and I immediately hopped out of bed. I felt, rested. For once.
I changed, grabbed all my gear, filled my bottles and hydration pack and I waited in the garage for Pigeon and Missouri to pick me up on their way to the starting area. Due to some unfortunate planning on my part, Vans would not be able to see me throughout the day. He promised that he would be at the finish. This meant that I had to build myself my own little personal aid-station again for Beal's Point and make it easy enough that Missouri would be able to carry it from the car to somewhere close to the course.
At the starting area cars were lining up in the lot and the sky was dark. There was an eclipse of the moon so it was exceptionally dark at the start this year and I didn't bring more than a dinky little light. Ooops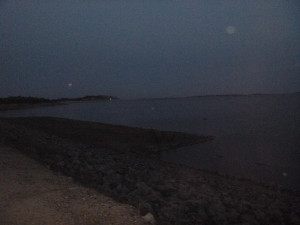 The minute we arrived, Pigeon and I hopped out of the car and headed to the porta potties. The line was short (at the moment). When we were done, we loaded back into the car and for some reason, I buckled myself in. Missouri turns to me and says, "Are you afraid we'll get into an accident just sitting here?" I looked at her for a minute not quite comprehending what she was saying and then I realized what I had done. HA! My mind was obviously occupied and not thinking clearly. 🙂
We had a good laugh about that for  while and that seemed to lighten the weight in my chest.
Soon however, it was time to head to the starting line. The race started at 6 am and it was still pretty dark outside.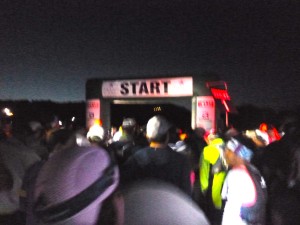 Pigeon had a flashlight with her but I only had the little light on my visor. It would do but it wouldn't be great. We only had to run about 3 or 4 miles in the dark, that was my guess anyway based on the sunrise. Luckily, a lot of other runners around me had lights.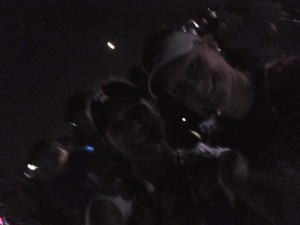 Without much hype, the race started and wave 1 began running up the 1 mile marina drive towards the trail. Pigeon and I were able to chat with Miss P and Blisters for a bit which was nice. Everyone seemed to have a nice nervous energy.
Immediately I just felt like what I was doing was work and not fun. In the back of my head, I still had a lot of doubt. My knee was achy and I just dreaded any downhills that I would have to face.
Pigeon took the lead on this section which is funny since last year I took the lead. She also scolded me last year for going out too fast so maybe she thought if she took the lead, she could keep me settled down. I was content to follow her. My mind was still not in the game yet.
Finally we reached the levee and the sun was up (or mostly up) and our lights were no longer needed. We had to run to Folsom Point where the first aid-station would be (at mile 4.97). As we were running down and around Folsom Point, the door of the restroom opened up and I ran straight in. Pigeon followed as the door next to that one also opened. We were amazed that there were no lines! Last year they had really long lines. I was happy to get this out of the way now instead of later.
We said 'hi' to the Fleet Feet crew manning the aid-station and then dropped down onto the road making our way to the parkway bike path. Here, the sun was rising and you could tell it was going to be a beautiful day.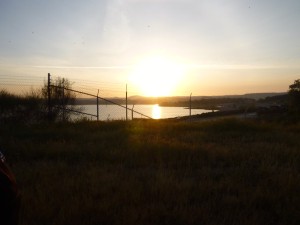 When we dumped onto the bike trail, I had forgotten how much downhill there was on this little section. Paved down hill doesn't bother my knees as much as trail downhill for some reason. Pigeon and I just kept running. We weren't chatting too much. We did occasionally comment on the gear of some of the other runners. We saw some crazy things out there and it is always interesting to see how people prepare for runs like this. The announcer had said there were 350 people running their first AR50. That is awesome.
Pigeon and I just made our way down the path. She was being rather quiet, as was I. Last year I had my headphones in at this point so I started digging them out of my pocket only to realize they were in a complete knot. Pigeon decided she needed to duck off the trail to take care of some business somewhere around mile 11. I told her I would walk. I needed to keep moving. I had a feeling that if I stopped, I wouldn't start again. My head and my heart were just not in this yet.
When Pigeon finally caught up to me, she was running with TiggerT!!!!!???? TiggerT just happened to be out running with the Java Joggers group when she just kind of ran into Pigeon emerging from some bushes! How funny?! TiggerT ran with us to the next aid-station at Willow Creek (mile 12.77).
I didn't take any fuel here or get any water. This year I ran with one bottle on my pack and my hydration bladder filled with electrolyte water. I did eat some of my peanut butter banana cookies but they weren't tasting so great so I stopped. Nothing seemed appealing to me which isn't good 13 miles into a 50 mile race.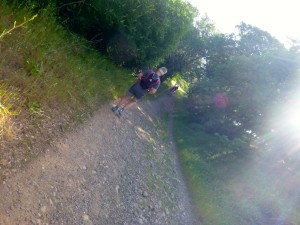 As we were making our way to the Hazel Bridge, we saw that quite a few runners had gone off course and were running around the aquatic center parking lot. They looked at us like we had cheated but we had clearly followed all the ribbons. They must have been kicking themselves for adding at least a half mile to their legs.
As we crossed Hazel Bridge, I had that familiar feeling of relief. You see, at this point in the race, you start running TOWARDS Auburn and the finish line, no longer away from it. There is something to be said about this. It just switches something in your head and you feel better as you start climbing those crazy beautiful bluffs.
I just took my time going down the rockier sections not wanting to aggravate my knee. I had forgotten about the next aid-station, one of my favorites in this race, until we came upon it (Main Bar Aid-Station, Mile 16.98).
At this aid-station, they blast the best 80s music around and as we approached, super happy super sweet volunteers rushed to see what we needed just as Bonnie Tyler's I Need a Hero started blaring from a radio near by. Awe yea!!!! I was starting to warm up and get a little excited …. I even started dancing like a fool calling to Pigeon to come on, hurry … WE NEED A HERO!!!!
Granted, she looked at me like I was crazy and laughed. I told her it was the music. It set me on fire a bit. We started running. Soon we came a cross a stray (oddly clean) porta potty. Pigeon needed to stop so I decided to stop as well. I didn't have to but I tried and it worked out timing wise.
Next up was the Negro Bar (mile 20.18) aid-station where Diane Hanes and her FTR crew volunteer every year. Diane gave me a big hug when she saw me and asked how I was. I told her that honestly, today felt like 'work' to me, that I just didn't feel like I was having a lot of fun yet. All she could say was "uh-oh."
Pigeon and I took off. I did get a surge of energy as I knew that our next aid-station would be Beal's Point which is mile 24.31 and where Missouri and hundreds of other people would be waiting to cheer on runners. Beal's is a HUGE point in the race. Two years ago, it marked the half way point (sort of). Now it was mile 24.31.
I always run up the hill to Beal's. I love the surge of energy you feel as you crest that hill and run down across the arches as they call your name. I spotted where Missouri had set up our camp. I refilled my hydration pack and ate a gluten free peanut butter and honey sandwich. I had to really force it down but I managed to eat the whole thing.
I also emptied the rocks and pebbles that had been gathering at the bottom of my shoes. This year, I didn't change socks. I probably should have but I didn't.
Off we were again. Pigeon needed to stop at the bathrooms before we left the aid-station. Once again, I decided to go too. Might as well. When she emerged, we made our way back onto the course and headed towards Granite Bay aid-station (mile 29.45).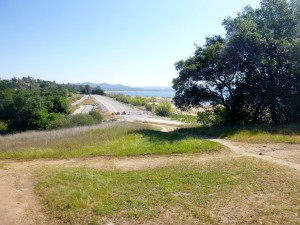 Last year at Granite Bay we were surprised by Missouri, TiggerT and Vans. This year, no one would be there. As were approaching the aid-station, Pigeon mentioned that her foot was hurting her. She hadn't said a peep the entire day so it took me by surprise that she was having some discomfort.
She even said, "Missouri will kill me if I have to call her to pick me up here." Wait. What? She went from "my foot hurts" Â to considering dropping in a nano second. I couldn't process it all just yet. We then spotted Dasie and Pigeon ran to talk to her while I made my way to the aid-station. I needed some food in my tummy as I was planning to take the Advil I had stuffed in my pocket. My knee was just starting to tweak a little bit and I didn't want it to flare just yet. Not now.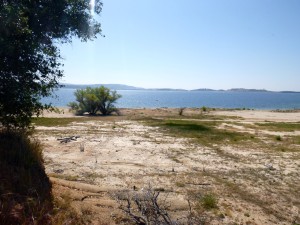 When I found Pigeon, Dasie was rubbing her foot. I started to stretch  my legs and squat to keep myself limber and from totally stiffening up. Pigeon I could tell didn't know what to do at first. Her goal race is in four weeks. This race, AR, was just a training run for her. She was torn.
We were at that aid-station about 8 to 10 minutes when Pigeon laced up and thought she would start running but instead, she told me that she had wasted too much of my time already and that I should just go on and if she could, she'd join me but she wasn't sure just yet what she'd do.
I told her, "Okay, I'll start out walking just in case. Just don't fly by me like last year!" 🙂 But, she never did. I did walk for a bit and then the trail started to develop into a nice rolling course. Something that was runnable. So, I just ran.
This is a critical point in the race as the next aid-station at Horseshoe Bar (mile 38.14) is 8.69 miles from the last aid-station. That is the farthest stretch between aid-stations in the entire race and it was getting WARM, on second thought, it was getting HOT and fast. I had started dunking my bandana in any ice buckets that I could find and would wash my face and neck. It just cooled me down and kept me present.
Alone, and full of fuel, I just ran. I started passing people. I am not normally one to pass people. I usually just settle in behind and ride the conga line but something took over. I just started saying, "on your left" whenever I could and would, bit by bit, pass runner after runner.
This section of the course is full of mountain bikers and I ran into a couple. I felt bad as they had no idea a race was going on. I also ran into quite a few horses out on the trail, causing me to stop and move to the side. It was busy out there!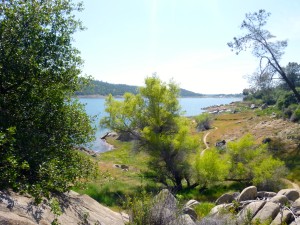 Steady and strong. I just kept running. My Garmin was slowly starting to lose its battery strength. I kept watching the charge get lower and lower and wondered if it would make the whole race.
My legs felt light as air. I had no aches or pains. I honestly felt like I was out for a nice easy jog. I couldn't believe it. I tried not thinking about it as I didn't want to jinx myself or trip and fall as I am apt to do while trail running.
I knew I was getting close to Rattlesnake aid-station (mile 40.94). I knew that once I reached that, I was in the single digits to the finish line. Last year at Rattlesnake, I could barely make it down the hill the pain in my knee was so excruciating. Now, I just ran down it, passing another runner (what the heck is going on?!).
I as entered the aid-station I got a huge "HI PAM!" from Legs which made me smile and then I saw Pigeon. She had dropped after all. She wanted to know what I needed. I kind of laughed, because I went from having no crew to having Missouri, Dasie and Pigeon all attending to my needs. I didn't know what the heck to do! I told Pigeon I wanted ice in my pack. I dropped my water bottle since I had never even touched it and I wanted to lighten my load.
I was off running again. Dasie had made me a nice neck scarf of ice out of my bandana which felt amazing. Back up that steep hill I went and when I got to the top, I passed four more runners. Watch out, I was on my way to the finish line.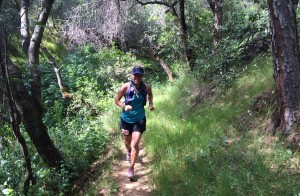 So it continued happening, I just passed runner after runner. When I got to Dowdin's Post aid-station (mile 43,92) I just flew in, grabbed a few things and flew out.
Around mile 45, I came across Hassan who was pacing another runner in front of me. This runner let me pass and I said 'hi' to Hassan who immediately ran ahead and hid behind a corner and then started taking photos of me as I ran by! What a hoot!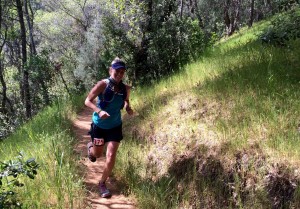 Hassan's happy demeanor brought a new wave of energy for me and I just never stopped smiling. Well, I did stop smiling when I realized that I was running up behind Miss P. If I run into Miss P in a race, I know it isn't good. She must be struggling. Sure enough, I didn't get my usual smile and "Hey!" from her. She said it just wasn't her day. She just wanted to be done and she let me pass. My heart broke for her. Miss P is an incredibly strong runner. It saddened me to see her not feeling well.
I motored on and almost yelled with joy when I was dumped off the trail and onto the final road that leads you to the finish line. I power hiked as much as I could up this gravel rocky road. Some parts I ran, just eager to get off the gravel. My power hiking has improved and it didn't fail me now. One step in front of the other.
The Last Gasp aid-station ( mile 47.56) is hilarious. It is run by a bunch of young guys who wear spandex. It always brings a smile to my face.
Soon I reached the infamous 3 mile sign. I've taken a photo next to this sign every year.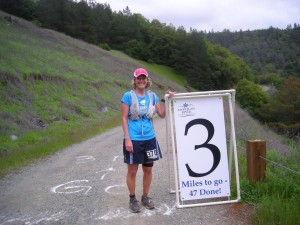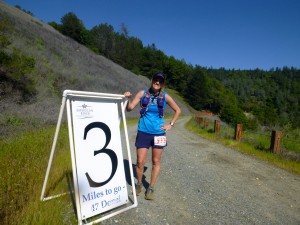 This year, I was all alone. No pacer. No one to take my photo. So, I took a photo of the sign anyway.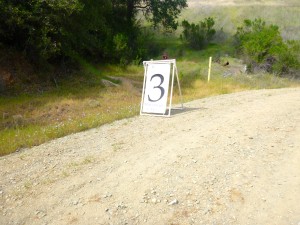 I decided now was the time to find my easter candy. A handful of starburst jelly beans is what got me up the Damn Hill and those last 3 miles. I'd walk a few steps and run 10 times more. I ran into Annabella on the this section too. I said hi and just kept motoring on. I was determined. I knew that I could beat my old time. Part of me wondered if there was any way that I could get sub 10 hours (my dream) but my Garmin decided to die at mile 48.9!!!!! It almost made it!
My pace up this big hill was hovering around the 11 minute mile range. If you have been on this hill, that's pretty good (in my book at least). Walk two steps then run 10 times more. Repeat repeat repeat.
I saw the hill that crests up to the top near the parking lot. I couldn't muster the energy to run up this whole hill but darn it I tried! I ran down onto the street and then up onto the curb and then I just started running as hard as I possibly could. People were clapping and cheering and I just ran as hard and as fast as my tired legs could manage.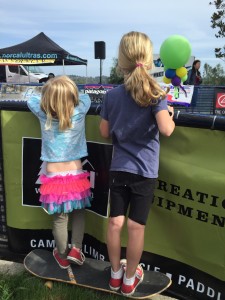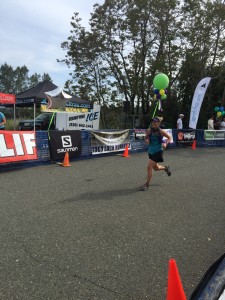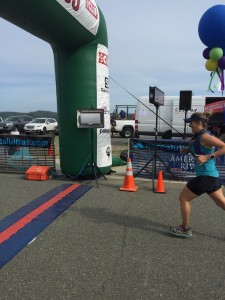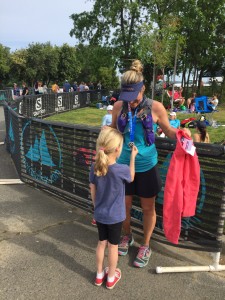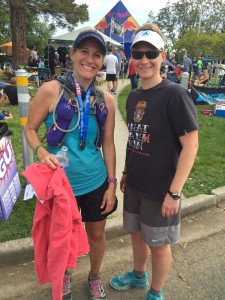 I had scored a 22 minute PR!!!! I finished in 10 hours and 11 minutes. Not too far from a sub 10 hour finish!!! There is hope ….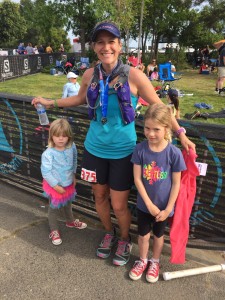 I felt pretty awesome. My body felt awesome. I mean, what the heck? I made it down to the canal and I rinsed off the poison oak and iced my tired legs and then changed into warm clothes and took advantage of the recovery boots at the finish line.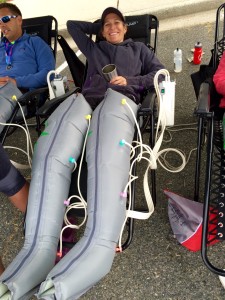 I was just on a complete and total high. I can't believe what had started out to be such a hard and grueling task had ended up being so much fun.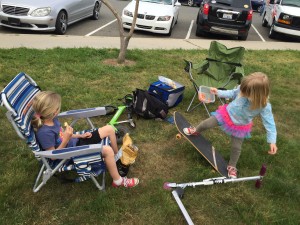 My body had responded and came through when I asked it to. You see, I had had a nice talk with my body the night before the race. I promised that if it would get me through those 50 miles that I would honor it and rest completely for two weeks. Nothing but stretching, walking and sleeping. I plan to keep my word and not run a step, which will be hard but also somewhat enjoyable.
The day after the race was Easter Sunday. We went on a family hike around where we live. Nothing too grueling. Just some easy walking with Vans and our six year old and three year old and TiggerT.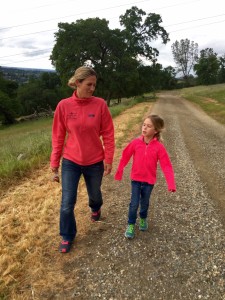 Now, two days later, I feel amazing. I am not sore at all. Nothing! My knee doesn't feel "right" but my muscles feel great. I really focused on nutrition this time around too. I didn't drink any alcohol for the month leading up to AR50. I watched my sugar intake and I ate really well race week too. During the race I tried to take a salt tab about every hour and monitored my water intake too.
Now, with this race behind me, I am looking forward to running for fun. Vans asked that I not run AR again for a bit as it always falls during the Easter holiday making it hard on our family and I can understand that. Some day though, I will return.
But for now, I am content to get back on the trails when the time is right and to run with Pigeon, Stonegate and Burning Girl all of whom are training for the Tahoe Rim Trail races (Pigeon is doing the 100 miler and the other two are doing the 55K). Their training plans and runs will be vastly different so I will get a mix of everything.
I have a few "paid for" training runs on the calendar and only one race in late June (a marathon while on vacation). All of these are low pressure runs. Even the marathon is purely an effort to keep my mileage up while on vacation so that I can pace Pigeon in Tahoe in July.
I look forward to just running for me. Running for fun. Running to help someone else. Having lost that love and spark in the early part of AR really unnerved me. I generally love the first half of that race. However, I am glad that I finally found it and that it carried me to the finish line with a smile.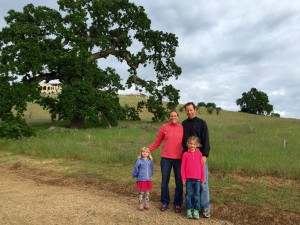 Happy Trails!
~Trailmomma
(You can read my 2010 AR50 Race Report here)