This was only supposed to be a training run and then Tommy Lee Jones started egging me on, lighting that internal fire that is always simmering inside and the rest was history including an uphill battle to the finish.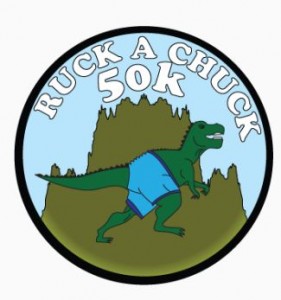 When I signed up for SingleTrack Running's Ruck a Chuck 50k a few months ago, I knew that I would be pacing Stonegate 25 miles of her 50 mile run the weekend prior. I told myself that is the perfect way to work two long runs into the month. The plan was to go nice and easy to work the legs and to get some elevation training in (the race initially boasted 6500 ft of elevation).
On Saturday it dumped rain all day; a lot of rain. So much so that Paulo, the Race Director emailed all participants AND sent out a Facebook blast detailing that the race course had changed due to the condition of the road/trails. Uh-oh. Now instead of starting at the bottom near the river, we were to start at the top in the upper parking lot area of Driver's Flat. They also had to adjust the back end of the course to account for the three mile difference at the start. Ultimately, the course ended up being shortened by a mile or so which is better than the alternative which was lengthening it by three miles. (Good call Paulo!) 🙂
When I arrived at the starting area, I was a dork and basically was the first person there. Stonegate (like the great trail friend she is) had offered to drive me but she couldn't wait all day and I did not want Vans and the girls hanging out in the mud and rain forcing me to run and finish faster. This was a training run after all remember?
So upon arrival I got out and asked Paulo if he needed any help. Why not put me to use right? He had me start handing out bibs to the runners as they arrived. This turned out to be great because I finally was able to put names to faces! I finally met Clint, a fellow plant-powered runner and Facebook face (Hi CLINT!!) and a few other runners.
Soon it was almost go-time and of course the skies opened up and dumped rain for few minutes. I second guessed my out-fit choice and changed my top at the last minute (tip: always go with your first instinct). We gathered at the start where Paulo did a quick pre-race briefing reminding us that we were to follow pink ribbons. He also told us where the NEW turn around spot and aid-station was located.
They counted us down and we were off! Everyone started running the long three mile downhill and were all commenting on how brutal this will be on the return, at the end of the race.
BUZZ!!! (my watch) Mile 1 – 8:30 Uh oh, that's a bit fast, slow it down, don't blow out your quads on the first mile.
BUZZ!!! Mile 2 – 8:30 Grrr, I thought I slowed it down!? Okay, look there's a bathroom! Go use that restroom over there and that will help slow you down and push you farther back in the pack.
When I emerged from the bathroom I just continued running along the river. I stopped a few times to take some photos (the only photos I took all day – stick with me and you'll see why).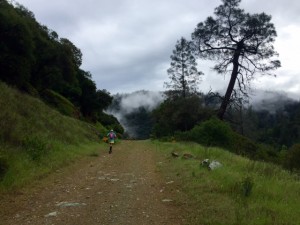 Two girls were in front of me were talking. Eventually they moved over and let me pass. Then we hit some up hills and I heard them chatting away, so I let them pass. I just needed quiet as I was trying to get a sense of how my body was feeling. I just couldn't find my groove.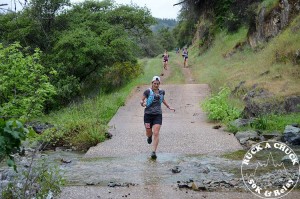 Roughly at mile 10 we entered the second aid-station at Cal-2.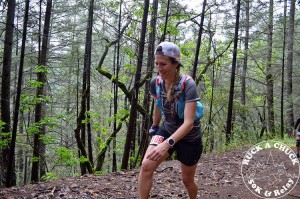 The volunteer yells out my bib number AND yells out that I am fourth female and that number three is still in the aid-station.  "Oh don't tell me that!? It's too early to tell me that!"
Sit tight girl. This is a training run. Do not go and chase it. Let.it.go!
I let three other women pass me out of that aid-station. I refused to go chase it. I was letting it go. However, while I was in this conga line of three women and one older gentleman leading the way, I couldn't get my stride right. There was plenty of climbing and I was hiking a lot but I would either end up on their tail or I would slow down to the point of walking. It just didn't feel right. The next aid-station was the turn-around and I just wanted to get there.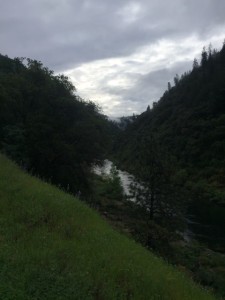 Soon we started seeing the lead runners on the return. First female went by and DANG she looked strong! She was flying. Second and Third females came by a little bit later and gosh darn it, it if wasn't the two nice chatty women I let pass me earlier … the voices started again …
That could have been you. You were up there. Now you are 7th! Shut up! Training run remember!?
It was a SUPER steep down to the aid-station (mile 14 ish) at Cal 1. I ran in and realized there was nothing that I wanted. The volunteer asked me my bib number first since I was at the table and the other three women were filling their bottles. I told her my number and left.
That was tricky girl. Are you trying to get ahead or are you starting to race? Just getting ahead. That's all. I am sure they will catch me.
Soon I came upon Roger. Ahh, Roger. Many trail runners know Roger. He is a great guy and a great runner. I met Roger a few years ago at Diane's Thursday night race series. Roger and I used to push each other out on the course. Roger, if you don't know him, sounds (and kinda looks) like Tommy Lee Jones. I kid you not, his voice is amazing and if you didn't know it, you would think Tommy Lee Jones is running with you. It makes me smile every time I hear him.
ROGER: Hey Pam, you want by me?
ME: Nope, I just want to get some distance between me and those ladies back there.
Roger just chuckled. I should have known then with that innocent sounding chuckle, what was about to unfold.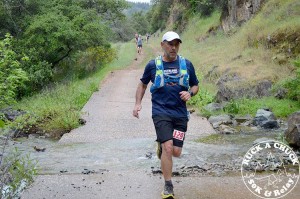 Roger and I ran steady and strong for a very long stretch. It was probably my longest stretch of running the entire day. I FINALLY started to feel my groove, after 15+ miles.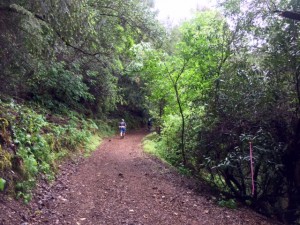 All of a sudden, Roger stops and moves to the side.
ME: What are you doing? Dude, you are pulling me!
ROGER: Look, there's number three. Go get her. You got this!
ME: (sigh) DAMN YOU ROGER! Damn you!
Roger chuckled his devilish chuckle again. 🙂
Off I go in front of Roger running steady. We knew the aid-station was coming up very soon. I just really wanted to get to there. The third place girl, (her name was Stephanie), let me pass. Roger checked in with her. I knew she was tired because when I was running behind her earlier in the day, she had said she had run 17 miles the day before marking the very course were running right now. My heart ached for her, she is clearly a VERY strong runner.
We all enter the aid-station, I reach for a cup and I feel someone pushing me sideways …
ROGER: Go! Get out of here. Go!
ME: What the?!! Okay okay …
I took off like I stole something. The next two to three miles were a steady but technical downhill. I had not been opening up my down hills this entire race, but now, I did.
BUZZ! Mile 20 – 9:25 Legs feel good. Tummy is a bit off, but I feel good.
BUZZ! Mile 21 – 9:21 Please god, let me have gained enough distance to keep this lead. Who am I kidding, if I could just bomb that, so can everyone else. Run, just run!
The next stretch was the longest between aid-stations again, something like 7.5 miles I think and that last aid-station would be the final aid before the dreaded three mile climb to the finish.
I just ran and ran. I had even moved ahead of Roger by quite a bit and then he'd catch me and pump me up some more. He even went so far as to tell me that he thinks I could catch female #2. HA! Funny man that Roger.
Finally I reached the section I affectionately called Tick Trail – it was so over grown with long grass and weeds that you couldn't even see the trail and I imagined with every step, all these ticks jumping onto my legs. THAT made me run faster let me tell you!
Finally, I was dumped back onto the fire road that I knew led to the final aid-station. However, it took FOREVER it seemed until I got there.
VOLUNTEERS: Hey! Looking strong, what do you need?
ME: Can you please just douse my bandana in cold water? How far to the finish?
VOLUNTEERS: About 2.7 to 3 miles, unfortunately all up hill.
I silently groaned a little bit but there was nowhere to go but up to get this done. Off I ran and then I hiked. I tried power hiking. Pigeon was in my head. She had texted me earlier that morning to "power hike that last hill like a bear is chasing you!" Well, as it turns out, there WAS a bear about to chase me!
ROGER: Hey, there is a chick behind me.
ME: What!? No! You aren't just saying that to get me to run up this hill are you?!
ROGER: Nope, she surprised me by coming up quick behind me at that last aid-station.
ME: Son of a B!*%$! I didn't set out for this Roger!
ROGER: Well, don't kill yourself but you got this!
Off I ran, my legs barely moving, shaking with every single step that I took. Last weekend I climbed 3 miles with Stonegate, motivating her up that hill. I used the same tactics on myself …
Okay girl, run to that rock. You can run to that rock and then walk. Just get ahead every chance you can.
I rounded a corner and something caught my eye ….
Holy crap! You caught the number two girl! Hmmm, she doesn't look THAT far ahead … Nope, forget it. Focus on the girl behind you. You're barely hanging in.
I am not kidding when I say this hill took FOR-FREAKING-EVER to climb. I passed one guy.
GUY: Hi! (being all friendly and nice despite huffing and puffing) One helluva way to finish huh?
ME: Can you look behind me please. Is there a girl there?
GUY: Nope. I see nobody.
ME: Good. Thanks.
Off I ran. Or I thought I was running. As I reached the top of that switchback I turned and saw her, the girl that was in front of me when I ran in that conga line of girls earlier in the day. She looked strong even then. She looked like she should have been running in front of those girls. She also looked like she wasn't struggling one bit on that hill we were on.
Move it! Come on! Run, run a stretch now to get ahead! Come on legs! Stop shaking and run!
Female #2 turned and looked at me and then started to run too. The chase, it seemed was on, everyone was trying to get up that hill as fast as possible. I wanted to yell out to the number two girl and say, "It's okay! I don't care about #2! I just want to keep #3!" But come on, if I had gotten close enough …. 🙂
I kept straining to hear music. That's a cue to all the finish lines right? But it occurred to me that there might not BE music at the finish.
Oh no, don't rely on the music! But how will I know where the finish is? I can't see it! All I see are these damn hills in front of me!
I had to laugh. I wasn't angry. I wasn't super smiley but I wasn't angry and laughing is the best way for me to release tension. What else am I going to do on a monster climb like this?
Then, I see two men standing there. They don't look like hikers; they look like guys who hang out at finish lines (yes, that's how my head works in moment's like these). I reach them, I see female #2 ahead of me and I ask them …
ME: How far?
THEM: Not far, 100 yards.
ME: 100 yards?! (In my head it was as if they had told me it was 100 more miles)
THEM: Up that hill!
ME: (internally) Come on! PUSH!!!!
Finally, I see the finish arch. I see Paulo running around with his camera. I see female #2 pushing as hard as she can, she's about 10 yards in front of me. I am running as hard as I possibly can. Everyone is cheering!
Oh no, are they cheering because they think I am going to catch her OR are they cheering because the girl behind me has finally caught me and is going to do a sneak attack to the finish line?!!
Talk about paranoia! Haha
RUNNNNN PAM RUNNNNNN!!!!
Finally, I cross the finish line and RD Paulo comes over. I think he doesn't know whether to high-five me or give me a hug and all I want to do is lay down. I bend over and he kind of escorts me gingerly to some chairs, female number two was in the same state, bent over, legs shaking.
Holy crap, you did it. You made it. You climbed that beast. What the hell man!? I thought this was a training run!? 😉
One minute later, female #4 crosses the finish line. Wow, what a day.
Roger was next and I had enough strength in my legs to get up, cheer as loud as I could and give that crazy man a hug and say thank you. Again, thank you Roger for your support, encouragement and for giving me the pep talks I needed. I could not have done it without you.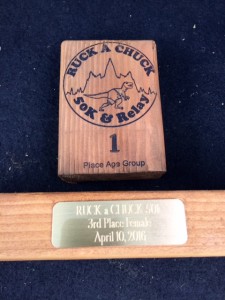 So, the final verdict was Third Place Female overall (I was less than 20 seconds behind second) and first in my age group. The course was shortened so I could not go by time but I think I might have had a decent 50k time overall – so long as it wasn't a four mile hill climb to the finish instead of three. The race (according to my Garmin) also had 7,548 ft of elevation to it. Wow.


Here is what the finish looked like in photos (all four photos that follow are credited to SingleTrack Running's Facebook page):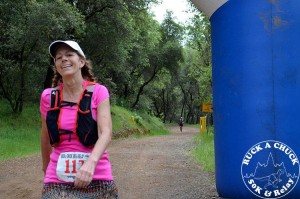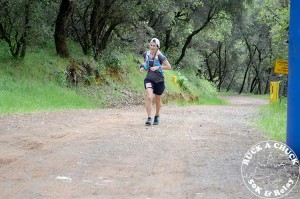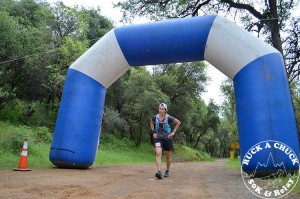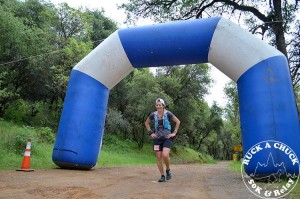 Unfortunately, I didn't stay too long at the finish as I had to jet home. I didn't want to miss taking my favorite seven year old to her swim clinic lesson. Originally I didn't think I would be able to make it but I guess with a finish like that, I had some extra time. 😉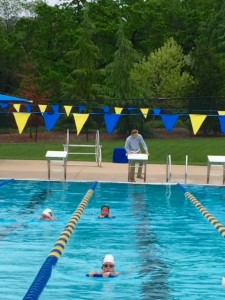 So what worked and what didn't? (Sorry, hang with me, the end of this monstrosity is near).
First, I tried my home-made plant-based fuel that I blogged about. I knew going into it, that it was too salty. When I tried it during the race, it just was not going to happen.  It also had the texture of muffin batter something I was NOT going for in the creation process. Back to the drawing board on that.
Overall, I was not handling anything but fruity sweet flavors which is not my normal. I brought a gluten free almond butter and honey sandwich with me but the gluten free bread is SO dense that I almost choked eating it. I managed one square and left the rest for the drive home.
I need to work on the calorie consumption as I don't think, looking back, I consumed a whole ton on this run. I had my usual go-to items like fruit leather, applesauce and jelly-beans (for that quick rush). I may go back to making muffins. They pack a good 300 calories per muffin but they require time to eat but since I am not racing my next race, I should have some time. 😉
Overall, I am happy. It wasn't what I set out to do but I am happy that I was able to pull it together in the end and really push myself especially when at times, I didn't think I had anything left to push. I feel good. The muscles are not too sore (yet). I still feel a little dehydrated and I need a few more hours of catch-up sleep. That's the only downfall of having an ultra on a Sunday, as Monday it was back to work/school for the whole family.
Tis the life of a trail running mama I guess! Thanks for reading, I know this was incredibly long, but the good ones usually are.

I want to also thank all the volunteers who were part of this race. From marking the course in a rain storm the day before to being out there on the course the day of the race. Also my fellow trail runners were all super friendly and supportive cheering everyone on their way back to the finish. Love this community! SingleTrack Running put on another great race. Thank you!
Happy Trails!
~Trailmomma
Full Disclaimer: I am not associated with SingleTrack Running at all and was not paid or compensated for writing this report. This is the second race of theirs that I have done, and I truly believe they host stellar, challenging and thoroughly top notch events.