"About 53 miles into the race is the aid-station called Tina's Den. It is home to four female mountain lions who like to hang out there. Two days ago, one of the cougars scared away a few mountain bikers. Don't worry though, just don't be last."
That's essentially all I heard during the pre-race briefing from the Quicksilver Race Director on Saturday. Not exactly comforting news before I am about to begin my first ever 100k race.
While I haven't written much about it on here, it was evident beginning back in January that I have been training for something …. something big. I wanted to run a 100k and not just any 100k, I wanted to run the Quicksilver 100k.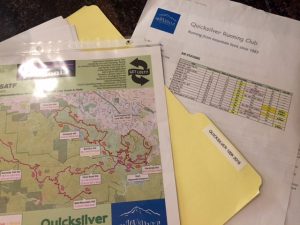 Last year everyone I knew did that race, including Pigeon because it was a Western States 100 mile qualifying race. I wanted to run it because I wanted to conquer that distance and I loved all the race photos from everyone last year. The chance to qualify was just icing on top for me.
Earlier this year, I raced two very challenging 50ks (one in February and the other in March) and that set the tone for my training. Going into Quicksilver with its 13,000 feet of elevation, I felt ready to climb but I was uneasy about the distance.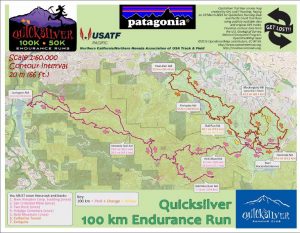 So sit back, grab a beer or cup of tea and read on if you care to see how my race unfolds (warning: it is LONG) or if you want to see a million photos, feel free to skim. 🙂
With its 4:30 am start time and the half-ish hour drive to the start, Quicksilver definitely taught me a few things about being flexible with my morning routine. I woke up at 2:15 am, ate and finalized my drop bags. I have never used drop bags before. This was totally new to me. You can tell it was new to me too because I used Star Wars lunch boxes that I got free from Target as two of my four drop bags!  I also used two Dylan Flinchum RockOn Foundation bags as my other two because if anyone can boost my spirits, it's that little boy and his family back in New Jersey.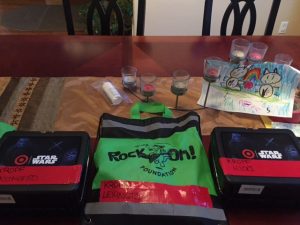 I even taped a photo of my girls in one of them to give me a boost late in the race.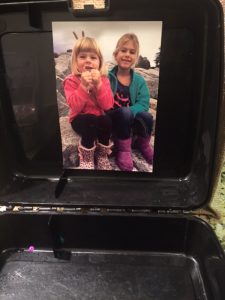 After that little "pep-talk" by the Race Director, we were off and running in the dark. I had my lights with me and everyone around me had headlamps so visibility wasn't an issue. Pigeon and I ran into Miss P who was also running her first 100k.
The race starts with a pretty good climb and everyone is reduced to a solid hike in the dark. Miss P and I chatted a bit on the way up which was nice. Eventually though, everyone spread out. Pigeon and I just ran. Our plan had been to run the race together. She knew the splits she wanted or needed in order to get a Western States qualification. I was content to run with her because I was unsure as to how the day would unfold having never approached this distance OR this type of elevation before and of course running with a friend for that long is always nice.
Soon the sun was rising and the views started to appear around us. It was pretty amazing and the temperature was nice and cool. I started in shorts and a tank top never needing anything more.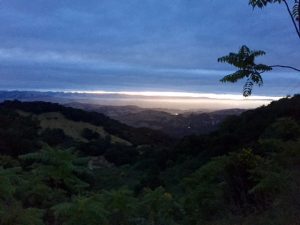 One thing to note about this race is that there are a lot of "lollypop" loops in it. Picture a lollypop at the end of stick. To get the mileage we needed, we'd run up a trail, do a loop and then run back down the same trail passing runners. I noticed early on that we'd pass a lot of the runners coming down from the loop but none when it was our turn to descend. It was clear that we were the back of the pack. This unnerved me a bit as it is something I am not used to but I also knew there were many more miles to the day and that anything could change at a moment's notice.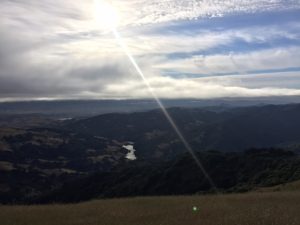 A few times Pigeon and I found ourselves behind some runners that I wanted to pass but I wasn't sure how she was feeling so we devised a "code" for those situations. We'd ask each other, "How is your foot?" And if we said, "good" we'd pass and if we said, "not good" we needed another moment. This situation actually only came into play once during the race. Pigeon asked me "How is your foot?" and I said, "What are you talking about? My foot is fine!" Hahaha I had completely forgotten about our little plan.
Hicks #1 Aid-Station (mile 7) was first. I had a drop bag here but didn't need it. I did take advantage of the restrooms. We both did. The volunteers were so nice and cheerful. They were very eager to help. Pigeon grabbed some more apple sauces from her drop bag.
We left Hicks and headed towards Bald Mountain. I remember feeling pretty good. Nothing was bothering me and the trails were rocky but not too technical.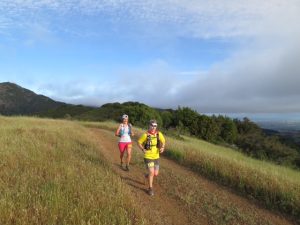 Soon we approached Bald Mountain Aid-Station (mile 12.2). It was another lollypop type loop. You run past the aid-station to this beautiful cliff area, grabbed a purple rubber band to prove that you did the full loop and then back to the aid-station. We didn't stop long here other than to use the restroom again.
After Bald Mountain we ran a short down hill followed by a pretty nice climb to get to Kennedy 1 Aid-Station (mile 18.9). Again, no drop bags for us but I noticed the aid-station was pretty bare bones. Not much to offer runners. I was fine with what I had been consuming thus far which was mostly fruit leather, some jelly beans (on the climbs) and my homemade Engine 2 Peanut Butter Oatmeal Banana Chocolate Chip Cookies. We did refill our packs here though and discovered that the water at the aid-stations tasted like rubberized chlorine! UGH! It was barely drinkable and we had to run 5.4 miles to the next aid-station with that water.
After Kennedy however, we ran DOWN and by down, I mean far down. Still, I was feeling okay. I was worried about my left knee going into this race as it tends to not like a lot of steep down hills but so far, it was behaving just fine.
When we reached Lexington Aid-Station (mile 24.2) I was feeling good. Pigeon's wife Missouri and son were at this aid-station as was Miss P's pacer, Christine. It's always nice to see people you know and have them give you a good pep talk. We also had drop bags here.
We both dumped our packs and refilled them with our own water. I dug into my drop bag for the first time and swapped out a few things, grabbed some more cookies and dumped the apple sauces as they weren't working for me.
We left Lexington and headed for the longest biggest climb of the day, Dog Meat Hill. I have seen the photos of this climb, but none of them do it justice. This is one brutally long fully exposed climb. We were lucky in that it was overcast most of the time but it was definitely warm out there.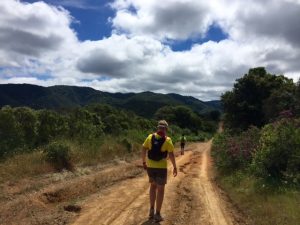 However, I was just in awe of the views and the trail itself. I did my thing and power hiked up every hill taking photos whenever I could. I'd wait for Pigeon at the top and then we'd repeat it again and again.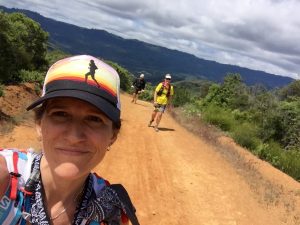 I had overheard a guy talking about how this is the hardest climb in the race and that nothing in the second half of the race compares. That's exactly what I wanted to hear right then. It gave me a little boost that once we were done with this beast, things would be easier.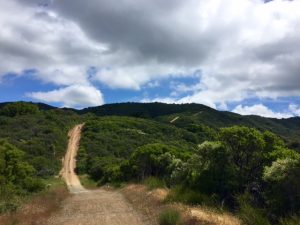 When we finally finished Dog Meat, we arrived at Kennedy 2 Aid-Station (mile 31.1). I mentioned to Pigeon that we had completed a 50k! She didn't seem amused. She'd been battling some tummy issues along the way which is never very fun in a race.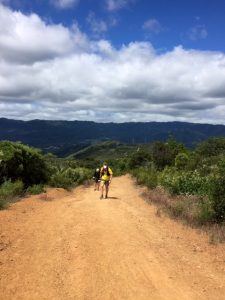 When we reached the aid-station, they had nothing. Pigeon wanted a Coke or a turkey avocado sandwich desperately and they had none. I think this hit her pretty hard and knocked her spirits down quite a bit. Her mood had been quiet thus far but I could sense her go a little deeper into a dark spot.
I just tried my best to keep hiking and chatting when I could, hoping I wasn't bothering her too much. Eventually, I told her that we had to just let it go. We couldn't rely on the aid-stations at this point, they've proven to be pretty useless in the quantity of fuel provided and we'd have to make do. I knew we were heading back to Hicks 2 Aid-Station and I knew we had drop bags there. I tried to get her to focus on that.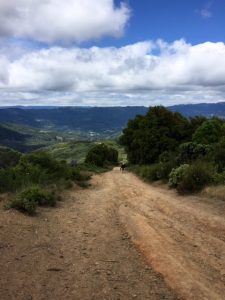 Her stomach just wouldn't let up though. Once we reached Hicks 2 Aid-Station (mile 36.4) we both used the restroom and then attacked our drop bags. I grabbed a few more things here including some Advil. My right knee (not my left knee as I mentioned earlier) had started to really bark on the long descent from Kennedy to Hicks. So much so that at one point, it literally gave way and Pigeon almost had to catch me from cratering to the ground. At Hicks 2, I took 2 Advil. I didn't want to but I had no choice at this point.
From Hicks we ran towards Hacienda Aid-Station (mile 39.3) which was a little hard to stomach because Hacienda is where my car was parked!!! Yes, I had to run past my own car to get to the aid-station! That's just cruel right?
The nice part about this section of the course though is that the distances between aid-stations were cut in half essentially which means, the next one after Hacienda was Mockingbird, just 3.1 miles away. Although Mockingbird was also the finish area so you have to run past the finish arch to go another 20 miles … again cruel.
Pigeon needed the restroom at Hacienda. I talked to the volunteers and took some pebbles out of my shoe. When we were finally back on the trail running, I reminded her that we were on our way to her wife and son. We had to do some climbing to get there, but I assured her it would be worth it.
She was in her dark spot I think again. She snapped at me once about starting to run, which is fine, I get it, when you hurt you hurt. I wasn't offended. I mentioned something about the time and trying to qualify and she shot back that she was already well aware. Up until that point, I hadn't really been focusing too much on the time. It was on our way to Hacienda I think that I started calculating the math in my head with the pace that we'd been going and realized, our chances of qualifying for Western States was slipping away. I battled in my head with what to do.
The dilemma in my head was broken by the sights and sounds of Mockingbird Aid-Station (mile 42.9). I needed this boost. As I ran in, I told Missouri that Pigeon was hurting a bit, her tummy was just not happy. I had a drop bag here so I swapped out some things and I grabbed some cream for my knee. I applied some but I wanted to run with it just in case. The Advil had kicked in by now and the knee was feeling much better. As we left Mockingbird, I turned my phone on (it was on airplane mode most of the race) and I texted Stonegate and Vans that we had 20 miles left in the race and that any chances of qualifying were starting to slip away.
While I had been texting, a bunch of texts from earlier in the day came in, one of them was from my Peanut. My girls had a mock swim meet that day and my Peanut had sent me this: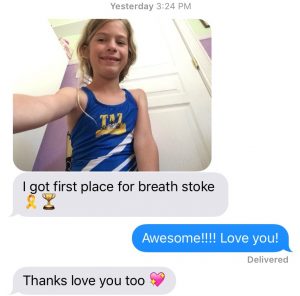 That gave me such a boost. It got my thoughts running again. My little girl didn't give up today. I shouldn't either.
From Mockingbird to Bull Run 1 it's up hill. We did not have to climb the huge rock pile that the Quicksilver race is known for but instead, they rerouted us an extra quarter mile. What's an extra quarter of a mile in a 62 mile race?
I powered up the climbs but instead of waiting at the top for Pigeon like I had been, I wanted to keep moving. So on the downs, I'd slow down a bit hoping she'd catch up and she usually did.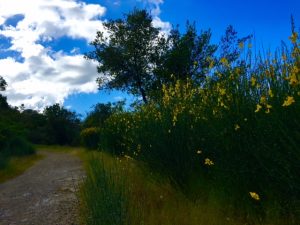 We reached Bull Run 1 Aid-Station (mile 46.1) and we ran a weird little lollypop thing again. Pigeon and I ran that together. I think she was starting to get her mojo back because she said, "Hey, do you want to try for it? We have 15 miles to go and about 3.5 hours, we can push it. Want to go for broke?" I was just thrilled she had her spirit back! "Sure! Of course!" I said. Pigeon was coming back! She then said, "Okay, we'll take turns pulling each other. I'll go first!" She took off running down hill and I was hot on her heels behind her.
About five minutes later, she turned and said, "Ok, your turn!" and she let me pass. I never looked back. It was if a fire had been ignited within me, one that had been burning all along but I was too afraid let to come out.
Since Mockingbird I had been thinking, a lot. I thought about the time, about the race and about this course. Sure this race was a Western States Qualifier and while not my only reason for running, I had ran so much today that I wanted it. I wanted it bad. Pigeon is running Tahoe Rim 100 in July. I hated thinking this but I knew she had a second qualifying chance down the road. This, this race was my ONLY chance. So, I ran. I ran hard.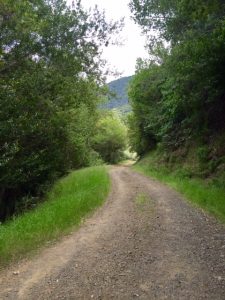 I passed runner after runner. I passed runners sitting on the ground. I passed pacers urging their runners to just take another step. I ran uphill. I ran down hill. I entered the scariest freakiest single track trail I have ever seen in my life. It led to Tina's Den (remember Tina the mountain lion from the beginning of this post?) … I can see why Tina and her friends like to hang out there! I was too afraid to stop to be honest that I just high-tailed it as fast as I could.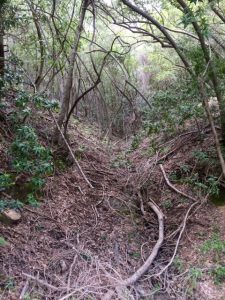 You finally get dumped onto a road. A volunteer said, "It's a mile down that road and then turn left and the aid-station is about a half mile from there." What he failed to tell me is that it was like a half-mile UP hill but whatever. As I had made the left turn, I saw this woman jumping up and down on a rock.
I thought she was waving to the guy in front of me who didn't look too enthused to see her. In my head I was like, "Man what a jerk!" Little did I know it was Stonegate!!! She had raced the 2.5 hours from home to catch me at mile 53!!!!! She was a sight for sore eyes!
She hiked with me to the aid-station. We got there and they were dry. Nothing left. I had a drop bag but my stomach did not want much. Stonegate refilled my pack with ice cold water without me even taking it off. THAT is what I wanted. I told her that I had left Pigeon and that if she sees her to tell her how sorry I was and that I really wanted to push. I felt bad for leaving her.
Stonegate encouraged me and reminded me that Pigeon will understand and that she would WANT me to go. So, I went. Less than 9 miles to the finish and I was racing the clock with a lot of uphill between us.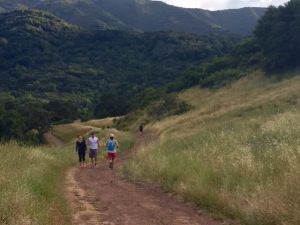 After Tina's Den (luckily I saw NO mountain lions) it's a good uphill climb to get to Enriquita Aid-Station (mile 55.8). I ran quite a bit of this uphill. I channeled my training runs up Stagecoach and just pushed. Every so often, I'd hike and then I'd run again.
At Enriquita Aid-Station I didn't even stop and instead made a sharp right hand turn and went down this gully of a trail with terrible footing.  Never mind there are runners hiking their way up too so it was a bit of a mess. When you reached the bottom, you had to read a sign (Read?! You want me to read and comprehend right now?). The sign said that in order to prove that you made it to the bottom of the hill, you had to hole punch your bib and show the volunteers at the top.
Um, the hole punch was attached to a cord that was ridiculously short! So after 56 miles, you have to try and stand on one leg while lifting your other leg, and hole punch your bib. Lordy!
I did it and then I ran my bum back up that hill. Just before reaching the top, I saw Pigeon making her way down. I hooted and hollered for her and she hooted and hollered for me and told me to just GO!
After reaching the top of Enriquita again, I ran towards Bull Run 2 Aid-station (mile 58.8), the final aid-station before the finish. It just happened to be completely up hill. I had to hike. There were moments where I wasn't sure I was going to make it. I couldn't eat anything. I wasn't sure if it was from how hard I was pushing myself or from nerves of being on the edge of not making the cut off.
When I got to Bull-Run 2, I was sprinting, or at least I felt like I was sprinting.
The volunteers went wild when I came through! "Just 3.5 miles to go! You got this! Run just like that and don't stop and you will qualify!" Wait, can they not SEE the big hill down the road that I have to go up in a minute? They want me to run like this, up that?! I had to laugh, it was funny.
I kept having these mini dialogs in my head pleading that there would be no more "rollers" and then I saw a sign that said, "Just a few more rollers and you're at the finish!"  I just want to note, you don't SEE these "rollers" on the map or elevation chart but holy cow, were they ever there!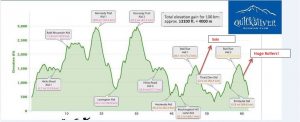 I pushed and pushed. I passed runner after runner. I was cutting every corner I ran around even if it meant cutting in front of another runner. Soon, it was all downhill. I pleaded with my knee not to flare up (it hadn't make a squeak since Mockingbird).  Other runners cheered me on. Hikers on their way up cheered me on and told me I was close. The sky to my left was insanely gorgeous with the sun setting and I wanted to stop and take a photo SO bad but I didn't dare!
Finally I saw the finish. I heard Stonegate first, "You got this girl! Just up this hill!" Which made me laugh out loud! Another freaking hill! I heard Missouri and Christine (Miss P's pacer) cheering. I was so overcome with joy and happiness. I had made it! I qualified! I made it with about 20 minutes to spare (my time was 15:38). I was done.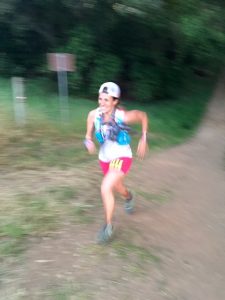 Five months of training was over in one day. It was totally worth it. My friends congratulated me and then asked where Pigeon was. I told them I left her on the way to Tina's Den. I said she's behind me but I am not sure how far.
Pigeon came in a short time later. She too qualified for Western States with just minutes to spare! She gutted it out and ran her butt off to get to that finish line. I am proud of how deep she dug to do it.
As it turns out, she wasn't upset at me for leaving and was happy that I qualified. That's how friends work, especially trail friends. We support each other.
Overall, I feel pretty good. I have some soreness and I stiffen when I sit too long but my heart is full. I feel like I set out to conquer something, something I've thought about for a while, and I did it. I worked hard for it, very hard.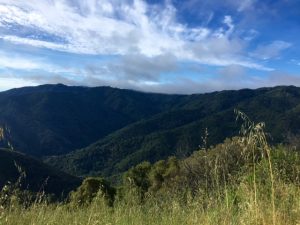 Not sure what is next. I have a few training runs planned as I am pacing Pigeon at Tahoe Rim Trail in July so I have to be ready for that.
I definitely plan to rest though and let my body recover. I owe it that. It did everything I asked of it this season and I am grateful. So I will enjoy some down time with my two amazing little swimmers.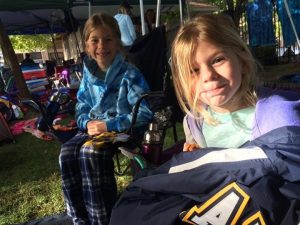 Happy Trails!
~Trailmomma