Sorry, the blog has taken a major hit lately. It isn't that I have not been running, I have … albeit drenched most of the time due to our increase in rainfall.
I hope to get back to blogging about running soon. I just haven't found my rhythm yet.
What I have found however, is another recipe for my Instant Pot that I shot and edited for all of you.
I love Chipotle but what I don't love is all the fat and oil that comes with it. Yes, even for the "vegan" food they serve, it still packs quite an artery clogging punch.
In the past, Chipotle's Cilantro Lime Rice (my favorite thing about them) was made with olive oil AND lime juice. A quick check of their menu recently, I don't see that they list "oil" anymore on the ingredients but something is "a muck" here as this is the nutrition content for ONE 8 oz serving of their rice:

So one serving (which I rarely see just one 8 oz serving in a single burrito or bowl – it is more like 2 right?) is 4 grams of fat and 210 calories with 38 of those calories coming from fat. There is also 345 grams of sodium. The numbers just don't add up for me.
Here is the nutritional profile from Lundberg Family Farms of just 1 serving of plain jasmine rice (1 serving is 1/4 cup dry which makes about 1/2 cup cooked).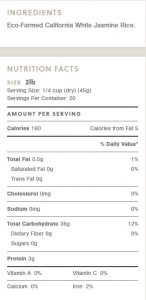 I am sorry, cilantro and lime or lemon juice doesn't add THAT much to the fat and sodium content to make the Chipotle numbers work.
Anyway, my point isn't to bash Chipotle. I eat there from time to time. What I wanted to share was my latest YouTube video!
I made another Instant-Pot video in my kitchen this week. I was short on time and decided to just record while I was making dinner. So forgive the glitches. This was a one shot deal, no do-overs, no retakes. 🙂
I created my version of a "healthy" Chipotle Burrito Bowl complete with Cilantro Lime Rice. The recipe is in the description of the video itself if you want to try it.
If you like it, please give me a "thumbs up" and share with friends. You can also comment here and tell me what other videos you'd like to see or if I should just hand over my camera now and say "forget it." 🙂
I am just having some creative fun. I don't plan to have my own show on the Food Network anytime soon.
Happy Trails!
~Trailmomma