I promise this will be the last post about my ankle. 🙂 I have other drafts in the pipeline and a small list of things I'd like to write about and express through Trailmomma.com.
On Monday I had my follow up post-op appointment with my surgeon. My surgery was through Kaiser and if you have Kaiser, you know how difficult they can be. If you are pregnant or the issue is your child, they are generally awesome but for regular every day people, getting any sort of information or attention is a struggle.
Case in point is the issue I had with my initial consultation with my surgeon. She canceled or rescheduled three times but apparently, she's quite good at her job making her very much in demand. That is a nice thing I suppose. After my surgery I had no communication minus  a brief email (that I initiated) from her when I had some questions. In person, she's very attentive and you can have all your questions answered. The problem lies, when you leave her office. She's constantly "out of office" so emailing is usually pointless (more on this later).
Back to Monday. Monday I arrived at the hospital and hobbled through the halls in my big black boot. I was very optimistic so I carried my spare shoe in a bag in my purse.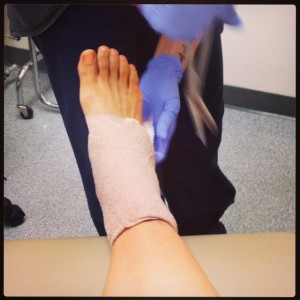 The nurse came in and cut my bandage off. I haven't seen my ankle in ten days. I was walking around the house without the boot pretty easily a few days after surgery but I had to wear the boot any time I left the house. I also was very good about icing my ankle (or underneath my knee) a few times during the day.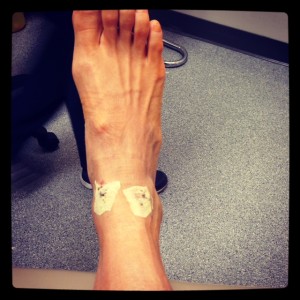 Don't worry, you can't see much. I had two incision points. On one side the camera was inserted and on the other, the saw/tools. My surgeon printed and gave to me all the photos of my surgery. Crazy!!!! It was apparently such a huge bone spur that it actually blocked the camera's view in certain spots. There was also a bunch of random "strings" (for lack of a medical term) all over the place. She cleaned all that up and removed the spur and then burned my bone to prevent regrowth.
The bone spur was so huge that it apparently has permanently deformed my talus bone but my surgeon doesn't think that will cause any issues (other than a constant click when I move it certain ways). My ankle looked pretty amazing considering I had surgery just 10 days ago. She had to remove two stitches but for the most part, I had no swelling, no bruising and no pain. The surgeon was pretty impressed and actually gave me the "ok" to start running on soft surfaces at small distances!
I couldn't believe my ears. However, I have yet to run (surprising I know). My incision sites have not been closing as I would like and I seem to be leaking a little bit of fluid. I don't think it is anything serious but I am opting to not work out and not run until next week although I am doing my lunges (as instructed) and wearing regular shoes. I would email my surgeon about this but her out of office says she is out until some time in October! So, for the meantime I will just see how it progresses for the rest of the week.
It definitely feels weird. Not weak or anything and no pain, just this very weird feeling that is hard to explain.
I was thrilled to not have the boot though. I could shower normal again and I could drive normally again! I took advantage of my first day without the boot by driving the Peanut to school and then heading to Peet's for a coffee. 🙂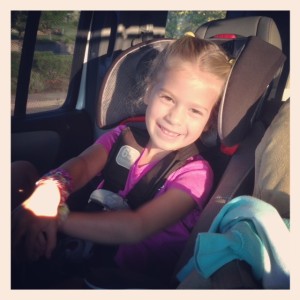 That smiling face was the best start to my day. Not having the boot was just a bonus. ♥
The weather is changing around these parts. As much as I don't want to see summer go, I am excited for fall. I absolutely love fall and all that goes with it like apples and pumpkins!! The apples right now are AMAZING!! My favorites are Pink Lady and Gala. Yum!!
I have a busy weekend ahead but I look forward to the excitement and energy that will begin in my house starting tomorrow night!!! More to come!
Peace & Pumpkins!
~Trailmomma