As I reported in my last post, we were in Tahoe for our 9 year wedding anniversary. Instead of running the Emerald Bay Half Marathon, I changed my entry to the Lake Tahoe 5K. My doctor told me that I should be fine to walk the 5K when I told her I was considering it at my post-surgery follow-up appointment. She had given me the "ok" to start running then. I knew it would be hard mentally for me to even attempt walking this race and not run it. I started running on the track near my house a little bit at first and running in the mornings before attending Breakout Fitness but I had the itch to run. Bad.
When Vans and I attended the expo to pick up our race packets, I could see that the 5K field was small, very small. That is when I knew I wanted this race. I didn't say too much about it. I joked that I could probably 'win' the whole thing as it there were not a lot of people at packet pick up but inside I was really considering racing it. Still, I knew that might be foolish and that I had to just play it by ear. Let pain be my guide is what my doctor had told me. The problem is, I have a high tolerance for pain.
Vans had his bike race on Saturday and then Saturday evening we sort of did a hodge-podge dinner as we were tired of going out to eat. I wasn't feeling 100% but I made sure I was hydrated. We had quite a few evenings of Happy Hour at the hotel leading up to our races that I was craving coconut water each day trying to replenish my electrolytes.
Sunday morning came and we loaded the car. Vans was going to drop me off at the 5K start and drive to the finish (it was a point to point race). The wind was flying and it was a little chilly at the start but not too bad.
Side note here, this will probably be the first of many posts where I talk about Athleta. I do not work for Athleta nor am I associated with them in anyway. I just happen to buy a lot of their clothes (usually on sale but not always). For this race, I was dressed head to toe in an Athleta outfit and I'll be honest when I tell you what works and what doesn't work when it comes to running. I am generally quite particular about my workout clothes.  My top was the Kenton Burnout Top and my running skirt was the printed Swagger Skort (the solid color is on sale right now). I love this skort for so many reasons but mostly because it is super cute, very flattering and does not ride up when running. I have not run in it for anything longer than 7 miles but when I have it has worked great. In Tahoe, the temperature was in the 40s during my race and I really appreciated having a shirt with thumbholes while waiting around at the starting line however, once the race started, I got hot. This top is warm! Granted I also had on a vest (Brooks) to cut the wind. I probably didn't need both but once the race was over, again it was nice having the thumb holes.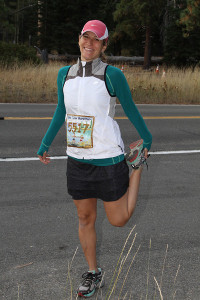 Back to the race. Standing around at the starting line I noticed that the field looked small and that many peopled looked like they were out for a Sunday stroll instead of a race. There were a few women who looked serious though. I never think I look serious though and I just stood off to the side and tried to stretch and warm my muscles as much as I could. Everything felt stiff and foreign to me.
The start was very unassuming except for the guy that said "go" also had a huge rifle in his hand that blasted my ear drums when he fired it. As I took off running I noticed that four or five guys were sprinting pretty darn fast. I slowed my pace a little bit as I didn't want to get caught up too fast. There was one girl who was in front of me and I silently made her my rabbit.
I passed my rabbit somewhere between miles 1 and 2. The course was on a paved bike trail and fairly flat. I noticed that my ankle felt great. My lungs on the other hand were burning like crazy. I was not wearing a watch at all because I had not planned on really running. It felt really nice to just let go and run not knowing my pace.
After I passed my rabbit I made a promise to myself that I would not turn around and look to see if she was close. I knew that if I turned around that I might see she was way far back and then would slow my own pace down OR I would see her right on my tail and try and push too hard to stay in front.
The course at one point got a little bit confusing. The arrows disappeared and there were no aid stations left. I saw a man walking along the road and I asked if I was going the right way. He said yes and that I would turn left shortly up the road. When I turned left down the drive to Pope Beach I realized my lungs hurt so bad that if I had to go another mile I might hurl.
I rounded a corner and I saw Vans and the girls walking towards the finish line. He turned and saw me and then tried to get the girls cheer for me.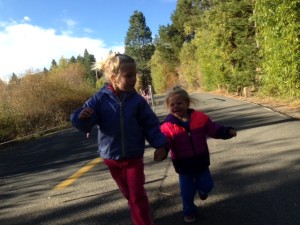 As I was passing him he yelled to me "Um, first female! FIRST FEMALE! RUN! RUN FAST!" Of course I thought that someone was behind me so I tried hard to add some extra fuel to the fire but my lungs were having none of it. I passed through the finish line and luckily did not hurl on the teenage girl handing me my medal.
My girls ran up to me and congratulated me. They wanted to see my medal. The Peanut was quick to tell me that Vans's medal was bigger. Love that girl.
The race director came up to me to tell me that he had a special prize for me and to not go anywhere meanwhile a nice woman came by with two kids in a double jogger and asked if we wanted her to take our photo so it would look like we vacationed together.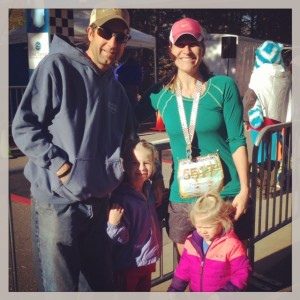 Eventually the race director gathered myself and the first male winner and presented us with a large "trophy" that was in the shape of Lake Tahoe.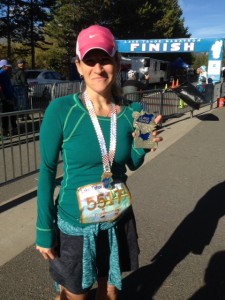 My "big" award (pst, way bigger than Vans's)
The guy doing the announcing interviewed the first male and female briefly in front of the (very) small crowd. We had to then wait around for the age group awards. I give my girls credit, they played on the beach and hung around even though it was a little windy and chilly outside.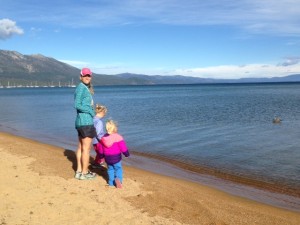 The truth of the matter is, this 5K is not as big a deal as it sounds. The field was quite small. I was 7th overall, first in my age group and first female however my pace was an 8 minute mile. Typically an 8 minute mile does NOT win a 5K. Ever. But I am not diminishing my win or discrediting it at all because I do think running an 8 minute mile 3 weeks post ankle surgery is pretty impressive.
Two weeks ago I was wearing a boot that reached up to my knee. The body is an amazing thing and I am grateful for the way in which mine healed from surgery and for the way it continues to surprise me each day by getting stronger. To be truthful, I've had a few twinges of pain when walking and/or running this week but not until more than a week after the race so I don't necessarily think it is related to running but perhaps something I am doing incorrectly at Breakout Fitness Folsom. I am going to pay more attention to our movements this week.
October is my favorite month so I hope you all can take the time to enjoy the leaves turning colors, the awesome smell in the air and just the beauty that surrounds us each day.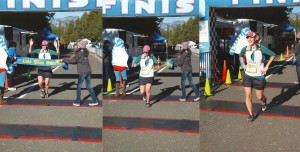 Keep Running.
~ Trailmomma