If you've been following me for a while, then you know who Pigeon is. Pigeon and I have been running together (off and on) since 2010 when both of us ran our first 50 Miler with the same training group. Over the course of the years, Pigeon continued with running ultras and I had Squeaker. We'll meet up every once in a while (usually when she's on a taper or in between races) and it is like no time has really passed. I have crewed her a few times as well and look forward to crewing her to her first 1o0 mile finish.
At some point this year, Pigeon told me she was engaged. I won't lie, I was a little surprised only because we had been through one of our longer periods of not having seen each other that I didn't even know she had been seeing anyone. However all that changed when I did see her and I could see how happy she was. Eventually, I met her fiance and actually spent quite a bit of time with her during Pigeon's Tahoe Rim Trail race last July. I could see the love and happiness and I couldn't be more thrilled for the both of them.
Fast forward to September 21st when Pigeon and Missouri were married. A few weeks before the wedding, Pigeon asked me if I could come "crew her" before she walked down the aisle. Yes, she said "crew her" which basically meant fetch her a beer when she needed one, make sure she remained calm and do whatever else was needed. As it turns out, I came in quite handy!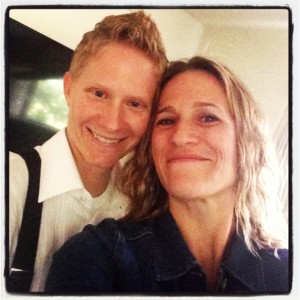 That Saturday morning turned out to be a rainy day. They always say it is good luck if it is raining on your wedding day. Pigeon and Missouri must be the luckiest people alive because it was dumping buckets early in the morning. I received two phone calls from them asking me if I had a vase and if I could bring one to their home. When I arrived at their house, they seemed rather calm. Missouri had two friends visiting and I think they had been doing an awesome job of keeping both of them calm, relaxed and thinking straight.
At one point, the photographer they hired asked Pigeon if she had any black umbrellas. "How many do you need?" Pigeon asked her, "Oh, about five or six" she replied. Okay, who has five or six umbrellas in their house!? Pigeon turned to me and asked me if I could borrow her car and run to Target and buy five black umbrellas. I was on it. Granted I made a few wrong turns along the way (thank goodness for the iPhone) but the task was completed. I arrived back at her house just as things were getting busy with an assortment of umbrellas.
When all was said and done, the rain lifted and the ceremony was held outside where it was originally intended to be. It was beautiful.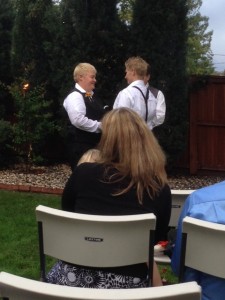 I was balling during the ceremony so happy to see my friend entering into one of the best phases of life that anyone can experience. You could see the love between them and it truly was very touching. I felt honored to have been a part of it.
As it just so happens, my family from New Jersey was in town visiting for our family reunion and so Vans was able to join me for the wedding and reception.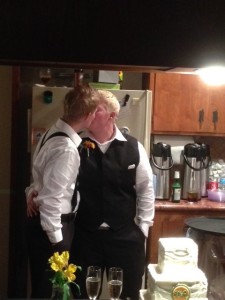 After Pigeon and Missouri were married, they left for Tahoe which just so happen to coincide with our trip to Tahoe later in the week. We met up and enjoyed a nice afternoon together.  The girls were a little out of control which made for an interesting afternoon.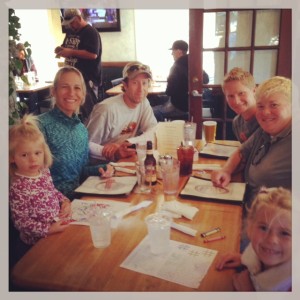 I feel very honored to have been a part of Pigeon and Missouri's wedding day. I do not want to steal any thunder so I'll let Pigeon post about her special day in more detail. It was however, an awesome day and the whole Trailmomma family wishes them nothing love and happiness for many years to come.
~Trailmomma