Have you ever had a race on your calendar that you absolutely dreaded? I never have until Sunday, April 27th. I was signed up to do the Miners Revenge Trail Marathon and when I signed up I was super stoked to run this race mainly because the Race Director is my old coach and friend, Coach Nikon. But life seemed to hijack the month of April on me and I felt like I was driving a car that I had no control over on a busy highway. Going in the wrong direction.
It started with the American River 50 Mile race, quickly followed by a trip to Whistler Canada for six days to visit with Be-Well-Run and her family. When we arrived home from Canada I jumped into 'hostess' mode as Jersey Dad was in town for a visit to celebrate the Peanut's 6th birthday and attend her party (along with the other 49 guests who had RSVP'd). You could say, I had my hands full … just a touch.
The birthday party was on Saturday and Miners Revenge was on Sunday. When I came home from the party on Saturday I was beat. I might have fallen asleep standing up at one point I can't be sure. My legs felt like heavy weights and my whole body just sighed with exhaustion. The last thing I wanted to do was pack my race vest with fuel, gather my post race clothes and prepare my mind for 26.2 miles on the trails. Very hilly trails mind you.
So instead, the Trailmomma family went to Whole Foods for dinner and to listen to a friend's husband play guitar and sing (he is awesome, so if you are local check him out here). Um, yea, probably not the wisest of choices to go to the Bier Garten but hey, I was a full of poor decisions leading up to the race, why stop now? I behaved myself though and ate and drank well.
When we arrived home from Whole Foods we had to get the kids to bed and I hopped into bed myself, after 8 pm. I couldn't sleep. I tossed and turned a lot and got up a few times. I just had a lot on my mind, mostly the race and also the day's events.
When my alarm went off I was already awake. I just didn't have a great night of sleep and my whole body just felt tired. Great. If that doesn't send the mind into a negative tail spin I don't know what will.
Luckily my body cooperated most of the morning as I got things organized. Pigeon and Missouri were picking me up at 5:30 which was a lot later than they usually pick me up for races so I had no excuses for being late. They surprised me by arriving a bit early but soon we were on our way driving the long windy road to Cool.
They humor between these two will make anyone smile so it was nice to ride to the race with some laughter. When we arrived, Coach Nikon gave us a clue as to where to park so we were not stuck on the Haul Road (the only location of parking for the race).
We parked and chilled. We did our usual pre-race routine of eating what we normally eat, using the porta potties and just relaxing our bodies and minds in the car.  I also had to pick up my race packet. Instead of a t-shirt, the race schwag was a duffel bag! Sa-weet!!! I have a million race shirts that I don't wear but a bag?! Awesome!
On one of our trips to the bathroom, Coach Nikon stopped us. He told us that the course was tough, as in REALLY tough. A few have mentioned that it may be TOO tough actually with some really gnarly climbs on both loops. I have to say, this didn't ease my already less than stellar excitement for the race but I do appreciate his honesty. 🙂
Soon it was time to get dressed and head to the start line. It was chilly but not too bad. The forecast called for some clouds and rain but I knew that once I was running that I would get warm. Missouri was a true crew person and she took our warm up jackets from us just before we headed to the starting line.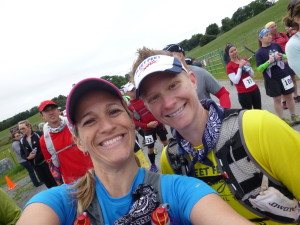 I believe Coach Nikon said there were only about 144 people total for the event which consisted of a half marathon, a full marathon and a marathon relay. 44 of those runners were doing the full marathon and there was a chance that some, if not most, might drop to the half once they came through the 13.1 mile check point.
The race itself was basically a figure 8 with the "middle" being the parking lot  (aka the mile 13 aid-station).
Before the race start, Coach Nikon had us all line up as he gave us a little pep talk and some additional information about the course.
He told us about the massive amounts of poison oak, the fact that one of our aid-stations had moved to the bottom of a climb instead of the top (best thing ever!) and he wished us luck. When the horn (?) went off, we started running.
Pigeon has been steady in her training to date. Me? Not so much. The sky was an ominous gray color but luckily it wasn't raining. On the first loop we had both the half marathoners and full marathoners all running together on some very tight single track trails. It definitely felt like a race.
Pigeon and I just ran. We had agreed prior to the race that this was a nice "training run" for her and a chance for me to pace her but as soon as we started, I knew this was going to be a challenge for me. My head and heart were just not in it.
Eventually the crowd thinned out a bit. Pigeon was bombing the down hills and I wasn't too far behind. The ankle has improved tremendously since surgery so I feel better but the ground was muddy and tacky and the rocks slippery which always makes me a bit nervous.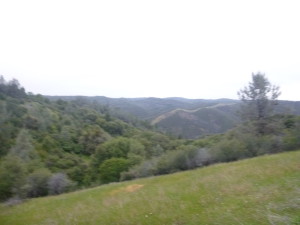 We were just running along the trails talking when we could, letting some of the half marathoner's pass us when eventually Miss P and Poison Oak came up behind us and ran with us for a ways. It felt like a Saturday training run … almost. I couldn't lose the feeling that I was running too slow for everyone behind me.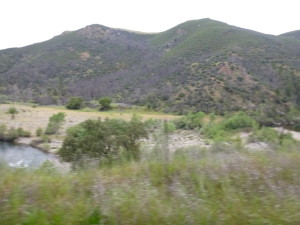 Soon we approached the first climb that seemed to go on for ever and ever! Pigeon took off, she was ahead of me to begin with so I just put one foot in front of the other and kept moving.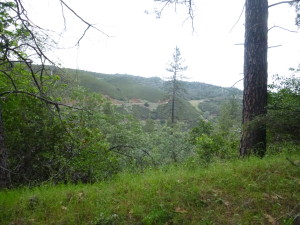 When you reach the top of this VERY long climb, you have a turn around. So as you are climbing this monstrosity, you have runners coming down cheering for you and telling you that it isn't much further to the top. Some were even honest enough to share that coming down was much easier than going up. I am not kidding when I say, this climb felt like it went on forever.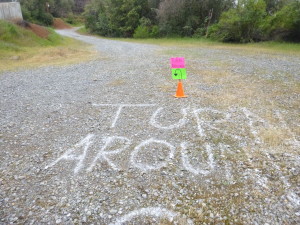 On the way down I lost Pigeon completely. She was on fire and I was battling the same IT band issues I had the second half of the American River 50 mile race. Of course this set my mood off even more since we were only on the first loop and I was battling knee pain on the downhills.
When we reached the aid-station, they knew that I was running with Pigeon and they told me that she had stopped to use the bathroom which was great because I needed to use it as well. It made me feel better to reconnect with her again. I was also happy to see that we really only had 3 more miles until we were back at the parking lot and were already half way done with the race.
I will not lie, I had entertained thoughts of dropping down to the half marathon a few times but I knew deep down that I could not leave Pigeon nor did I want to. She kept believing in me and I was trying to dig deep and find my mojo to turn my race around.
I was wearing my heart rate monitor for the first half of the race. I dropped it at the half way point because it was starting to fall off but it was really informative having it on for the first loop. Looking back, my heart rate was steady, never spiking too much, not even on the climbs. It wasn't low either.  It just read my usual marathon pace heart rate which tells me that I was having a mental battle and not a physical one. If I was over trained or battling a cold, my heart rate would be super low or super high, not even and steady. It was clear, my issues were mental and I needed to overcome this and quick.
As we came through the half way point aid-station, Coach Nikon greeted us with his usual bellow and laugh. No matter how down you are, his smile and positivity are infectious. Missouri was there as well. Pigeon was in and out of this aid-station not wanting to stop. She knew that if I had a moment to sit, that I might not continue. So less than 5 minutes for a quick fuel up and we started our second loop.
If I can say anything about this race, it would be that it totally felt like two DIFFERENT races when we started the second loop. I have run one marathon wherein I have had to do two loops (two of the same loops at that). I used the same jedi-mind trick here wherein basically I "ended" the first race and just started a new race in my head. The Miners Revenge course is two different loops which helped me create that feeling of a "new race," very easy. With the half marathoners finishing at the parking lot, we felt almost as if we were completely alone on the second loop. It felt like a true training run between Pigeon and myself.
We had crossed a few streams on the first loop but it was nothing compared to what we had to cross on the second loop. It was on the second loop that Pigeon and I had some fun.
Before we really started diving into the stream crossings, someone thoughtfully placed this board across the trail so we wouldn't get wet.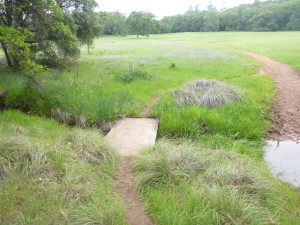 Pigeon and I approached the board like it was made of oil. We both cautiously crossed it and then stopped to laugh. Pigeon agreed to go back and recross so that I could get a photo.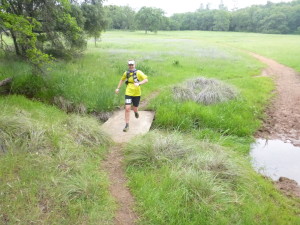 I enjoyed this. We were running but we were no longer racing. We were having fun which is what running trails is all about for me. Occasionally Pigeon would pick out a runner ahead and tell me we need to get close to that person but for the most part, we ran and we laughed.
I was still battling my demons but they were subsiding slowly and surely. I decided to let go of eating the bars I normally eat and I started consuming gels. I don't really enjoy them but I was just tired of the solid food. I haven't used gels in a long while. I don't carry them so I was stuck with the variety of gels provided on the race course as well as the potato chips they had as well. This wasn't an ultra so the aid-stations had minimal food (rightly so) but they had gels and potato chips and boy did those salty potato chips taste great.
All the food aside, it was time to start swimming. Our first stream crossing was upon us and it was probably the deepest of the day.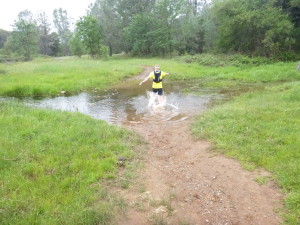 The second loop had a lot more fire road type trails compared to single track and it just seemed easier. The views were gorgeous too. My mood was clearly starting to come around.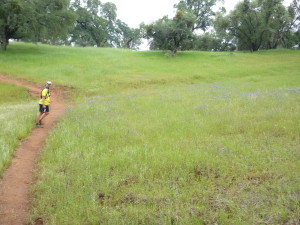 There was one major climb on the second loop, it was about 2.25 miles long but before we reached that we had to descend quite bit and my knees were not loving this section. Pigeon was flying and I felt like I had a peg leg.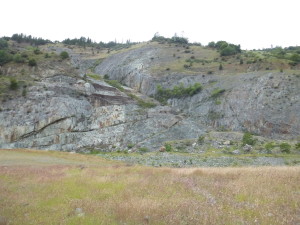 When we got to the bottom of the hill it got really warm and sticky. We felt like we were in the middle of no where. It was kind of creepy. We saw a few runners ahead of us so we just kept moving.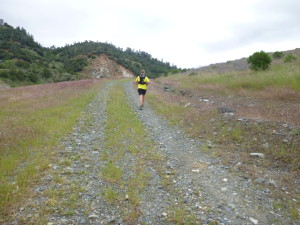 Pigeon was great. She was doing everything she could to get me back to my happy Trailmomma self. I was coming around. The closer and closer we got to the finish, I felt better and better.
The last few miles of the race are gorgeous. The sky was darkening and it looked as if a  storm was coming. I think that made the trails even more beautiful.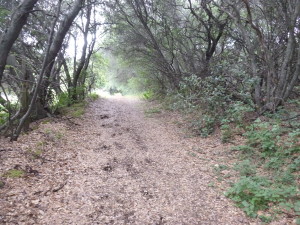 When we passed our last aid-station at mile 24 (ish), I felt great. I am not sure why, maybe it was the adrenaline kicking in that we only had about 2 miles to go, but I really started running. Soon we connected with the fire road, the same fire road that Way Too Cool finishes on and I knew we were on the home stretch.
Vans, the girls and Jersey Dad were all supposed to be at the finish. Â I was a bit worried because the race took us a lot longer than I had anticipated due to all the intense climbing.
When we entered the fire road straight-away before the finish, I could see two little blonde heads ringing a cow bell up ahead with a big birthday balloon and my heart just filled with joy and my eyes teared up just a bit. My girls were cheering for me!
As Pigeon and I rounded the curve, I high-fived my girls! I started sprinting and turned to find Pigeon "where are you?" I yelled. She was quick to be by my side as we sprinted full force to through the finish!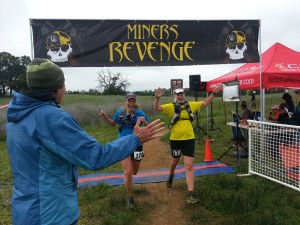 I could be wrong, but I would venture to guess that it was probably the best finish of the race. 🙂 We laughed, we hugged and we posed with our Race Director, Coach Nikon.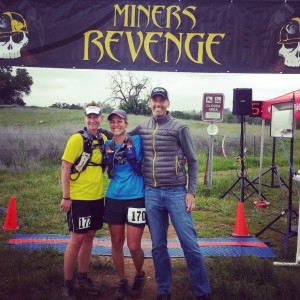 This was my 7th marathon and the first time Jersey Dad has ever seen me finish a super long tough race. I wish the weather had been a bit warmer for him but he gave me a tentative hug (poison oak) after the race. My little Squeaker hugged me and softly said, "Congratulations Mama." 🙂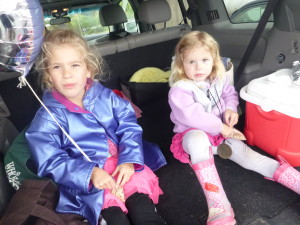 This was probably my toughest race to date. The course itself was tough but mentally, I have never felt so low in a race and I can definitely attribute my low energy to the busy schedule I had leading up to the race. Yet, it makes me kind of proud that I was able to power through to finish. I don't think I would have done so if it had not been for Pigeon. She believed in me, more than I did in myself at times and that is what friends and runner partners are for really. Even Vans thought I would drop down and only do the half.
Nope. I rallied. Overall, I felt okay. My tummy didn't have any issues. My fueling, although completely different than I have done in any other race, seemed okay and never really caused any problems. I do think the gray skies didn't help my mood as I tend to like things a bit sunnier, but running this same race in warm weather would have been pretty harsh as there were many exposed sections of trail.
My knee pain is an issue. It would alternate between knees. The left would hurt on the down hills and the right would hurt on the uphills. I need to work on my IT bands I guess. I did take some Aleve during the second loop but honestly, I didn't really touch the pain in my knees at all.
I plan to do a post about recovery soon. I have a lot to say about that actually but I also have a few other posts in the works so be on the look out.
I have another small race on my calendar and a few big training runs with Pigeon as she continues on her training schedule for TRT100. Miners Revenge was my last big "paid for" race of the season but I have a few training runs lined up that will make for some interesting posts.
What doesn't kill us makes us stronger and I will say that this race proved that for me. I also think I under estimated this race quite a bit thinking that I had just ran 50 miles 3 weeks prior so running only 26.2 should have been easy… right? It might have been if I had treated my body properly with rest, proper nutrition and sleep. Live and learn and boy did I learn a lot. Thanks Pigeon for your support and thank you Coach Nikon for one helluva race!
Happy Trails!
~Trailmomma