Well the first race of the season has come and gone and boy was it a ginormous MUD-FEST!
I ran the FOURmidable 50K last year for the first time and had an amazing race. In the days leading up to this year's race however, I noticed that my race recap from 2016 generated a lot of traffic (and a few emails). FOURmidable this year was a USA Track & Field 50K trail national championships and therefore garnered a lot more interest and entrants (almost double in the 50K alone). Quite a few top names and elites showed up which was pretty amazing to watch.
My day started with an awesome comment from elite runner (and blogger) Jean Pommier on my last year's report. That put a nice smile on my face.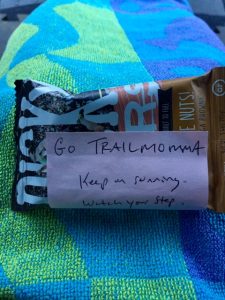 Then I found a little present from Vans while I was chilling in my car pre-race. I love his simple, but wise advice: Keep Running. Watch your step. 🙂
The weather leading up to the race was definitely something to contend with this year. I have been running on these exact trails for weeks now so I knew what to expect … and I wasn't exactly looking forward to it.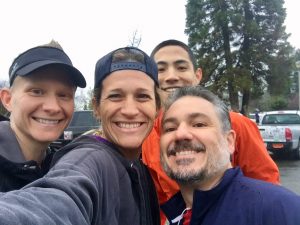 I've spent the last few weekends running with Pigeon, Not Chris and Grumpy. Not Chris and Grumpy were making their Auburn trail race debut! Not Chris ran the 35.5K and Grumpy the 13K.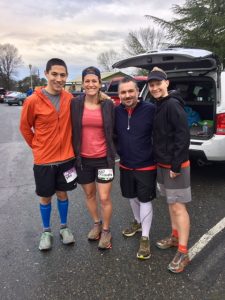 Watching the excitement on their faces in anticipation of the race was awesome. I love seeing new found trail love and joy.
Pigeon and I saw Not Chris and Grumpy off at their start since all the races (50K, 35.5K, a half and 13K) had a staggered start.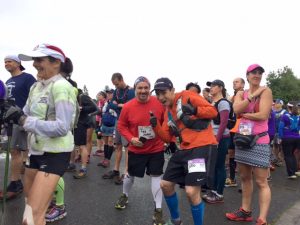 After the 35.5K and 13K left, it was time for the 50K runners to line up.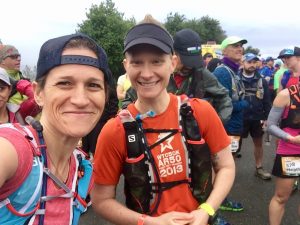 One thing to note, is that the start of this race was completely different than last year. We started and ended IN the overlook parking lot. Last year, we started down by Gate 142. This is important to note mostly as it pertains the finish … and we'll get there I promise.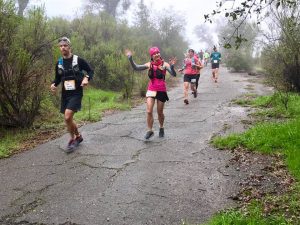 Similar to last year, the 50K runners had to run down to base of Cardiac. This year however, the route to get there was different. We were on trails a bit more than pavement, which was nice.
As we descended down, I noticed that my pace was in the low 8s. That didn't unnerve me much because I did the same thing last year (although this year I was faster).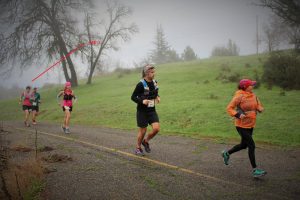 When we hit the base of cardiac, I first saved a runner who somehow did not see ALL the pink ribbons and was on his way towards the river. He was pretty grateful I stopped him.
The climb up Cardiac hit me like a ton of bricks. Very similar to last year and that is what I kept telling myself – which was a huge mistake and my biggest lesson this race.
I let quite a few people pass me on this section. My legs just felt heavy and my lungs not quite ready for what I was about to ask of them.
Happy to be at the top finally, I shook off any bad feelings and just kept moving.
We hit the first aid-station at Gate 142 and I ran right by. I had enough fuel in my pack that I didn't feel the need to stop. The trail then brought us around and below the overlook and popped us out right by the horse staging area.
A girl standing on the side of the trail said, "You are in the top ten for female." Ugh, don't tell me that! It's way too early for that kind of info and, to be honest, I think she clearly must have miscounted!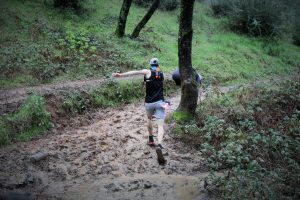 From this point on, the only competitor that I fought with ALL day, was the mud. The above photo doesn't even do it justice, that section was nothing compared to what was ahead.
I ran the section down to No Hands Bridge, still not feeling like I was "in" this yet. I had stepped into a mud pile that went up to my knee and was trying desperately not to throw my back out on these slippery sections.
It felt good to finally reach No Hands Bridge and then see that it was almost completely under water.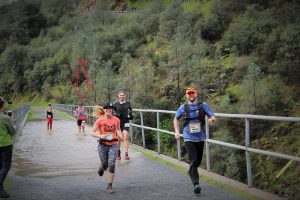 After swimming through that puddle, we reached the aid-station. I climbed the trail towards K2 fueling as I knew what was ahead.
K2 believe it or not, seemed like it was in better condition this year than last year. Last year there was a stream running down the hill.
Normally I love K2. I do. I am a hills kinda girl, but I still wasn't finding my mojo yet and I was beginning to get frustrated.
I kept comparing this race to last year's race and how I felt at each point last year. BIG MISTAKE. NEVER compare yourself to other runners and NEVER compare RACES. So much can change in a year. Clearly the trail conditions were a separate competitor this year. I also have a lot more going on in my life.
However, I would not come to this realization until later in the day. I kept battling with myself that I was not doing what I thought that I was capable of doing.
Needless to say, the muddy conditions only got worse as the day wore on. I was done with dancing around mud and puddles. A lot of people were running off course to try and avoid it, only to be hit with a section where there WAS no way to avoid it. Forget it, just run straight down the middle. Simple as that.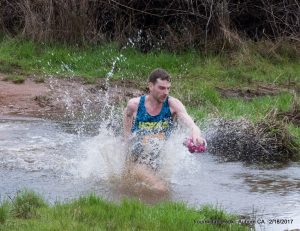 I finally reached Knickbocker Aid-Station #1 (mile 13.4) and stopped. I grabbed some stuff and refueled and walked at the same time.
The next section took us down to the Old Auburn Damn. I ran that section pretty well, just letting it all open up.
I hit the damn hill and settled into a hike. I was beginning to feel a little bit better but again, was still comparing myself to last year.
At the top of the damn, we made our way back to the single track and I just focused on moving. I was finally beginning to feel like my old self.
The trail took us back to the Knickerbocker Aid-Station (mile 18) and I grabbed more fuel and continued on my way. My spirits were beginning to finally come around.
The section through Knickbocker Creek (um, it was more like a raging river) was awesome. The whole section of trail on the Cool side was one giant mud puddle.
There was no getting around it. You'd cross a bridge and be grateful there was a bridge only to have it "T" into a giant mud puddle that went up to your shorts anyway.
I hit the Cool Aid-Station (mile 23.4) and was eager to get moving. I knew that my favorite "roller-coaster" section was coming up and best of all, that would lead me back to the finish!
I flew down roller coaster much like I did last year. I think I was tad slower and then out of no where, I ran into some horse back riders and had to stop dead in my tracks to let them pass.
When the trail dumped me onto No Hands (mile 27.2) I knew we only had 4 miles to the finish. I fueled as I walked through the lake sitting on top of No Hands and I texted a few people telling them I was 4 miles from being done with this $hit!
I ran/walked the next section staying close to a guy who seemed to be following the same plan that I was which was: Let's get this over with!
When we finally made the sharp left that took us down to the river, we both said, "Here we go!" Having run this last year, I KNEW what was in store. Paulo, our Race Director, makes your work HARD to get to the finish line.
I ran the down as well as I could. Then I ran and hiked some of the other sections. Then, you are hit with an uphill climb that will blow your mind.
Remember earlier when I said the new location of the finish would come into play? Moving the finish arch to the overlook added ONE MORE steep climb to finish … and believe me it was a doozy!
Luckily, I saw two little blonde girls standing there with huge smiles on their faces!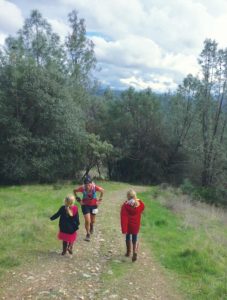 I wanted to hug them but if I stopped, I wasn't sure I'd be able to keep going.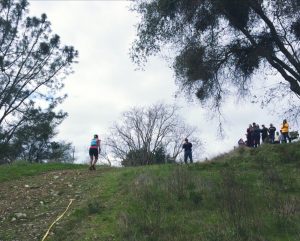 I saw the finish arch, heard some voices cheer my name and ran.
I finished! Wow, what a crazy race. I ended up running 15 minutes slower than last year and considering the conditions, I guess that wasn't so bad. I still didn't feel 100% like myself out there but I learned my lesson. I won't compare races or seasons anymore. Life sometimes has other plans and I have to learn to go with the flow.
Although unofficial, I may have gotten 5th in my age group (though remember I am bad a math) – not entirely sure yet as the age division results are not up.
Once again. Single Track Running and Paulo put on a stellar event. The course was extremely well marked. The aid-stations were stocked and the volunteers amazing.
Having Vans and the girls surprise me at the finish was awesome.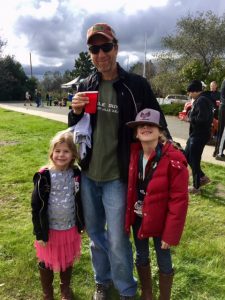 The post race festivities were great as well. Massages, beer, and some awesome swag!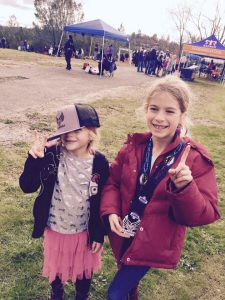 I am happy that I ran it. It was a great indicator of where my fitness may or may not be. I love the trails and I love that course, despite how grueling it is but that's what makes it so special.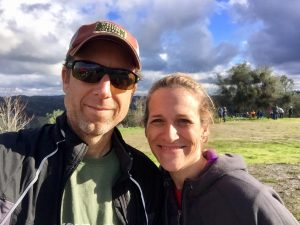 In the end, the sun came out, Vans gave me a hug and we waited and cheered for Pigeon to come in. Could not be a luckier girl right now.
Happy Trails!
~Trailmomma