This past Saturday I did something I have always wanted to do, yet always stopped from myself from attempting ….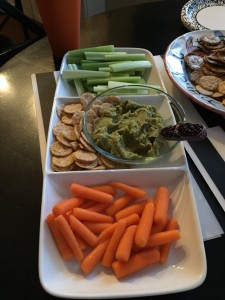 I hosted a Plant-Based 101 workshop out of my kitchen. For a while now I have had people tell me that I should do this. A few times I attempted to try and pull something together but for some reason or another, it just never happened.
One of the biggest road blocks I guess is that I am not a huge fan of having to talk in front of other people, even if it is something I am passionate about. The other reasons were time, lack of interest or more or less, just never the gusto to get.it.done.
A few months ago I decided that I had to make this happen. I told Stonegate who was immediately supportive and encouraged me 100% to just do it.
Over the past year or so, I have helped Vans's Debbie the Great Aunt and Uncle transition into an almost meatless diet with great success. My boss at work has been mostly meat free for almost a month now and recently has taken up running after a 30 year hiatus! Stonegate herself transitioned about a year ago and has had stellar running results that she attributes to her plant-based diet. I like to think that in a small way, I helped encouraged their improvement (they did all the hard work though).
So sucking up my fear and seeing if there was an interest for people to learn more about a plant-based diet was something I had to find out for myself.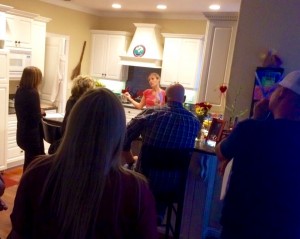 So I posted something on Facebook asking who would be interested in attending a class. The initial reaction was pretty dismal to be honest. I almost gave up then and there but I stuck with it. A few emails later and I had a date on the calendar and about 9 or 10 people who were planning to show up at my house! EEEK! Game on!
In my head I had already drawn out a rough run down of what I wanted to cover. It involved (gulp) a lot of talking.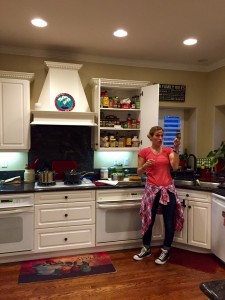 So many times I hear that people cannot eat this way because it is too hard to maintain. So I basically tried to teach everyone how someone who is as busy as I am with my full-time job, long commute, two kids, ultra-running hobby and overall life-gets-in-the-way-in-a moment's- notice lifestyle tackles, conquers and lives a plant-based diet.
First I talked about my background, my certifications and my reason for doing this. Then, I introduced the logical side of things like our body and its inability to digest meat. I brought up science and the fact that meat has been proven to cause Cancer, Heart Disease and Type 2 Diabetes.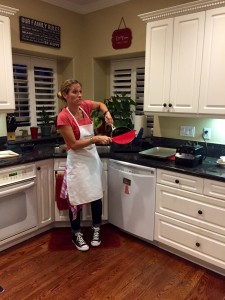 Next I showed them tips and tricks to make meals happen and to not leave anything to the last minute. And if they do, it's okay. I showed  them a way around those hurdles. That old saying, "If you fail to plan, you plan to fail" could not ring truer in the plant-based meal prep world.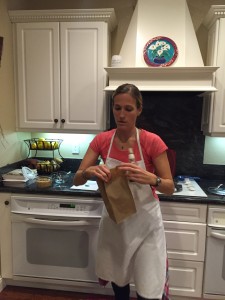 In the end, I showed them one of the easiest plant-based meals to prepare that would surprise their taste buds (and I think it did!).
Cooking plant-based doesn't have to involve 100 steps. I don't have time for that. I want 30 minutes or less, as few dirty pots and pans as possible and a 100% nutritious whole food meal on the table for my family.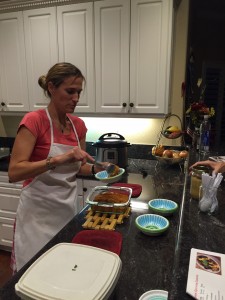 The whole thing lasted just over two hours. I had people ask questions before, during and after. I welcomed the questions especially during the demo because it put me at ease and got my mind off of my set timeline and agenda.
Everyone seemed interested and it seemed like they appreciated the info I had to share. For some, it was not entirely new information as they may already be eating this way so I hoped that some of the cooking tricks I showed them or talked about made the night worth it in their eyes. Others, I think were just curious and are not entirely sure how to even get started. For them, I hoped I gave them motivation.
I told them, much like the Standard American Diet, you'll repeat some meals and find the ones you like and that's OK … eventually you will get brave and you will branch out and try new things but if the difference is between the same meal and good health versus starting a downward spiral of bad food and illness, go with the repeat meals every time! Your body will thank you.
Since hosting this, I have heard from a few people on Facebook and on Instagram that they too would love to attend my next one. I have people at work who have said the same. I guess the interest is there after all. Maybe people needed it to happen and materialize as much as I did to get the ball rolling.
I will be forever grateful to my test participants. They were super kind in letting me do this for them and for myself.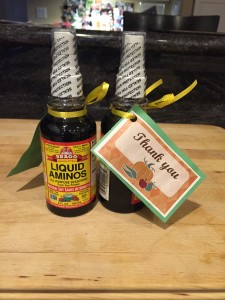 I want to say thank you to Vans for all his support, patience and criticisms 🙂 . Thank you to Stonegate and Burning Girl for all their motivation and encouragement – most of the photos in this post are from Burning Girl by the way. Thanks to TiggerT who gave me many pep talks on our runs together over the years and thank you to those who are actually still reading this! 🙂
For you, I leave you with a recipe actually created by me – which is rare. I am great at adapting recipes but not so much at creating them from scratch. 🙂
Enjoy & Happy Trails!
~ Trailmomma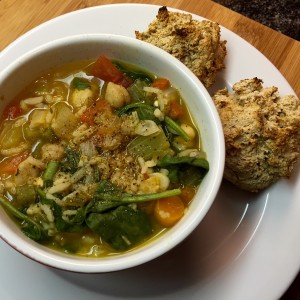 Kitchen Sink Soup 
This soup is a great way to use up all the "almost done / never going to survive the week" vegetables in your fridge.
I sautéed (in homemade veggie broth) onions, celery, carrots, bell pepper, garlic and a jalapeño (yup didn't want to waste it). I added 2 Bay Leaves, Italian Seasonings and a pinch of Cumin while sautéing.
Then I added a frozen precooked bag of homemade chickpeas (about 2 cups) and all the homemade veggie broth I had on hand until it looked soupy enough.
I tested the veggies and beans to make sure they were cooked or on their way and then added some left over pre-cooked rice that I had in the fridge, some Braggs liquid aminos and some nutritional yeast followed by heaping handfuls of spinach (NOTE I would advise removing bay leaves BEFORE adding spinach otherwise you will be searching for them  🙂 trust me).
That's it.
The Rosemary and Thyme Oat Biscuits
Pre-heat oven to 450
Take 1 cup of #glutenfree oat flour
1 tsp baking powder
Pinch of salt
Some dried Rosemary, Thyme and Nutritional Yeast – whisk together.
Then add:
1/4 cup applesauce
1/4 cup almond milk
Mix together until a dough ball forms
Drop by spoonfuls onto a pan covered in parchment paper (I was able to get about 6 biscuits) and bake for 10-13 minutes. Voila.