"Pain is temporary. Facebook is Forever." – One of the many signs that made me laugh during the 35th annual California International Marathon yesterday.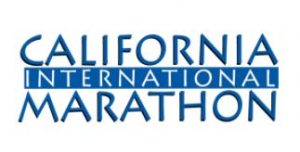 Yesterday was the 35th Annual California International Marathon. Last year, I ran with my boss for his first ever marathon.  This year, I ran with my co-worker/work-husband/friend, Grumpy for his.
Grumpy decided last December when our boss finished, that he too could do a marathon and so, I handed him a training plan and he did all the work.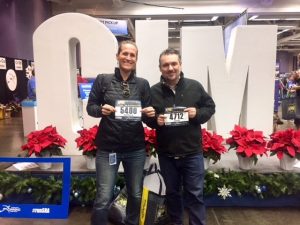 This would be my 9th CIM to date and I was super excited to head to the Expo this year because I never claimed my 5 year anniversary Loyal Runner gift!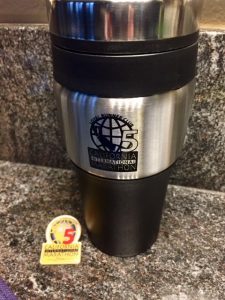 It was fun watching Grumpy wander the Expo. You could see his nervous energy as he zipped about. I have to say, he picked THE best CIM year to run as the swag this year was top notch! Well done SRA and CIM!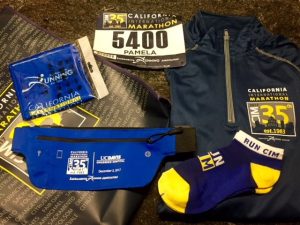 Seriously, that little waist pouch is the best thing ever. Super comfortable. Any other CIMers who don't want theirs, let me know because this is one waist pack that doesn't bounce (they all bounce). I even wore it IN the race without testing it out first.  Huge fan.
Okay, back to the race.
Sunday morning came fast. Saturday evening, my family and I went to our town Christmas Tree Lighting. Probably spent a little too much time on my feet but it was worth it.
Sunday bright and early, my dear friend TiggerT picked me up and we were off. Love this tradition of riding with TiggerT. She always makes me laugh.
I met Grumpy at the Chevron station where I told him to go and we take the shuttle buses to the start. He seemed ready. He was dressed pretty warmly but it was chilly at the start.
I went with shorts, a tank top, a long sleeve and then my space-blanket from last year's CIM to keep me warm at the start. Always keep your space blankets for another use.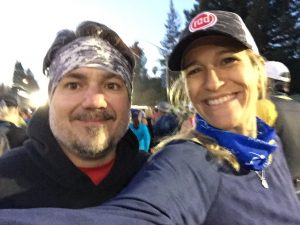 Grumpy said his ideal goal would be to finish in 5 hours. He wanted to start with the 4:30 pace group. I thought that was fine but I knew that we'd probably have to stop along the way and would lose the group eventually.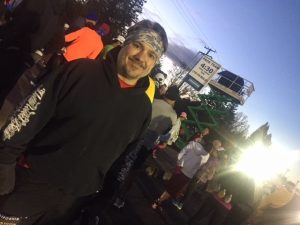 It took us 3 minutes from the gun to cross the timing mat. There were about 8,000 full marathon runners this year they said and another 7,000 participating in the relay. Incredible!
Another super cool bonus this year, was the National Anthem! This year they had Vince DiFiore from CAKE play the trumpet which was pretty kick ass. I love CAKE and they are locals and to have him play the national anthem, then have the gun go off and the start music be The Distance, was pretty freaking cool.
We ran with the 4:30 group until about miles 9 or 10 when we both decided that we had to stop and use the porta potties. That was the only downfall of the race. The porta potty lines were incredibly long throughout the race. There is one spot where I know they typically are not, but we couldn't quite wait that long so we stopped. Like I suspected, we lost the 4:30 group and never really caught up to them.
Grumpy was doing great but he definitely slowed on the up hills. The down hills hurt his ankles. He's battled a few aches and pains throughout his training, but he was moving and that was all that matter.
The miles really seemed to fly by in the beginning. I couldn't believe it when we got to 6 and saw Not Chris, then it was the half way mark before we knew it. I saw lots of friends along the course which is always fun.
By the time we got to Watt Avenue (mile 19), I started texting our work crew that was waiting between miles 20 and 21. I also texted Vans to let him know that we were on our way. Mile 20, at Loehmans' Plaza is always a huge huge aid-station and place of insanity.
I used the incentive that his friends were waiting for him with signs and good cheer to keep him moving.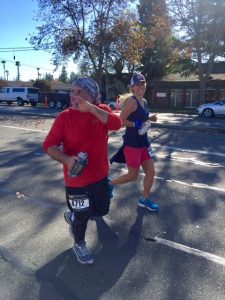 They cheered SO loud for him and had the funniest signs. Such a boost to have your own little cheering section just for you.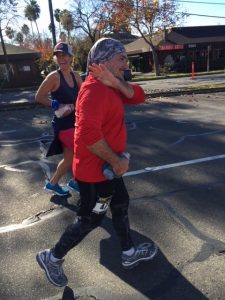 Surprisingly he didn't stop, he wanted to keep moving. His IT band and achilles were really starting to flare up every couple of miles bringing us to a walk run type movement.
He kept apologizing but I told him to stop. He was doing awesome, he was moving and he was going to finish!
Mile 22 we came upon some race photographers. Such a fun photo spot too. I told him we HAD to run for the photos … so we ran. When we got near them, I jumped in the air (like in those old Toyota commercials) and the photographer yelled, "Great shot! How do you have all that energy?" About 5 runners turned and gave me the death stare! LOL Grumpy laughed, "They all hate you now." .
I then texted our boss who lives in East Sac almost right on the course. I told him we were a few miles out. When we passed, he was out there cheering him on! Another boost for Grumpy!
Finally we were on L Street and making our way on the last two miles of the course. Still walking and running, he was gritting it out. Every so often we'd dance and sing to the music. Grumpy even encouraged a few runners along the way himself, "Come on! You got this!" We ran through a group of High School Cheerleaders and I yelled, "Come on! Cheer for Grumpy!" and they sure did! A whole little cheer just for him. 🙂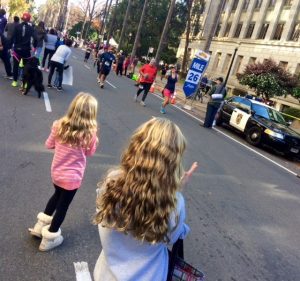 Vans and my girls were at mile 20 and then again on L street cheering us on! Love my little cheerleaders!
If you can zoom in on the above photo, it is quite hilarious the difference between our facial expressions. I really pushed him that last half mile or so to run and not stop. He was hurting but there is SO much support that last section, so many people cheering that you just can't stop, you don't want to.
Finally we made the turn towards the finish. I reminded him that we have to finish separately. One shoot for women and one for men. I told him to run!!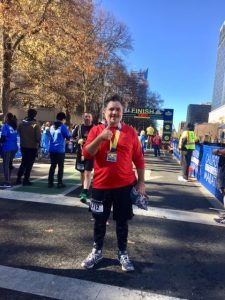 And run he did and then, he became a marathoner! Just like that. 🙂
So proud of him for gritting through all the pain and finishing. We finished in 5 hours and 25 minutes so not his goal time, but I do believe he said that'll give him something to shoot for NEXT YEAR!
Also a huge thank you and congrats to this guy, for always being out on the course cheering me on and waiting for me with two tired and hungry girls at the finish line from  year to year.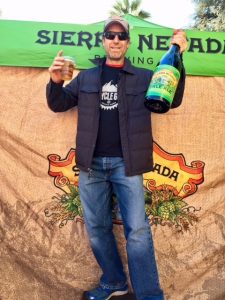 I do believe his favorite part of CIM is the beer garden. 🙂 Well earned dear, well earned.
Next year will be CIM number 10 for me!
Thank you SRA and CIM for putting on another stellar marathon event. Everything ran smoothly from my running perspective. 🙂
Happy Trails Road,
~Trailmomma