Home from Plant-Stock and trying to get back into our routine and into the swing of things.
One of those "things" was running the annual Buffalo Chips sponsored Buffalo Stampede 10 Mile race. I have been doing this race since we lived right on the course many years ago.
It is a road race, not a trail race which meant I had to dust off my road shoes and hoped they still fit.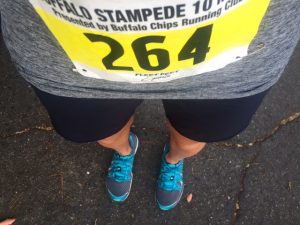 The morning was a bit chaotic so I ended up leaving the house solo and letting Vans and the girls sleep in. The plan was for the Peanut and Squeaker to run the kid's free half mile race when my race was over. There was no reason to wake them up at the crack of dawn to drive down and wait.
Having left the house much later than I wanted, I arrived at Rio Americano High School, parked the car, RAN to the race area, picked up my race bib and schwag bag and then ran BACK to the car to put that all away. I then pinned on my number and raced to the starting area with about six minutes to spare. Whew!
The race started and I just tried to find a groove. I had no expectations for this race. I haven't been running regularly enough nor have I done any speed work. I just decided to let whatever happen, happen and hope I lived to blog about it.
Mile 1 (8:13 pace) : Okay, that's probably about as fast as I will be able to manage today…that's fine. Good pace.
Mile 2 (8:14 pace) : Yup. Hey look there is Allyson! She's running strong.
Mile 3 (8:00 pace) : Okay. That's okay. Still seems manageable. You tend to run faster when chatting with people.
Mile 4 (7:51 pace) : Hmm, that was quite a jump but it is because I am running past my old house and while I know Vans and the girls won't be there, I always speed up here thinking I'll see them. Settle down. 
Mile 5 (7:58 pace) : Yup, slowing back down. Uh oh! What's that? A giant turkey?! Oh geez, not again!
Mile 6 (7:49 pace) : Your pace is faster only because of the turkey, I am blaming the turkey on this one. Where did he go?
Mile 7 (7:58 pace) : Is that them!? Is that my family?! No. Man, there are a lot of tall skinny guys who have cute blonde little girls out on this course. 
Mile 8 (7:47 pace) : Just hang with these two guys. You've been behind them all day and they are setting a nice pace. BEEP BEEP! Hey! Look! It's Vans and the girls! They made it. Now just stay steady. Don't go crazy. 
Mile 9 (7:52 pace) : What!? My pace guys are pulling away! They must not want to be "chicked" at the last minute haha. Come on, you can do it, pick up the pace. Move past this group but keep it steady, you still have a mile to go.
Mile 10 (7:49 pace) : There they are! I see my family! They made it! Woo hoo you did it! Now don't hurl, whatever you do, don't hurl! Your kids are watching!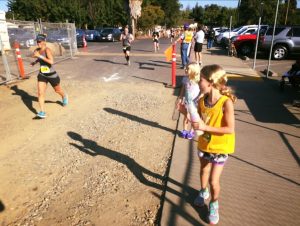 While I hadn't set out to race this by any means, I did end up with a 17 second PR! Whoo hoo. I ended the race 6th in my age group (out of 60) and a sub 8 pace (per my Garmin – official race results have  me at about 8 mins).
After my race was the kid's 1/2 mile free fun run on the track. Both the Peanut and Squeaker showed up ready to run. Squeaker's best friend from her old daycare also joined them and it is total cuteness from here on out!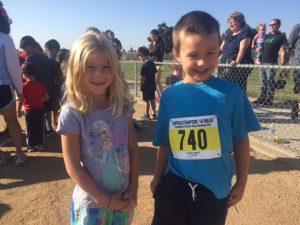 Ready set go! They all took off!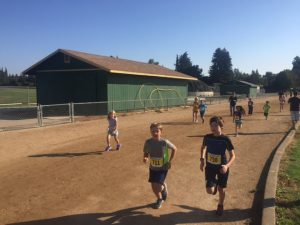 Squeaker blew me away. She kept a great starting pace while all the other kiddos took off like a bat outta hell. Eventually, all the speedsters slowed down realizing that two laps, is kinda hard!
Even the Peanut was winded and tired but not Squeaker! That girl just kept going!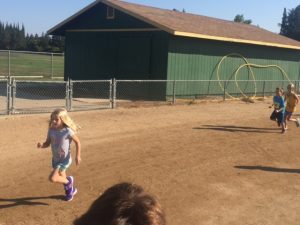 When they completed their two laps, Squeaker said, "Can we do it again!?" 🙂
And they did. She and her BFF walk/ran another two laps around the track bringing their distance to a full mile! She's five! 🙂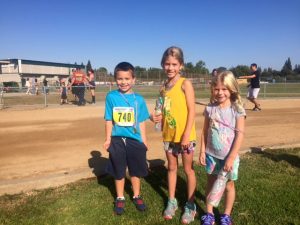 It was so adorable to watch. I hope that we can get these three together again soon for another run.
The rest of Sunday was spent visiting with an old friend of Van's and then home for a nice family afternoon.
I was pretty hungry after my  race and only had a few random things in the fridge.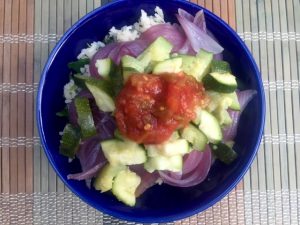 I took some left over rice that we had in the fridge and I threw it in a pan with some lime juice and some veggie broth and cooked until warmed through. I added a bunch of cilantro and cooked it a little longer. I then layered the bowl. Steamed kale with vinegar on the bottom, my cilantro lime rice in the middle followed by some oil free roasted onions and zucchini. Some salsa to finish and voila, an easy homemade post race meal that really hit the spot.
I do say that was a perfect Sunday after a weekend of traveling.
Happy Trails!
~Trailmomma