This will be the conclusion to my Oregon blog posts. Do you see what happens when I take a million and two photos? We get a three part blog series! Consider yourself lucky (or unlucky) or as we say in my house, "You take what you get and you don't throw a fit!" 🙂
Part one and part two of Oregon can be read HERE and HERE. And, if you are reading these posts on your mobile devices, I am fully aware that my photos are sideways or upside down. Not sure what is going on there but they are right side up on my computer so …. oh well.
So I left off on Sunday where Vans and Be-Well-Run had run a 10k and later that evening, Vans and JD had done some mountain biking to check out the trails near our house and the kids ran around hot tubbing a lot.
Monday the men woke up bright and early (truly early for Vans) and hopped on the Deschutes River Trail for a mountain biking adventure. They were biking to Bend (which is about a 15-20 minute drive from Sunriver) where I was supposed to go and pick them up. Distance wise, it is about about 15 miles or so for biking but they explored a bit and managed to find about 38 miles worth of mountain biking trails before finding me and my girls in the Old Mill District.
While we were there, I had done a little research and discovered that we were not that far from the Picky Bars Headquarters! I am a huge Picky Bar fan. I always have been since finding gluten free bars used to be struggle for me back in the day. When I stopped working at various running stores, I became a Picky Club Member and have enjoyed my monthly shipments delivered right to my door. I use them for pre-race fuel and even sometimes mid-race fuel. I even got Stonegate into them and she too now is a Picky Club member.
Picky Bars was started by three amazing athletes (Jesse Thomas – Triathlete, Lauren Fleshman – pro-runner and Steph Rothstein – pro-marathoner). Steph Rothstein has Celiac like myself and I like knowing that because I am super picky about cross contamination and I trust their process.
Anyway, back to Monday. JD and Vans insisted that since I was SO close, that I had to swing by and check the place out. I follow Picky Bars on Instagram and I had a general idea of what their headquarters looked like.
We found it and I hopped out of the car with good intentions of just getting a photo in front of their building. Instead, I got a little curious ….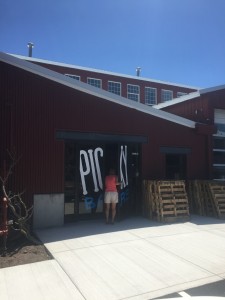 Low and behold the door was open and there was no turning back. All four Picky workers turned and looked at me and all I could manage was, "Hi!! I am clubber and I had to come by and see the place for myself!" I was a total dork but I didn't care. They were SUPER nice. I recognized Sarah from OUALÂ and she is super sweet (and tall) in person as she seems online. She welcomed me inside and suggested we take a photo. Luckily Vans followed me inside too and was able to snap the pic.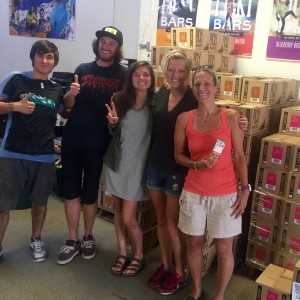 Thanks again Picky Crew for letting me crash your Monday with a random out of the blue unannounced stop!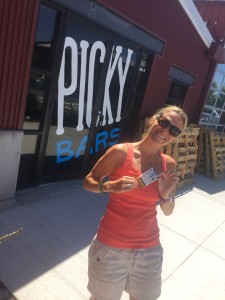 On a complete and total high from seeing Picky Bars Headquarters, we headed back to the house where I changed into some running clothes and decided to battle the heat of the afternoon for a trail run.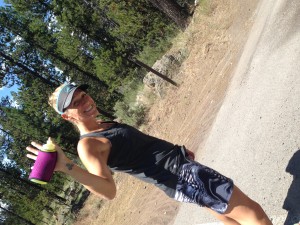 The rest of group wanted to head to the lake for a swim (why not, it was a million degrees outside) so I was solo on my run. I had my phone and I knew where to meet them … but this trail was so unbelievable that I had to stop and take about a million photos (of course, right!).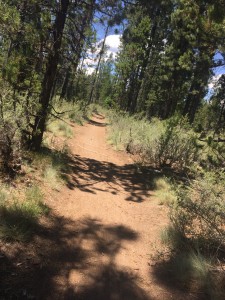 I'd run for a while, but slow because I was totally soaking up the area around me. I remembered that I had my phone with self-timer and tried my best at taking some cheesy trail selfies!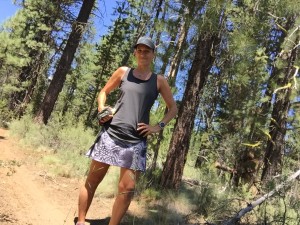 I knew the Deschutes River was to my left and that the highway was to my right so there wasn't too much risk of me getting myself lost. The lava rocks along the river were pretty awesome.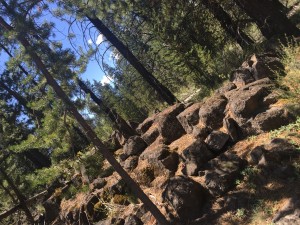 I was in total trail heaven. It was a beautiful day and my legs, although tired from the marathon, were enjoying the soft trail dirt.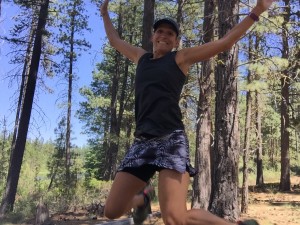 Eventually I came to a spot where I could see the actual river. I knew the views would only get better so I kept running.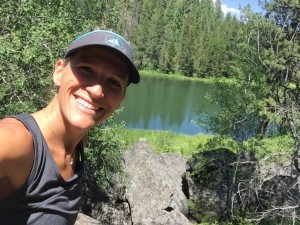 I had good cell reception and was receiving texts from Vans telling me about how far down the river they were. I'd run into them shortly.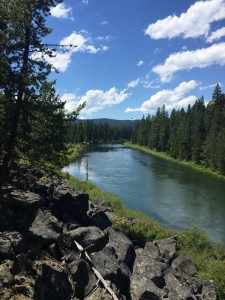 Some of these photos I had to climb off the trail and onto some rocks just to take them. It was totally worth risking my neck on some precarious rocks.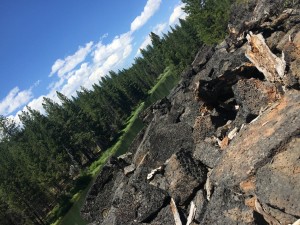 When I came to the parking lot my family was there and Vans informed me that I just had to keep going on the trail until I reached the waterfalls. I had only ran about 2.5 miles and was thoroughly enjoying myself and I didn't want to stop so IÂ welcomed the opportunity to keep going.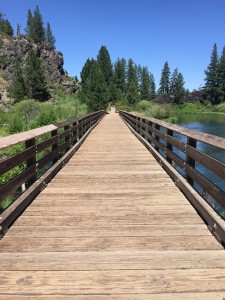 I crossed that bridge, waved to the family who was splashing in the river and kept going. This section of the trail was more like a fire road and was actually quite populated with hikers.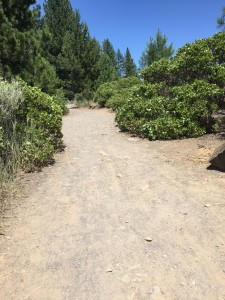 The river now was on my right and who knows what was on my left. The water under that bridge was flowing pretty strong. Definite rapids ahead.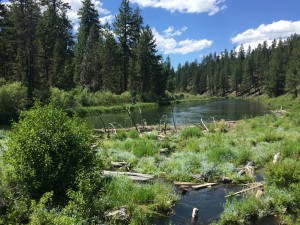 I just kept running until I saw the signs for the "waterfalls" … which in reality are just crazy beautiful rapids.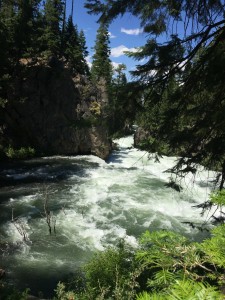 I was in total heaven. I kept thinking, there has to be a place where I could take a #lifepoints photos for the Picky Bars "get on a wrapper" contest. 🙂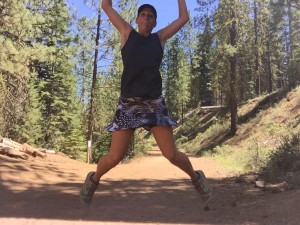 I clearly need to work on my "jump face" … obviously I cannot manage too many things at once here. Timer? Check. Jump on cue? Check. Make a normal face? Um, nope, can't do it.
Once I hit the rapids overlook, I turned and ran back to the family. Overall the mileage came out to about 5 miles which was absolutely perfect for my tired legs and eager to trail run in Oregon mind.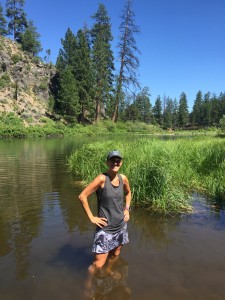 I took a nice little walk into the river to wash of the trail dust and just cool my tired legs. While I was in the water (and Vans was trying to take the photo with some actual sunlight on my face), Be-Well-Run yelled out "JC PENNY POSE!"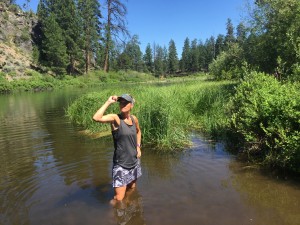 If you are a long time reader of my blog, you'll understand this reference and joke. If you are not, then well, you may have to go back to my posts in 2010 to understand. 🙂 My friends and I had a bit of an obsession with pretending we were JC Penny Catalog (remember when there were such things as catalogs?) models.
That pretty much sums up the whole trip. We enjoyed a nice clean out the fridge dinner that evening. Everyone was pretty tired from the day. We went on another family bike ride to a park for the kids which included more ice cream.
Tuesday morning it was pack up and ship out – we headed back to California with its massive heat wave.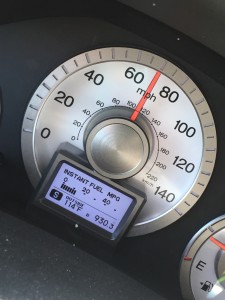 On our long drive home we stopped at a few places along the way to get the girls out of the car for a nice leg stretch and bathroom break.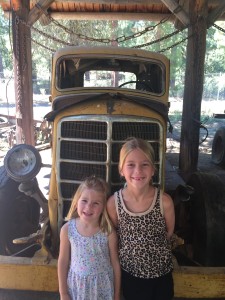 Overall, I think Sunriver 2015 was a success. It was full of challenges, excitement, trail running and Picky Bar crashing. The kids had a blast being all together and hot tubbing, biking, swimming in the river and playing games. Next time we go, I may forget the marathon and just decide to follow that trail all the way to Bend for a nice long trail run and have the boys come and ME. 🙂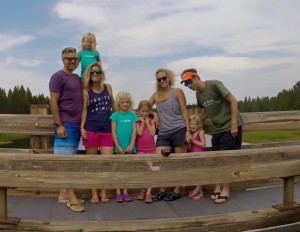 Happy Trails!
~Trailmomma