I saw a version of this on Facebook one day and it got me thinking. This person had it for dessert … I wanted dinner, not dessert. I needed savory and filling … I found my solution.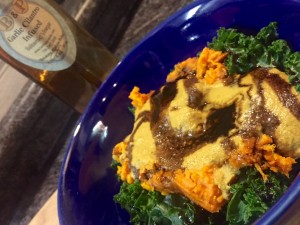 So one of the biggest things that I learned when I attended Plant-Stock last August, is that leafy greens (like kale) when mixed with balsamic vinegar will help enhance nitric oxide within the body therefore dilating the heart's arteries allowing blood to pump more freely. That my friends, is a GOOD thing.
So in an effort to create more nitric oxide, I purchased an array of infused balsamic vinegars. Bema and Pas was the vendor at Plant-Stock and they have the biggest most amazing selection of QUALITY infused vinegar I have ever tasted. While there, I ordered two and have been using them faithfully (and incidentally, I need to order more!).
So here is what I created using my Bema and Pas vinegar.
Heart Healthy Sweet Potato & Kale 
Pre-Heat the oven to 450 degrees. When ready, add 1 sweet potato per person to a cookie sheet and bake for 1 hour while you prep the rest and/or decorate your house, bath your kids etc.
Next, take some homemade veggie broth and add about an inch to a pot.
Over medium high heat, throw in quite a few handfuls of shredded kale (I buy mine bagged from Trader Joes – love it) – I filled the pot – add the lid.
Steam the kale in the broth for 5 minutes.
When 5 minutes is up, drain off the liquid into a bowl – Note: depending on how many people you are serving will determine how much liquid you will need.
To the  broth liquid, stir in nutritional yeast and Mrs. Dash Salt Free Garlic and Herb seasoning until it begins to thicken. Note: when I made this for myself at lunch, I didn't need much liquid or much nutritional yeast, when I made this for Vans and myself, I needed quite a bit more. This is your "broth-cheese."
When the sweet potatoes are done, remove the skin, scoop out the insides and add to the top of the steamed kale.
Add the "broth-cheese" to the top of the kale/sweet potato combo.
Drizzle with Bema and Pa's Garlic Cilantro Balsamic Infused Vinegar (or any other vinegar of your liking).
Voila, a super easy heart healthy lunch or dinner is served!
Believe it or not, this is incredibly filling especially if you have a good size sweet potato.
Just so you know, sweet potatoes are full of vitamin A, potassium, fiber, magnesium, vitamin C and a ton of other amazing things.
Kale is full of Vitamin A, Vitamin C, Calcium, Iron, Vitamin B-6, magnesium and a million other amazing heart healthy properties.
Nutritional Yeast is full of potassium, all the B-Vitamins (if fortified) and protein. I usually buy mine from Amazon (I buy this brand here).
And there you have one of my super fast easy and heart healthy meals.
I would appreciate feed back in the comments as to what you think about these recent recipe posts. Would you like to see more? Less? Maybe as they flow into my brain? 🙂
I do have a big few weeks coming up so this may be my last for a little bit. I have this certain little marathon on the horizon that is consuming my brain these days. Come Sunday afternoon of this week though, all will be over and I can focus on trails and recipes! Two of my favorite things. 🙂
Happy Holidays to you all! I hope you all had a wonderful Thanksgiving (grrrr, that reminds me, I need to do a post about that too! ha!). 🙂
Happy Trails!
~Trailmomma
PS: Happy Birthday to JD! Our Canadian friend! Enjoy your last year before hitting the bit 4-0 JD! 🙂