Just a quick post today as it has been quite a week for me! I am currently heading to the Bay Area to run the Headlands Trail Marathon today! Woot woot!
If you follow me, you may remember that a few weeks ago, I attended Plant-Stock held on the Esselstyn Family Farm. It was my second year in a row attending and it was unbelievable.
While there, I was able to meet so many wonderful plant-based gurus, pioneers and just every day do-ers living the plant-based life! It was great.
One of the people I was lucky enough to chat with was Howard Jacobson, Ph.D. I knew Howard when I saw him because I listen to his podcast, The Plant Yourself Podcast. I also have read Proteinaholic by Dr. Garth Davis which Howard helped write as well as Whole, Rethinking the Science of Nutrition by T. Colin Campbell, Ph.D. another amazing book that Howard also helped write.
So I knew who he was but he didn't know me other than he probably thought I was a super smiley perhaps overly creepy excited person who randomly walks up to people like Dr. Garth Davis, Josh LaJaunie and Rich Roll with a super dopey grin. 🙂
Anyway, Howard and I chatted and he took my contact info. Fast forward he emails me and asks me to do his podcast! WHAT?! My initial thought was, "Tell him you're a nobody. Tell him you don't have some mega crazy transformation story." But then, I thought it about it and realized, I DO have a story.
I am me and I do what I do, every day. Some days I inspire people. Some days maybe I don't.  I know I have helped people along the way. I know I have people who "lurk" but are inspired none the less by the things that I post on social media or say on my blog or even the things that do in my day to day activities like running crazy ultra trail runs. We all touch someone.
I am just a girl who wants to share the plant-based message world wide and help as many people as I possibly can while at the same time, feeling stuck in an office job that is wonderful, but not fulfilling the true burning passion inside of me. Ah, if I could only make a living on doing what I am doing (blogging, running, photo-taking, recipe testing, laughing, loving, living) … aaaaaannnnd that's a story for another day. 😉
The point is, we ALL have a story. We do and Howard captured mine on his Podcast. So, if you have some time and care to listen, you can click HERE or you can search The Plant Yourself Podcast on iTunes and find it there. Just keep in mind, this was my first time ever doing something like this … but, it is what it is and I am kind of proud of it. Enjoy!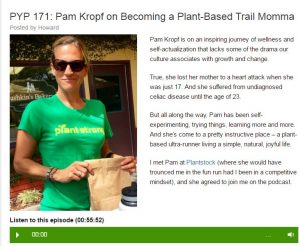 Happy Trails!
~Trailmomma