As I mentioned in my last post, the Peanut is now on a swim team which makes finding time for long trail runs a little harder to manage. She practices almost 4 sometimes 5 days a week (whether with the team or at Steve Wallen Swim School) and has a meet every Saturday until August.
This past weekend was her second swim meet and her very first "away" meet (visiting the Sierra Sharks in Cameron Park). What is new for the Peanut is also new for Vans and myself. We are not used to this sort of thing as neither one of us was ever on a swim team. Soccer? Sure! I know all about traveling to tournaments and playing two games in one day (3 or 4 on a weekend) but I was never the PARENT in that situation. Dear Dad, I am sorry for all those crazy hot tournaments that you drove me to … luckily you didn't have a 2 (almost 3) year old Squeaker to drag along with you. Poor kid!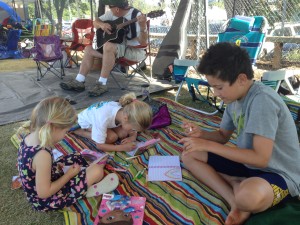 It was one HOT weekend but the Trailmomma family rallied like troopers. Thank goodness for GCRS Girl and her family. They are veterans of the swim meet and truly help us out in a way that I cannot even describe.
We arrived at the pool, found GCRS and family and set up our little camp. The kids immediately go into "what cool snacks did we pack" mode. Swim meets = eating lots of random snack and junk food.
The Peanut was listed in two events again, the 25 yard freestyle and the 25 yard back stroke. When it came time for her freestyle event we made our way down to the pool. Unsure of the set up, we noticed that they had regulation diving blocks instead of the mini-ones the 6 and Under kids are used to.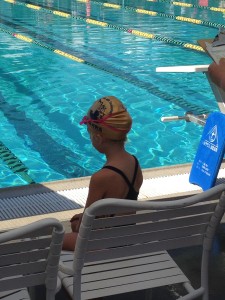 Vans and I separate and each move to one end of the pool. This race, the Peanut was swimming towards Squeaker and myself. I saw her shake her head and refuse to get on the block … that's ok, they are not required to jump from there.
When the buzzer blew, she jumped and started swimming. I was cheering so loud hoping that she could hear me under the water. All of a sudden, I notice that she's one of the first few reaching the wall! She touched the wall and the timer turned to me and said "She got first place!" What?! My Peanut had swam FIRST in her heat!! She came out of the pool and I told her that she may have won AND that she beat her previous time by almost TEN SECONDS!!! Huge accomplishment. She was glowing.
She was given a bead from the coaches for achieving a PR. I think she was more happy with the bead than the new time!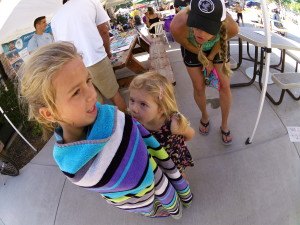 Next up was her back stroke. Once again, all four of us made our way down to the scorching hot pool. Poor Squeaker was barely hanging in, she was so hot.
Starting in the water, the Peanut was put into lane 5. We were told by GCRS Girl that lanes 4 and 5 are reserved for the "fastest" of swimmers. When the buzzer went off, the Peanut pushed off the wall and started her back stroke. She stayed almost 100% straight and I saw her looking for the wall near the end. Instead of giving up and kicking (like she has done in the past) she reached and moved her arms another stroke touching the wall! She was first place AGAIN! She also got another PR by just a hair this time too! Who IS this kid? 🙂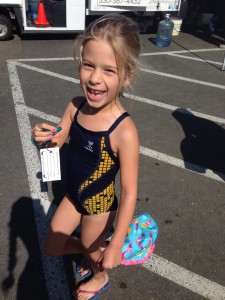 Apparently losing a tooth and getting a short summer hair cut made all the difference in her strokes this race.:)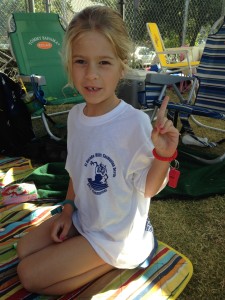 When she got her bead, we also treated the kids to smoothies and icies (the post race ritual now I guess).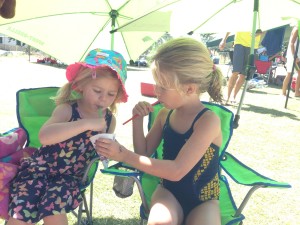 Once we were home, I blasted into full force mode. Lunch for the girls, nap for Squeaker and a hot hot run for me. I just needed to get few miles in and it was blistering hot outside so I picked what I thought would be the shadiest route.
6 miles later I arrived home completely drenched but I felt better. It was probably the toughest 6 miles I have done in a while.
I saved some energy because I knew on Sunday I would be running with Pigeon and we were planning to do 10 to 12 miles.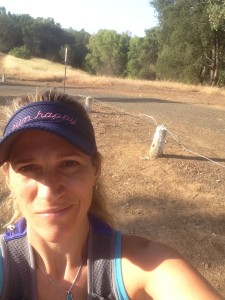 Our goal was to start at 6:30 am and run some of the same route I had on the day prior. Pigeon was kind enough to come run in my hood knowing that I had to work at 10:30 am.
When she arrived I was having some shoe difficulty but soon we were off and noticing how warm it already was at just 6:45! Ouch.
We ran a few local trails over towards Brown's Ravine. The first thing we see as we entered Brown's was a gaggle of turkeys. TONS of them. All over the place and they had babies with them. Great, baby turkeys. The local turkeys are procreating, just what I needed to know!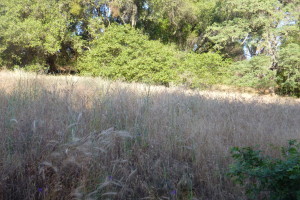 As we ran I noticed neither one of us was really running like our usual selves. It just seemed like "work" to run. Folsom Lake looked gorgeous though and is definitely filling up with water (slowly).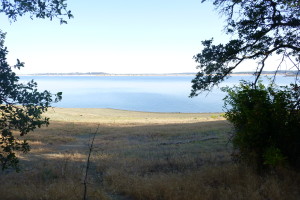 We saw quite a few FTR runners on the trail too. When my Garmin Buzzed 5 miles I stopped. I told Pigeon that we were at 5 and if we head back now, we'd have 1o. "I said 10 or 12," Pigeon replied. "Ok, are we doing 12 then? We can run to the levee and that might give us a enough," I say.
"What do you want to do?" Pigeon replies. "Man, if I had a quarter I'd flip it and let that make our decision." I say half jokingly. "I have a Gu packet!" Pigeon says "Let's flip that."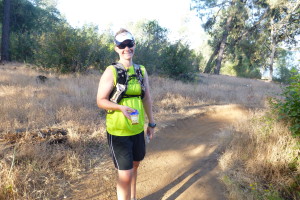 Yes, that is totally a scientific way of making a decision when out on a trail. PowerGel side up we continued on (aka Powering On) if it was the back of the packet, we were turning towards home.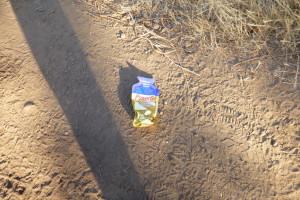 Onward we went, all the way to the levee (which really wasn't much further than where we had flipped the packet). 🙂
The run back was a struggle. Our energy was low, the temps were rising but we still had our sense of humor. We talked about our plans for Tahoe Rim and for some future runs. It as nice to reconnect with Pigeon as it has been a few weeks.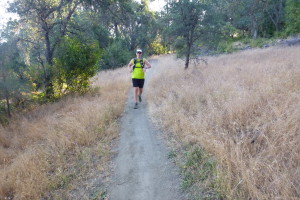 What doesn't kill us makes us stronger and having what should be a short easy run turn into something that feels like a marathon in a sauna while breathing through a straw is a good thing. It brings your brain and your body to a low point and it is how you react to that low point that matters. We could have given up and called Vans for a ride home but we didn't. We hiked onward trying to lift ourselves up. Pigeon is not training for an easy race in July. She will hit low moments and who knows where those moments will strike. They could very well be on a flat easy section. It is how we handle those moments that matters.
As the Peanut has demonstrated recently, hard work in practice will produce good results. So get to work. 🙂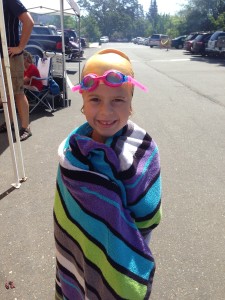 Happy Trails!
~Trailmomma