As I mentioned in this post, the Peanut's swim season is over. It seems, for the time being, I have my Saturday mornings back! Pigeon wasted no time and emailed me that we were meeting at 6 am and hitting the trails by 6:30 since the temperature was supposed to hit the low 100s.
She had emailed me that we were doing the Clementine and Stage Coach loops using our car as a make shift aid-station between loops. I remember this run. You can read about that adventure run here … I very clearly remember it being anywhere between 15 and 20 miles depending on how we finished the route. Ouch. 20 miles!? I haven't been running more than 7 or 8 the last few weekends. My last run of 15 was about two weeks before Pigeon ran the Tahoe Rim Trail 100 mile race. Still, I was excited. I have missed my weekend trail runs and all the adventures that follow and yesterday's run had its share of adventure.
Let's start out with me waiting at my car at 6 am at our usual meet up place. I see Pigeon drive in and park a few spots behind me. I immediately jump out of my car and head to the back to gather all my things. I grab my bag and cooler and walk over to the back of Pigeon's car. "What is that sticker? Did Pigeon put a sticker on her car?" I think as I am about to throw my bag into the back of this car. I stop and realize it IS NOT Pigeon's car! The woman in the car just looks at me. I turn around and there is Pigeon, in her car, behind me "What are you doing?" she says. I just start laughing. Luckily, I kind of knew the woman whose car I almost climbed into but she looked a little confused. Just to clarify, they were the exact same car (make, color, everything) this girl had a few stickers on her car that Pigeon would never put on hers. I quickly climbed into Pigeon's car and we took of laughing pretty much the first 20 minutes over my mistake.
I was excited for this run because three other girls were going to join us! Pigeon had thrown it out there that we were running early and luckily a few other ladies wanted to join us!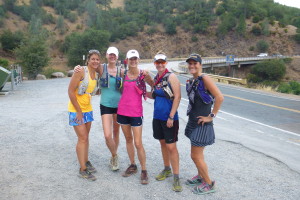 I have run with some or all of these ladies at various points over the last year. From left to right we have: Doc, Legs, Miss P, Pigeon and myself. These ladies are awesome runners. They are all super strong and a lot of fun. I was definitely the slow one in this group.
We started off with some climbing. Nothing like starting the lungs out on a high note up a big hill. Doc, Legs and Miss P took off running. Pigeon is still recovering from her 50 miles at Tahoe two weeks ago, so she was content to hang with me hiking and running our way up the hill.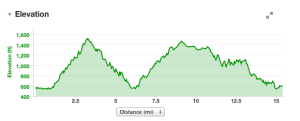 We were just running along when all of a sudden my head gets stuck and I realize that once again, my pony tail was caught in the zipper on the back of my jenny vesta hydration vest. Â This has happened numerous times to me on various runs. Trust me, I have tried two side braids, a french braid and even pigtails but my hair is that long that it sort of just swings and gets caught in the zipper. This time however, it was bad. I stopped and yelled to Pigeon to help me.
"What!? Again? You and your wardrobe malfunctions." She comes to take a look at my pack and situation and goes, "Oh man, that's stuck. That's really stuck. I don't think I can get that one out. I think you are going to have to pull a chunk out of your hair." I start laughing and then start pulling. I could tell it was pretty wrapped in there. I pull and pull and all of a sudden I hear RIP! Ouch.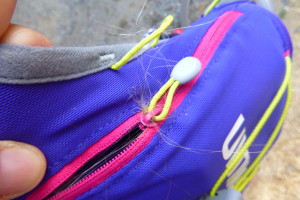 We eventually made it to the top of the hill and the others were waiting for us. We shared my little drama story, each of them agreed that it must have hurt.
Off we went down the trail. It was a nice run. We'd sort of separate at various points, each of us talking to a different person for a bit catching up on what is new in life or for me, finding out more about some people. It really makes the miles fly by when you have runs like this.
Eventually we got back to our car after a 6 mile or so loop. I hit the restroom and then when I got out, it seemed everyone was ready. I refilled one water bottle and dropped another thinking I wouldn't need it since my pack was still quite full and had some ice. One thing that I forgot to do, was grab any additional fuel. I didn't eat anything on the first loop as it wasn't that long but I knew the second loop had some additional climbing and that we'd face some heat.
Off we ran up the Stage Coach hill. When we got to the top, Legs called it a day and ran herself back down to her car. The four of us kept going towards the Auburn Damn Overlook with Miss P leading the way. She took a little different route to get to the overlook than Pigeon or I am used to but we were content to just follow her lead.
At the overlook we all tried to soak our bandanas  in water as it was starting to really heat up and fast. The water in the fountains however was luke warm at best. Not exactly refreshing.
Down the hill we went. Occasionally we'd stop and talk to some runners who were also out running. It seems everyone was trying to beat the heat with an earlier start.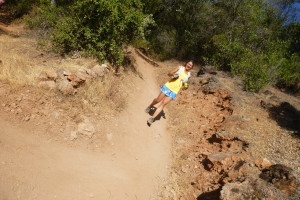 Miss P was really feeling great on this run and was quite a bit ahead of us at all times. She's in training for some nice races this year but both her and Doc ran the San Francisco marathon just the weekend before. Like I said, studs. 🙂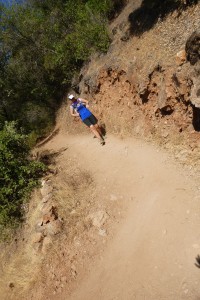 Pigeon was starting to slow just a bit. She was still in good spirits but the heat was rising fast. While the climbing slowed me down more than I would have liked, the rest of the run I felt pretty good. Occasionally I would pick up the pace and run a little harder or run up some tiny hill. Clearly I need to work on my climbing and hill repeats in the near future.
Soon we were coming to No Hands Bridge and the decision was made, we would head back to the car instead of heading up to K2 to try and make our run 20 miles instead of 16. I was fine with that.
When Pigeon and I reached the car and cooled down and said goodbye to the girls, the temperature gauge at 10:30 am read 97 degrees. That is hot at that hour!
I was home by 11 am and excited to spend the day with Vans, Squeaker and the girls. We had a little pool party planned and it was nice to just relax poolside (as much as you can with a million kids under the age of 6 in a pool) and enjoy the weekend.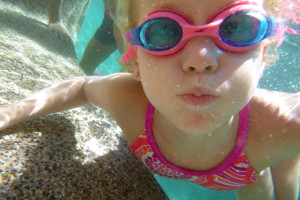 Happy Trails! (it felt so good to be back on them)
~Trailmomma
PS: I have some very exciting news to announce in the coming week or so. Please stay tuned and be sure to "subscribe" to my blog (in the upper right hand corner) so you don't miss out on this amazing once in a lifetime opportunity.