Vans and I were married in September 2004 and this year we celebrated our 9 year wedding anniversary. Before I had planned my surgery, I had the perfect gift in mind for us. We love Lake Tahoe. We were engaged there, married there and found out we were to be parents there. It holds a special place in our heart.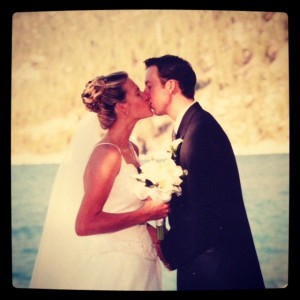 So I figured that the best way to celebrate 9 years was to return to Lake Tahoe and participate in their Lake Tahoe Marathon Week adventures! Vans has always wanted to ride around the lake. I cannot tell you how many times he has talked about it. As my anniversary present, I signed him up for the 72 Mile Ride around the Lake event that was being held our anniversary weekend. Little did I know that this was a full on race and not just a leisurely ride around the lake. Vans eventually figured this out and was honestly quite intimidated by the idea of racing in (or behind) a peloton 72 miles around Lake Tahoe at 6225 ft. elevation.
For my gift, I signed up for the Emerald Bay Half Marathon. I ran this event back in 2005 and it was one of the prettiest (and hardest) half marathons I have ever done. Unfortunately, due to opting for ankle surgery (something I do not regret) I was unable to run the half. Instead, I was able to get my money back for this event as long as I signed up for another one. I signed up for the 5K. I figured at the very least, 3 weeks post-surgery, I'd be able to walk the event.
So the week of our anniversary we left work early and hit the road with the girls for a weekend of fun. Vans had his race first on Saturday morning. Not only did he have to ride 72 miles around the lake, he had to ride to the starting line which was 4 miles from our hotel and in total darkness since the race started at 7 am.
When the girls finally woke up that morning I quickly took them to the breakfast buffet and then we hit the road looking for Vans.
I was trying to hide my concern that his race was on an open course, meaning it was not closed to oncoming traffic. Lake Tahoe does not have wide shoulders and inside I was freaking out that Vans was riding around the lake with cars (usually tourists) that know nothing about the twists and turns in the road.  We finally found him on his way back towards the finish. I was that annoying car that kept stopping at various points in the road to get out of the car and take photos. Peanut was happy but Squeaker was not.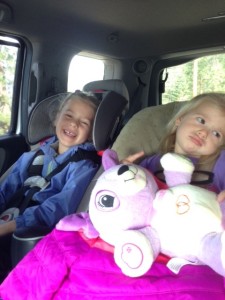 Vans stopped to get some water from me and told me that his chain had fallen off about 3 times during the course of the race. He had started with the peloton but the minute they started to climb up Emerald Bay his chain went "pop" and he had to get off to fix it. Until then he said he was keeping up with the peloton and I think it really motivated him.
He finished under 4 hours which was one of his goals and for doing so he received not only a finisher's medal but also license plate frame! He was literally glowing at the end of the race.  The girls were a little tired and hungry but they enjoyed running around the finish area too.
I am so proud of Vans and his accomplishment. He has been battling tough achilles issues these last few months that have progressed into his knee causing him lots of pain. Also, having two kids and a full-time job doesn't leave a lot of time for proper training. He was able to squeeze in rides on the weekends and I can only imagine how he would have done if he had plenty of time to train.
He has the bug and definitely wants to try this again someday and he's really excited to try another "race" vs a ride. Happy Anniversary Vans! So proud of you! I'll write about my 5K in another post.
Happy Trails!
~Â  Trailmomma