I have been waiting for some time to sit down and write this post. I left you all hanging with my last post and I apologize about that. I also apologize for the length of this one. 🙂
So about a week ago today, I flew back east to attend Engine 2 Diet's Plant-Stock in upstate New York. My dream come true  if you will. Plant-Stock is basically a conference of sorts, for those interested in living, learning and loving a plant-based (including no-oil) lifestyle. That is me 100%.
As some of you may know, I have been plant-based for over 20 years. Early on I avoided oils and the like as I knew in my heart they were not good for you. Over the course of time, I added them back in because of all the coconut oil/hemp oil/namewhateveroil hype going in the news and on the blogosphere.
It took my dad having a heart attack, followed by another blockage and consequently 3 stents for me to really get serious. My mother suddenly passed away when she was 47 of a massive heart attack. My dad was in his 60s when he had his. I have zero grand-parents left. My future was not looking very bright if continued living the same life-style as every other American on the planet (despite my activity level).
Anyway, back to Plant-Stock. I decided that I was going. I had to go. Vans agreed knowing how much this movement and way of life means to me.
During the course of my planning, Engine 2 and Dr. Esselstyn's group reached out to me and asked me if I would be interested volunteering at their merchandise booth. Would I?! Of course I was stoked.
So, I flew out Thursday evening after work on a red-eye. I flew to Newark, NJ by way of Boston where my dad picked me up. I rented a car, spent a few hours with Jersey Dad and then drove the 2.5 hours to upstate New York.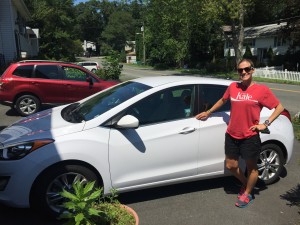 I booked myself a room at the St. Charles Hotel in Hudson New York. If you recall from my last post, Plant-Stock was being held at the Esselstyn Family Farm in Claverack New York. There isn't much around Claverack and most of the hotels were 30 minutes away.
I found Hudson and then found The St. Charles. The rates were "ok" the reviews were not but hey, I figured that I was only sleeping there for two nights and I was by myself, I could handle it.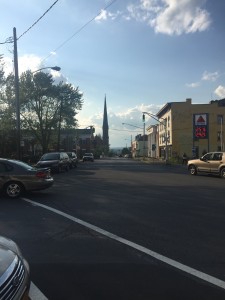 The town was quaint albeit a bit on the older side. The hotel seemed to sit on the side of town that was borderline near the sketchier areas but nothing terrible.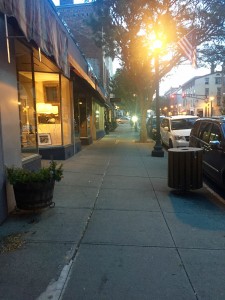 I walked around town a little bit after arriving trying to find a place to eat. I finally ended up at BaBa Louie's where I ordered a gluten free vegan pizza. When I walked in the door wearing my Engine 2 Kale shirt someone shouted "Engine 2!" and gave me a thumbs up. I knew then that I was in the right place. 🙂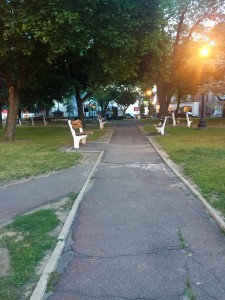 With my pizza in hand, I went back to my room to relax and eat. I was excited to get to sleep and have the next day begin! Plus the time change and flying had really tired me out.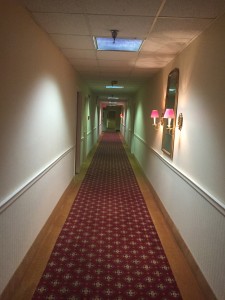 Saturday morning bright and early I woke up and left to find Plant-Stock and the Esselstyn Family Farm. When I spoke to the volunteer co-ordinator the previous week, she told me to arrive about 30 minutes early so that I could also help work the registration table.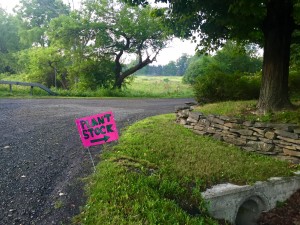 I pulled onto the property and was immediately in awe of its beauty. The place was gorgeous. Coming from draught stricken California, the east coast is just so green and lush!
But this farm, this farm was beyond words.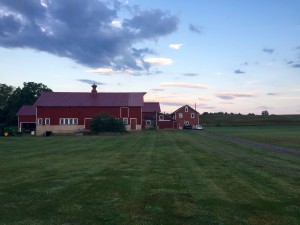 I made my way to the registration table and was introduced to a few really nice volunteers.
Working the registration booth was great because I was able to meet almost everyone that was arriving and get them squared away.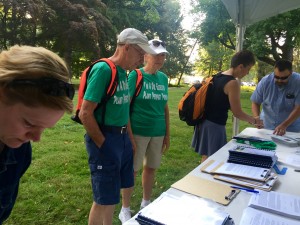 While I was working the booth I saw Dr. Esselstyn driving around on his Kawasaki cart picking up attendees who were struggling to walk or who didn't want to get their feet wet (the grass was very wet)! It was SO cool and super cute. He would zip back and forth just picking up people and loading up the cart.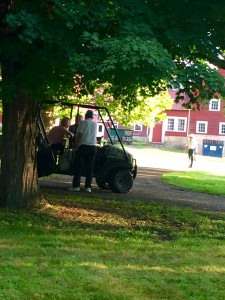 How amazing is that?! I mean he is a "celebrity" in the realm of plant-based living and for anyone who has had to suffer with heart disease … and here he is giving you a ride. Class act.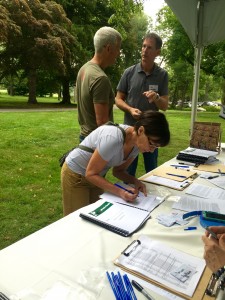 I also was introduced to Rip Esselstyn (author, fire-fighter and pro-triathlete) briefly while working the registration booth.
The only down side of working the booth was that I missed breakfast and I also missed out on getting a super close seat for all the lectures. Still, it was no big deal because it would pay off in many other ways later.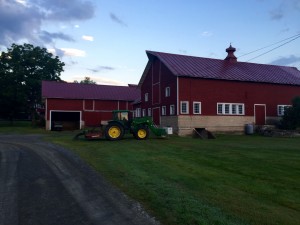 Plant-Stock consisted of full two days, Saturday and Sunday with a dinner on Saturday evening (that cost extra).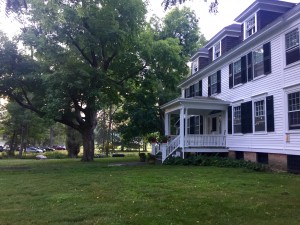 The first talk of the day was by Rip Esselstyn. He talked about Strong   Food vs Weak Food. He then would introduce T. Colin Campbell who talked about Rethinking the Science of Nutrition.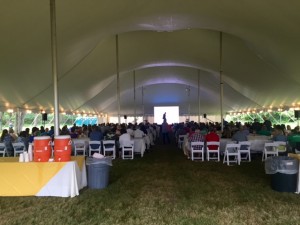 In between all the talks they would have a break and I would go to the merchandise tent to work. After Dr. Campbell's talk, they had him come to the booth to sign books.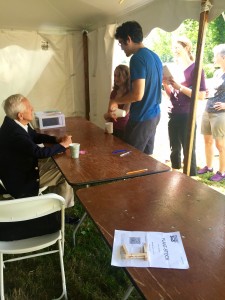 I have to say, this was an unexpected bonus for me. Working the booth meant that I was able to be near all the speakers and listen to to their discussions and how they answer the questions asked by all the patrons getting their books autographed. It was GREAT!
After Dr. Campbell it was time for Part 1 of Dr. Esselstyn's talk on Preventing and Reversing Heart Disease.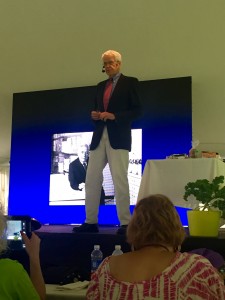 His talk was great, as was Dr. Campbell's. Even though I was supposed to work the merchandise booth on the next break, I made sure to grab my book and race to get in line because I couldn't pass up the opportunity to have Dr. Esselstyn sign my book.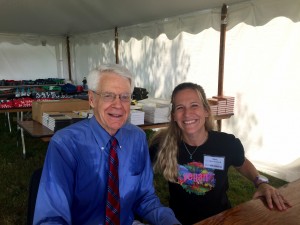 Poor guy wore a suit and tie for his talk and it was sweltering outside so when it came time to autograph books and take photos, he was all sweaty. But he was still so present and interested in everyone that came up to him.
Watching Dr. Esselstyn sign books was truly a treat because he really engaged every single person that came up to him. Not only did he answer their questions, he ASKED questions. He truly listened, eyes focused, soaking it all in. This man is truly a gem in this world. He honestly cares 100% about those he affects and the lives of others. It blew me away. I knew he was a great guy from the stories I have heard, but to witness this, just made my heart melt in appreciation.
After Dr. Esselstyn's talk it was time for Doug Lisle's The Pleasure Trap. I have read The Pleasure Trap but I have never heard Dr. Lisle talk. He is one heck of a presenter. He is funny, engaging and he really can drive home a point and make you think! His second talk on Sunday truly was my favorite, it was called Getting Along Without Going Along.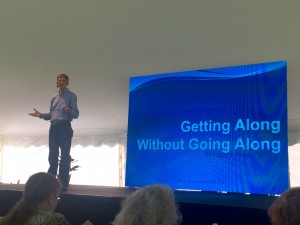 Following Dr. Lisle was Neal Barnard, another person who I follow on social media but whose books I have not read nor have I heard him speak. He gave an amazing talk about Power Food for the Brain and also signed books. Now I would like to read one of his many books.
After Dr. Barnard was Dr. Tom Campbell, one of T. Colin Campbell's sons and co-author of The China Study book. His talk was about The Simple Way to Lose Weight and Reduce Illness. Dr. Tom Campbell is a new father to an adorable little girl and a beautiful wife, both were present at the event.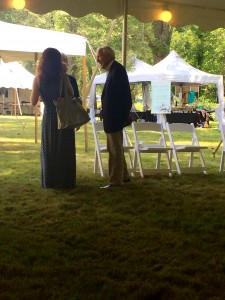 After Dr. Tom Campbell came Dr. Ron Weiss, MD – a physician in New Jersey and the first physician ever to work with organic farmers and open his medical practice ON a farm prescribing vegetables instead of pharmaceuticals.
Following Dr. Weiss came the surprise of the evening (for me), Howard Lyman. I have never heard him talk nor did I know much about him. He has authored a book called, The Mad Cowboy and his talk was called The Cattle Rancher Who Gave Up Eating the Ranch. His story was amazing and his talk SO motivating. He truly was the perfect way to end the evening because he is so passionate about what cattle ranching is doing to our environment. He is also hilarious in his delivery.
Dinner was next. To have dinner at this event it cost extra but it is 100% worth it because there are no "VIP tables" or sectioned off areas where all the speakers would typically eat. Nope, they ate dinner right along side you.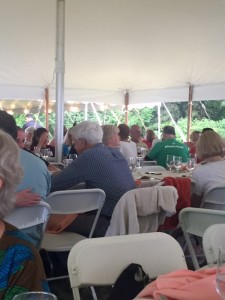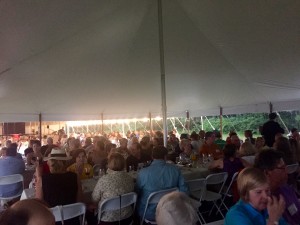 During dinner it started to rain, hard. It also thundered and we had lightning. It was pretty intense for a while but no one got up and left. We all just sat and ate and talked.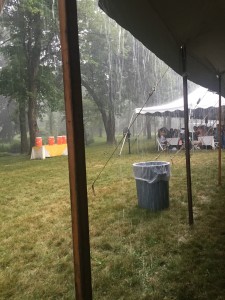 Dinner was lasagna with a side of steamed kale, a salad and bruschetta all plant-based and gluten free if required.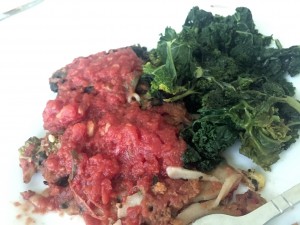 I sat with some very nice people all of whom had different reasons for being there this weekend.
After dinner we watched The Plant-Pure Nation under the big tent (it had stopped raining). Here is where I was so happy that I picked The St. Charles Hotel … because we didn't leave until almost 9 pm that night.
Sunday morning I was dead set on getting there bright and early so that I could get a spot super close to the stage. However I did re-think this because of the previous day's events.
Even though first I was bummed I had to sit in the way back on Saturday, it had its bonuses! Like when I turned to my left at one point during Neal Barnard's talk and realized I was sitting right next to T. Colin Campbell and family as well as Dr. Esselstyn! What!?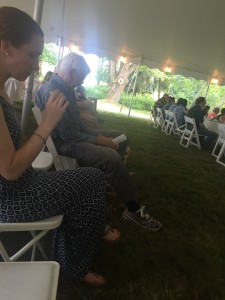 Yes he had dozed off. It was hot.  He'd probably been up and running around for hours and had given a great talk AND conversed with every single person who came up to him.
But here is what I love most ….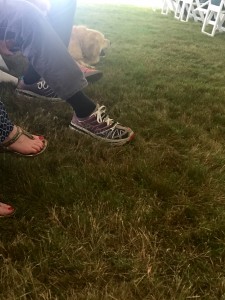 Dr. Esselstyn wears HOKAS! 🙂 As a trail runner, I just love this. They are a pretty cushiony shoe so I don't blame him one bit. This man works HARD and may I remind you, he is over 80!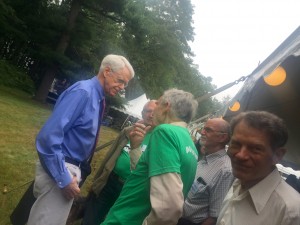 No matter where he was, he would give everyone the time that he had to answer questions, hear stories and give his pieces of advice.
Sunday was filled with breakfast and more talks. We heard lectures by Dr. Esselstyn again (part 2 of his Prevent and Reverse Heart Disease).
Dr. E's wife Ann Esselstyn also gave a talk on What to Eat, Where to Buy It and How to Cook It. I need to stop and talk about Ann Esselstyn for a minute here.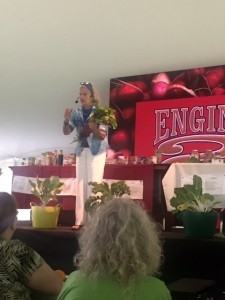 Okay, Ann just turned 80 years old. Not only did I see her running around, she also helped set up all the place setting and center pieces at the dinner tables!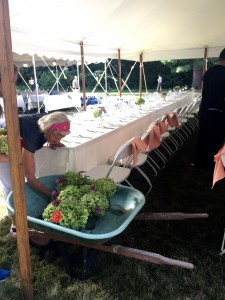 Ann also runs for an hour around the farm property and does yoga. She is in amazing shape and has the energy of my 7 year old! Seriously. She is incredible and she runs on veggies, not caffeine!
After Ann was Dr. Robert Ostfeld who talked about why he prescribes food as medicine. I have heard Dr. Ostfeld on Rich Roll before.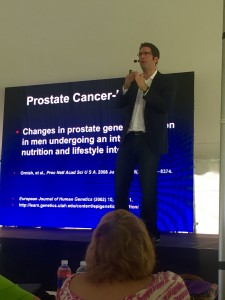 His talk was very good as well. You can tell his life has been impacted by this lifestyle and how much he looks up to Dr. Campbell and Dr. Esselstyn.
After him was Dr. Lisle's second talk (my favorite one mentioned above) and followed by him was a Plant-Strong Cooking Demonstration by Jane Esselstyn (Rip's sister and Ann and Dr. Esselstyn's daughter).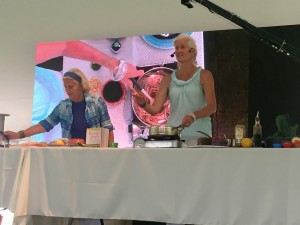 The cooking demo was all recipes from their cookbook which is one of my favorites. It was nice to see how they just throw stuff together. It was also really nice to see the interaction between Ann and Jane. They are actually neighbors back in Ohio and they said as they were writing their cook book they'd run across the path that connects their homes and share recipes. They truly are too cute.
I adore Jane because she is feisty. She's a nurse and she also taught sex-ed to kids in schools for years. Her humor and energy is infectious.
Finally, they closed out the day with a Q&A session with all the speakers who were left. They Q&A lasted almost an HOUR!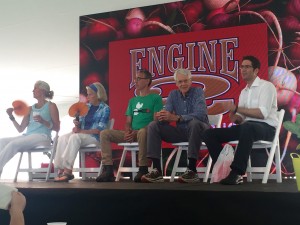 It was really neat because a lot of people stood up and shared some of their stories and asked really good questions and the doctors all responded.
After the Q&A was Rip's final speech on Hope. He also shared some information about an up and coming documentary that will rival the popularity and importance of Forks Over Knives. The audience was even given a sneak peak. It was really good and really exciting. I cannot wait for it to come out.
When they let us go, I had a wave of sadness sort of come over me. I missed my family but I didn't want to leave. There is just something about this place that warms my heart. Besides being peaceful and gorgeous, just watching this family interact before all to see, was so touching. They are, special.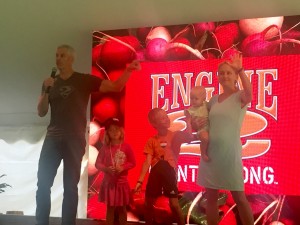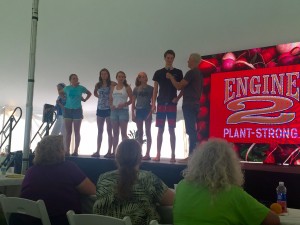 They just truly opened up their home to 250 random strangers. I mean really opened up their entire property to us, their time, their energy and their dreams and aspirations for what they would love to see in people's health.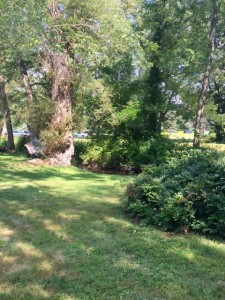 I gathered my things and went in search of Char Nolan, the woman who was the reason behind my volunteering and who is the voice behind a lot of the social media posts for both Engine 2 and Dr. Esselstyn.
I found Char and gave her a quick hug. I missed saying goodbye to some of the other people I had met, some of whom were originally Instagram "friends" which is crazy if you think about it.
I made the long 2.5 hour drive back to New Jersey all by myself with a lot on my mind. I rehashed the weekend over in my head. Tried to remember the pieces that stood out most. Overall, it was a wonderful dream come true kind of weekend for me.
I wish that in some capacity, I could do what they are doing or support them in some way because I love to share the plant-based way of living. A lot of times I wish that maybe I had gone into medicine but I don't think that is the answer. My passion is definitely health, plant-based health and if I could find a way, I would devote myself 100% to working towards making this my life's work.
In the meantime, I am content to work on my family's health. Vans is 90% of the way there (some days) and the girls, well the girls are my struggle. The Peanut knows what is healthy but she is more or less afraid. I keep trying to find ways to make them try things that may be foreign to them or may look weird … I am working on those smaller battles before I try and win the war.
Until then, I hope you stick with me. I will try to be a bit more regular with my posts. I need to start developing some topics to write about. I do have some races ahead so that will be nice.
I am gearing up to start some road running again, something I haven't done in quite a while. It will be good for me because road running definitely is a mental game that will make you tougher all around.
If you have any questions about Plant-Stock feel free to comment. I know I wrote a lengthy post but it truly was two days of amazing.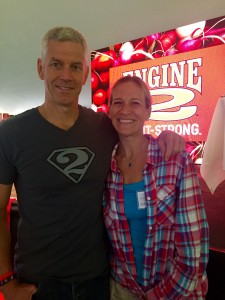 Ya, you could say I look a little bit excited in that photo! 🙂
Happy Trails!
~Trailmomma