If you follow me on Instagram (click here)*, then you may have seen a recent post about a cauliflower pizza crust that I made the other night. While this isn't typically a food blog (honestly I have no idea what kind of blog this is), it has been probably my most requested recipe to date.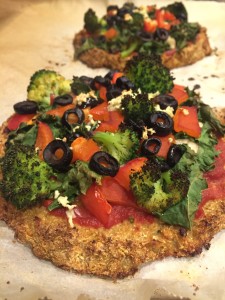 *If that Instagram link above doesn't work, then search for trailmomma on Instagram. I post a lot of food pics there and on Facebook. 
So here goes …. first and foremost, I am not skilled at creating my own recipes. Often times, I take recipes that I find online or in books and I tweak them to make them plant-based and gluten free. That is what I did with this recipe. I have made this so many times, and every time, I tend to do something a little different.
This time around, I pre-made some plant-based mozzarella cheese. Normally we don't even use any "cheese" on our plant-based pizzas but I found this recipe and I decided to try it. To be clear, I thought it would melt and be very "cheesy" on the pizza. It didn't melt. It tasted surprisingly like real mozzarella cheese but it didn't melt. At all.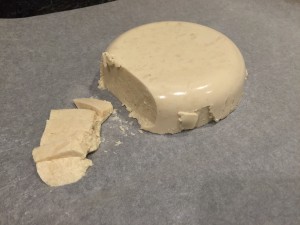 But here is the way I typically make my Cauliflower Pizza Crusts. Please note, you can't slice the pizza and expect to hold it like a big-ol-slice of pizza … it is more of a eat with a fork kind of meal.
Take one whole head of cauliflower and remove the florets and throw into a food processor. I find that one head of cauliflower makes two perfect individual size pizza crusts.
Preheat your oven to 450 degrees and line a cookie sheet with parchment paper and set aside.
Next, in a small bowl, take 3 tablespoons of ground flaxseed meal and mix with a 1/4 cup of boiling/hot water OR veggie broth and set aside.
Then process the cauliflower until it looks almost like rice. Throw it all in a large bowl and then add the following ingredients:
3/4 cup of oat flour (I have also used garbanzo bean flour with success as well as almond flour)
1 tsp of ground garlic powder
1 tsp of ground onion powder
1 tsp oregano
3-4 tbsp of nutritional yeast
Add your bowl of flax seed (it should look like it absorbed the water)
Remove any rings from your fingers, (trust me on this one) and using your hands dig in and mix, mush and combine away. I typically try and combine and then I separate the mix into two separate "balls" to make two separate pizzas.
Warning, it is going to be sticky messy and kinda weird. Okay, very weird and you'll totally have a mess on your hands afterwards.
Take one ball and put it on the cookie sheet you have lined with parchment paper. Flatten and shape as best you can. It won't be perfect. I try and make a "crust" by curving up the edges.
Repeat the same with the other ball of "dough" and bake both crusts for about 15-20 minutes.
When 15-20 minutes is up, remove your pizza and begin adding whatever veggies you like.
Now I have done this two ways. I have cooked my veggies in a skillet and then added to the pizza prior to baking and I have put raw veggies on the pizza and baked it that way. Since I am lazy and prefer not to wash  more than I have to after a meal, I usually opt for just adding raw veggies.
Here is what I usually do (keep in mind, this is entirely our preference)
Add tomato sauce (I use any oil free tomato sauce I can find i.e. Engine 2), add some oregano, basil, garlic powder to the sauce that is on your pizza. Then I add kale and/or spinach and usually things like red pepper, broccoli, onion, olives and top with fresh chopped garlic. Sprinkle the top with some nutritional yeast if you like (Vans does).
Bake again for 15-20 minutes. To be honest, we are usually doing a million things at once while this is baking so many times, I'll turn off the timer (after it buzzes), turn off the temperature on the oven and then let the pizzas sit in the oven while we finish bathing the kids, packing lunches or (ahem) opening wine … or whatever the situation may be that night.
Before serving, I usually sprinkle with more garlic powder and copious amounts of red pepper flakes (that's the Jersey Girl in me).
Moving the pizza from the pan to the plate does take some skills as usually the middle of the pizza can be a bit soft. I use a large spatula and kind of slide it over.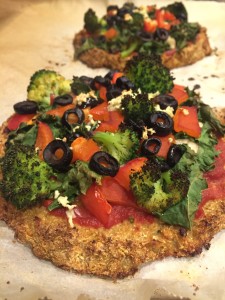 And that's it! Voila. There is my fancy Cauliflower Gluten Free Plant-Based Pizza. It takes some perfecting and it is a very filling meal.
I know today is Thanksgiving so this is my gift to all my readers. Thank you for following me. And whether you comment or not, like my posts or not, I truly appreciate you and the motivation you give ME in life.
May your day be spent with your family and involve many hugs … some time spent outside and perhaps, a nice glass of wine or tea.
Happy Trails!
~Trailmomma