First let me say thank you to all of you that read my last post. I appreciate those that commented, shared it on Facebook or even emailed me directly in support. I also thank those that didn't necessarily agree with my post and told me as such. As a reminder, that post was the letter that I WISH I could have sent to the PTA President and was not the actual letter I emailed (which was much nicer, sort of). My biggest issue with her initial response was how dismissive and rude she was to me and my concerns. She clearly could have just said something along the lines of "thank you for your email. I understand your concern and will take that into advisement next year when planning." But she didn't do that. Instead she tried to draw me into championing a new game to rival the ring toss and was downright rude about it. I am not going to beat a dead horse about this. I sent my letter last week in response and I cc'd the school principal so she was made aware of what her PTA president was doing and how she handled parent's concerns. I have not heard anything from either one of them. I will be more on top of things next year when our Harvest Festival planning is in the works.
This past weekend marked a small running milestone for me. On Friday I was able to run the Ridge Loop of Death (7 miles) for the first time and boy was it disastrous. Not only was it sweltering (what the heck, it IS October right?) but I had forgotten that I had gone to Breakout Fitness that morning and had done a series of leg drills (squats, burpees, lunges). Not the wisest decision on my part however, I was thrilled to be getting an extra day out running in the first place since I don't often get extra days to run. This also was the first time since surgery that I did the Ridge Loop of Death!
On Sunday, Pigeon and I had agreed to run when she got off from work which would be late afternoon. In a way, I enjoyed this late start because I was able to enjoy a nice leisurely morning with my family but it was also harder to motivate and figure out the meal situation. However, I could not complain because Pigeon had been on her feet working a 9 hour day prior to meeting me so really, hush up Trailmomma right?
I decided that I wanted to test out my new socks. I recently purchased the Injinji lightweight no-show socks (from Amazon).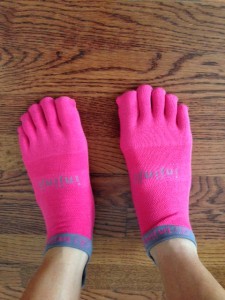 I don't typically (knock on wood) have blister issues when running but I have noticed that my running form has suffered post-surgery because I have been running as if my ankle is GOING to hurt and therefore have been running on the outside of my foot. The Injinji socks really let you focus on putting more weight evenly on the front/ball of the foot including the big toe. The sock is really light weight, almost nonexistent compared to my Drymax socks that I usually wear when running trails. I am not entirely sure how these socks will hold up when running through streams and river crossings but overall on a dry hot day, they were great. I really liked how they felt and I didn't have any issues when running. I purchased two pairs and will continue to wear them running to see how their fare through some winter running. Maybe I'll do a search and see if they have a trail version that is perhaps a bit thicker. I have an old pair that I won years ago when they first came onto the market but I prefer the no-show look and the older pair was more of a crew sock.  Okay enough about socks.
Pigeon showed up and instead of taking her on the Ridge Loop of Death we decided to try a new loop that Vans suggested that takes us on a bit of road and trails but ultimately dumps us into Browns Ravine and we found ourselves running right by a very dried up Folsom Lake.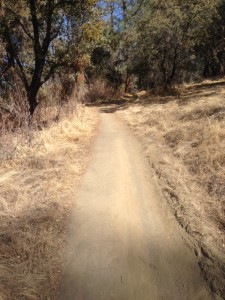 Brown's Ravine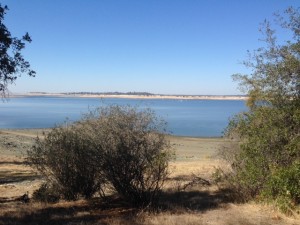 Folsom Lake
It was a fun run and I brought my phone because well, running with Pigeon always involves the historical pretend we're in a JCPenny Catalog Photo Shoot (probably just an excuse to stop running periodically).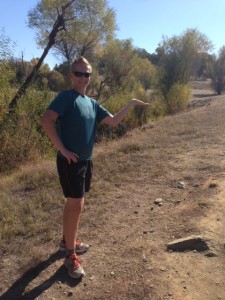 JCP Photo: Voila, the Trail!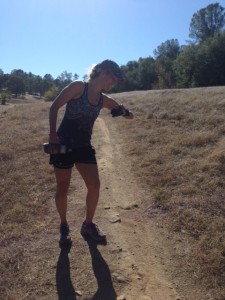 JCP Photo: Oh dear, what's my time?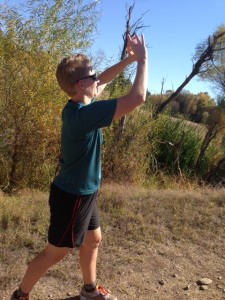 JCP Photo: Focusing on the sun.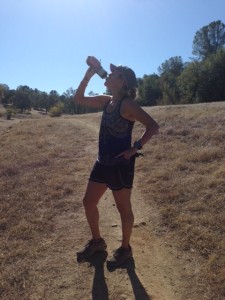 JCP Photo: Mighty Thirsty
The weather was pretty warm and sunny with little shade cover on most of the trail. I was having a blast. Running with Pigeon is fun regardless but just being back out there running up the hills (or power walking) and getting a little dusty felt awesome. Once we found ourselves on the levee by the lake we took the pavement back to my house by cutting through a fairly festive neighborhood.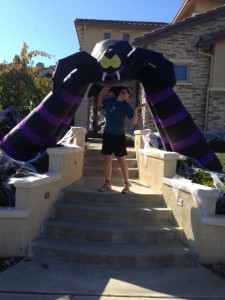 Scary spider!
In total, we did about 7.25 miles which is roughly what the Ridge Loop of Death is distance wise. No matter what you are running some massive hills on either route but I would say the hills on the Browns Loop were a bit worse and/or steeper. There seemed to be more of them and maybe that is just my recollection because I was dying from the heat and from being out of shape. Baby steps. Our fitness is coming.
Gear: For this run, besides my new Injinji socks, I also sported Athleta's Stability Shorts  in black and their Printed Tinker Tank both of which are on sale (hint hint). The shorts I love and wear often (I have 3 different colors) and the tank,  which I usually reserve for Breakout Fitness type workouts did well for me on the run although I had to pair it with a sports bra for added support. When I can, I will try and do gear updates like this as often as I can so that perhaps someday Athleta will give me a shout out and welcome me into their wonderful world as a Featured Athlete. (hint hint). For hydration I brought my Camelback insulated handheld. I love this water bottle. I never leaks, holds enough cold water for distances up to 10 miles or so and has a handy little pocket that fits gels or in my case, dates in it.
I've been thinking a lot about 2014 and what runs I'll be doing next year. Perhaps I'll do a post on what my plans are and what I'd like to accomplish next year. Right now, I have no real races scheduled that I plan to race. I do have an entry into the California International Marathon that I am toying with right now.
In other news,  sadly Van's is on a business trip this week so there will be no Breakout Fitness classes this week or trails runs until Saturday. I am okay with that. I look forward to spending time with these two little monkeys.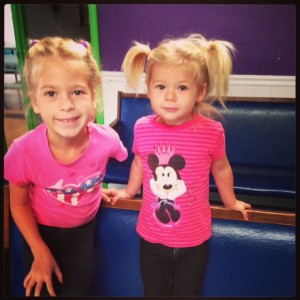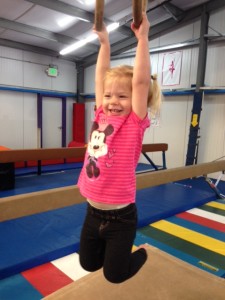 ~Trailmomma