Today was another one of those "kick myself" moments. I was sitting in the auditorium at Placer High School in Auburn, waiting for the Western States 100 Mile Endurance Run lottery to start. I was there because my friend and training partner Pigeon was hoping to have her name announced.
She has previously entered the race three other times plus the current entry which brings her tally to four tickets with her name written on it amongst thousands in the bin. She also was entered into the "lottery within the lottery" for just being present at the auditorium, kind of a 'last chance' if you will.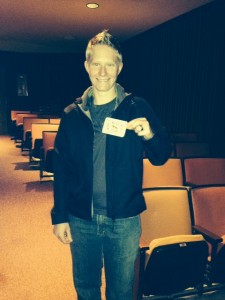 Pigeon with her "last chance" ticket.
We had arrived pretty early because the weather was bad and the parking is notoriously difficult and because Pigeon wanted a good seat. While we sat and waited I watched her talk with tons of other runners who had showed up hoping for a chance to toe the line at states in 2014. After that the race entry requirements change and the race will become even more difficult to enter, hence why everyone really wanted to get picked this year.
While I was sitting there I saw legends like Gordy Ansleigh who is the founder of the Western States Run, Tim Tweitmeyer who is a legend in Auburn as well within Western States and so many other people who I have heard about, read about or perhaps even passed occasionally on the trail. The feeling was really surreal.
The great thing about ultra-runners is that they are the most friendly supportive people you will come across. That competitive drive is not really on the surface and they are more than happy to cheer for a buddy or an acquaintance then bring them down.
Unfortunately Pigeon's name was not called for the 2014 Western States, and I know she is really bummed about that. However I know in my heart that her first 100 will happen when the timing is right. Â I can't say exactly when that will be but Pigeon is and always has been about redemption. It is practically her middle name.
She suffered miserably during the Sierra Nevada Endurance Run a few years ago only to redeem herself the following year. I have no doubts that Pigeon can conquer 100 miles. She is one of the toughest runners I know.
I hope to have her strength and perseverance tomorrow when I am at the starting line for the California International Marathon. I am not a fool to think that I will do well or PR tomorrow, not 3 months post ankle surgery but if I can have just one ounce the strength that Pigeon does, I will be happy.
I apologize for the lack of posting on the blog lately. We were away on vacation as a family over the Thanksgiving holiday and I was enjoying the quiet family time. It was a glorious week giving me lots of time to think and boy did I think … I'll be back to share how CIM turned out and perhaps will share some of my recent news with you all tomorrow.
Happy Trails.
~Trailmomma