I've been thinking a lot about 2014. Generally I like to think I am a "live in the now" kind of person. However, by nature I plan. I make lists for myself and the kids whenever we travel (for Van's it is kind of hopeless), I write out grocery lists and meal plans for the week but for the most part, I would like to live a life of spontaneity and with no regrets. Of course having two kids under the age of 5 inherently makes that very difficult (um, nap time).
However, when it comes to running and training, I have generally never jumped into a race "just because" or signed up for something last-minute. I always get the "early bird" sign up and never the "day of" registration. That is just the way I have been programmed. I have learned my lesson a few times by signing up for races and then having ankle surgery.
But I have been putting a lot of thought into my 2014 racing/running plans. Way back before my surgery I even made (yet another) list of the races that I wanted to do. I tried to ease myself back into things with Resolution Run in January in Auburn followed by that little old thing called the Western States Training Run in February and well, that itty bitty race called Way Too Cool 50K in March. However, WTC is a lottery and what if I didn't get into the lottery next year? Of course I'd have to sign up for the Tahoe Rim Trail 50K too (which is also a lottery for 2014). Both Way Too Cool and Tahoe Rim sign ups are in December so essentially, I have to sign up for BOTH at the same time and run the risk of being picked for BOTH races. I am not, by nature, a lucky person. Lucky things do not happen to me generally but I think in this case, I WILL get picked for both races because well, that would be Vans's bad luck (and my good fortune) butting heads.
I also just discovered that the American River 50 Mile race, which I had no intentions of doing again, at least not this year, had a course change. The start is about a mile from my house (again)! Now if that is not fate knocking on my door I don't know what is. Right? (Van's don't answer that).
My other main focus in 2014 is pacing. Pigeon is throwing her name into the Western State 100 Mile race again and I am finally healthy should she choose me to be her pacer. My love of all things Western States stems back to my first few months in California (1999) when my local PBS station (and past employer) did a documentary on the race (Race for the Soul). I fell in love then and the love still stands. I was fortunate enough in 2010 to do a few of the WS training runs as part of my training for AR50 and then for fun after AR was done. That is my goal this year. I want to be out there on Memorial Day weekend running those beautiful trails again getting muddy, wet and dirty but having the time of my life! I love it. I have goosebumps just typing about it.
I have too much to think about and all of it wonderful. I truly am lucky in that my surgery was done well and I am back running and feeling so great. My only hurdle these days is time but I am managing. I have a lot of support in Vans, my girls, my running and non-running friends as well a few new friends that I have met along the way.
I am healthy, my family is healthy and we have so much to be thankful for these days. This solo parenting week has really opened my eyes to how lucky I am. Spending quality time with my girls has really been wonderful. They  make me laugh daily and I love to make them laugh. I love seeing bits and pieces of Vans and myself in them and I only hope that we can pass on our love of the outdoors, sweat, fitness and being active to each of them. What they decide to do with that is their choice. We don't demand that they are competitive but as long as they can realize and understand how movement can improve how they feel and how they think. We are blessed with healthy bodies and our job is to keep them healthy.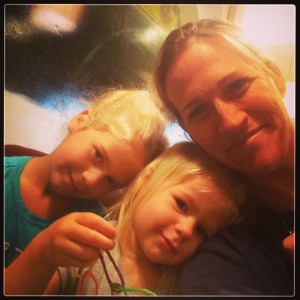 How are you treating your gift today?
~Trailmomma