Before I announce the winner of the Plant-Based Rouxbe Online Cooking School give-away, I want to thank ALL of you who commented on my post, shared on Facebook, Instagram and Twitter. I also want to thank all of you who emailed me personally or stopped me while out and about to ask me more about Rouxbe and their plant-based program.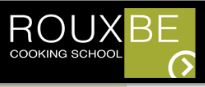 Like I have said numerous times, Rouxbe's program is pretty unique with their online approach and use of technology and even though I have been plant-based for over 20 years now, I am learning even more. Not only am I discovering tips on how to cook certain vegetables or grains, I am learning proper cutting techniques as well as storage and handling for certain foods to prevent spoilage and prolong the length of my produce, legumes and grains.
Currently I am only a quarter of the way through the program myself and my oldest (age 6), now declares that she likes brussel sprouts because of the method I learned through Rouxbe.
Also, if your name is not listed below as a winner and you are really interested in this course, Rouxbe has decided to knock 20% off their tuition prices for their October session! How cool is that!? Just use the code BACKTOSCHOOL upon registration (offer good until Sunday, September 7, 2014).
So without further ado, let me announce the winner of the free tuition to Rouxbe's Online October Plant-Based Cooking Certification Course! The free tuition goes to…(drumroll please)….. Sarah!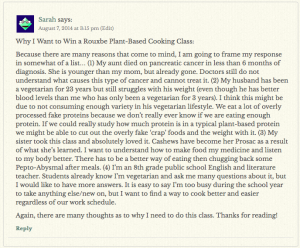 Congratulations Sarah! Please email me at trailmomma@trailmomma.com and I will tell you what you need to do to register and claim your amazingly awesome plant-based prize! You are now on your way to improving your plant-based knowledge and I really hope this helps you educate those 8th graders and show them how eating a plant-based diet doesn't have to be a big deal. Please stay in touch and keep me posted on your progress throughout the course!
Thank you again to all who entered. I truly feel honored to be able to offer such an amazing experience and I cannot thank Joe Girard and the whole Rouxbe team for allowing me to do this give-away.
If any of you have any questions regarding my progress or experience with the program, please do not hesitate to contact me or just follow me here as I will continue to share my experiences with Rouxbe on my blog – just as long as you don't mind some trail running posts thrown in every so often. 🙂 OR better yet, … follow me on Facebook! I am finally going to launch my Trailmomma page on Facebook because I know there is a large group of people in my inner circle who could care less about the amazing plant-based meals I had for dinner or the 20 mile trail adventure that I had on some random weekend. I will be posting my meals, Rouxbe experiences and trail running adventures on my Trailmomma Facebook page and leave the family random personal stuff for my regular one. The Trailmomma Facebook page should be live within a day or so.
In the meantime, congrats to Sarah and I encourage all of you who entered to look into Rouxbe. If the time and money situation is not quite right at the moment, keep it in your back pocket for future reference. If you are truly stuck on how to succeed at a plant-based diet, this course could help you. Of course you are always welcome to email me with any questions you might have as well: trailmomma@trailmomma.com or use my Contact page above.
Thanks once again to Rouxbe!
Happy Trails!
~Trailmomma