As I wrote in my  Pac Crest Marathon Race Report, we vacationed in Oregon this year. One of my loyal readers (yo Padre!) commented that he loves the fact that we ran a race AND vacationed at the same time as a family. We've been doing that for as long as I can remember, definitely since the Peanut has been born.
Our first ever trip to Oregon was to Portland in October of 2009. Vans and I flew up there with the Peanut who was about 18 months old. I ran the Run Like Hell Half Marathon and he and the Peanut did the 5k race in the jogger.
We went back to Oregon in 2010 to run the Pac Crest Half and 10k and then again in 2012 to run the Pac Crest full marathon and Vans did the Duathlon.
2015 it was decided that we needed a return trip to Oregon. It had been too long.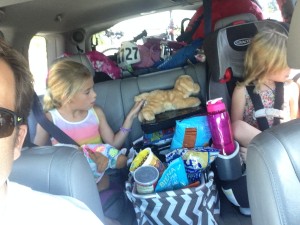 We left on a Thursday afternoon with the intentions of driving straight to Ashland. I have wanted to stop in Ashland on our way but we never managed to make it work, this year we did and both Vans and I are glad that we stopped.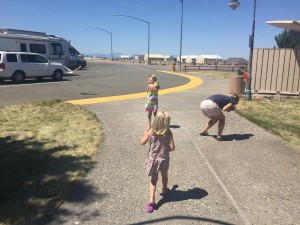 Ashland reminded me very much like downtown Berkley in California but with a more mountain-ish look and feel.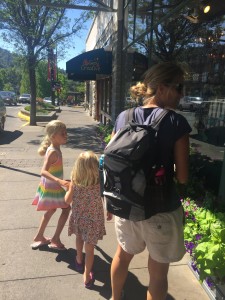 Our first item of business was to stop at the Rogue Valley Runner's store which is owned and operated by Hal Koerner. I've been a "fan" of Hal's for a long time and was super excited to see his store. I knew he wouldn't be there as Western States was happening this same weekend and I knew he would be down helping with that race.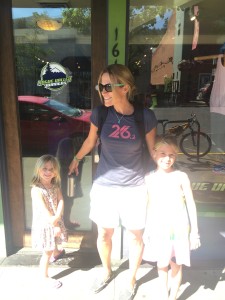 Thanks to social media, Hal recommended that when we come to Ashland, that we check out Standing Stone Brewing Company. Vans is always down with checking out a brewery so we headed there for dinner.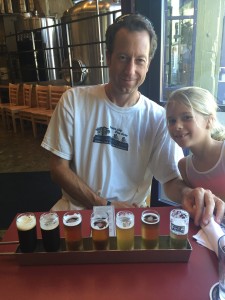 The girls loved it because Standing Stone provided cool little chalk boards with colored chalk for them play with at the table.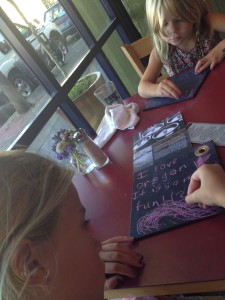 I had a blackberry cider which was really good and an amazing gluten free vegan tempeh skewer dinner. Another highlight was that I spotted Jenn Shelton having a beer at the bar. That was pretty cool. I can't recognize celebrities to save my life, but ultra runners? Sure can!
After Ashland, we drove to Medford where our hotel was located. Medford was interesting. We would have preferred to have stayed in Ashland and explored more but unfortunately there was a softball camp and a Shakespeare Festival happening all at the same time and so there were no hotels available.
Friday morning we woke up and drove the remaining 3.5 hours to Sunriver. We decided to pass Sunriver and head to Bend to stop at Trader Joes and grab the food we'd need for the next few days. Be-Well-Run and her family were not expected to arrive until later in the day.
When everyone had arrive and unpacked we hit the race expo to pick up packets. Be-Well-Run signed herself up for the 10k and her kids for the kids fun run. Their races would be on Sunday morning. Pac Crest does a great job spreading out all the events so that almost everyone in the family can do something while being available to watch other family members race as well.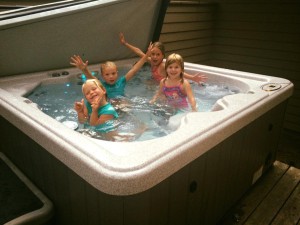 Saturday morning I ran the marathon. You can read that race report and see photos here. While I was running the kids were having breakfast …..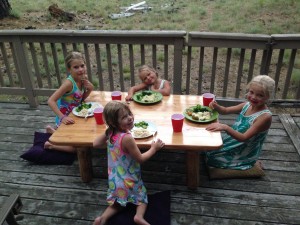 AND getting into mischief….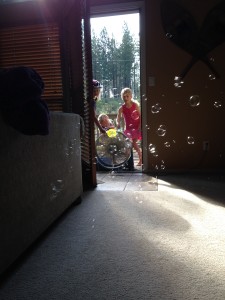 When the marathon was over, we had lunch and then went for a bike ride all around Sunriver in search of a pool to swim in. Yes. I ran a marathon and then went biking. I figured it would help the legs (ha ha).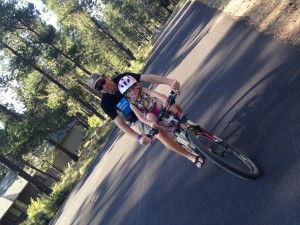 We couldn't find a pool and instead found a spot where the kids could dunk their feet and jump into the Deschutes River. It was cold.
During our trip, we also took some time to visit Bend a few times which is absolutely gorgeous.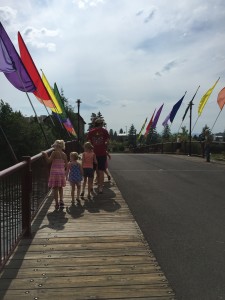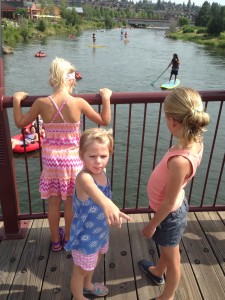 While in Bend, Squeaker had her first ever "real" ice cream cone. The kind where you have to lick and turn, lick and turn to ensure you don't have a huge mess. She did great but man was she in heaven with that cone! Her facial expressions had us laughing so hard.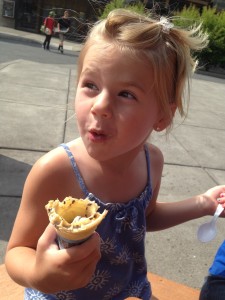 We also went to downtown Bend and wandered around a bit … stopping at a few breweries of course.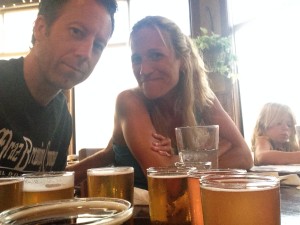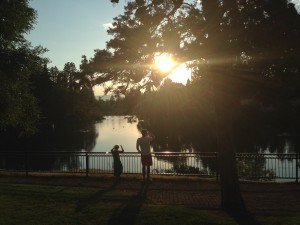 We also had a lot of fun just hanging out at the house too in the evenings. The dads went on a night mountain biking ride one night to check out the trail situation.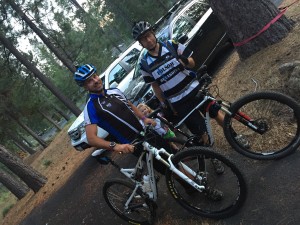 The house was equipped with a bunch of board games so the kids loved playing those.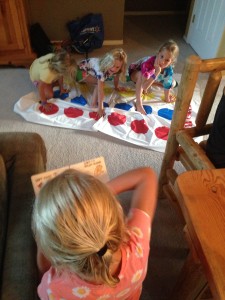 The adults found other games to entertain ourselves with …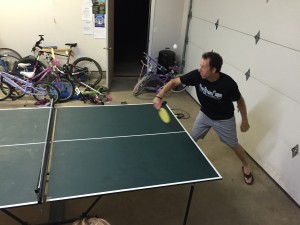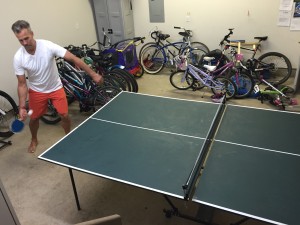 Be-Well-Run and family brought their slack line which was a lot of fun but also caused a few tears.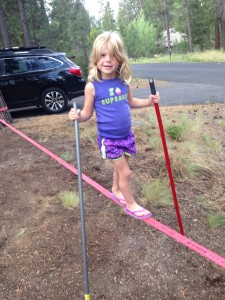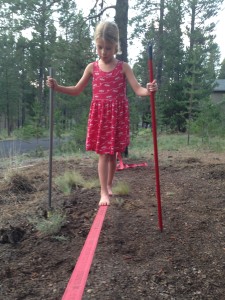 I cooked up a storm as I brought my instant pot so I was content in the kitchen all weekend making everyone try my random dishes.
Sunday was a big day as Vans and Be-Well-Run had their 10k race. So we all loaded into one car (four adults four kids) and drove to the start of the race. JD and I would be in charge of the kids while the other two raced.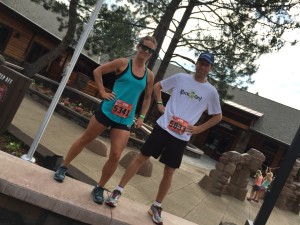 It was another incredibly hot day. Muggy and hot actually. Vans hasn't been running much and Be-Well-Run said she hasn't really either. Both were just going out there to have some fun and give it a shot.
While they were off running, JD and I tried to entertain the kids with bounce houses and rock climbing.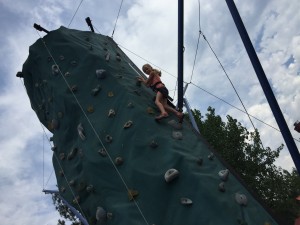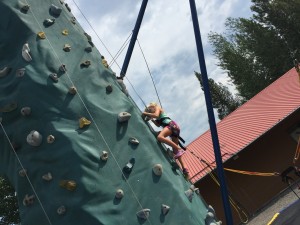 But the excitement of waiting for them was slowly starting to wear off …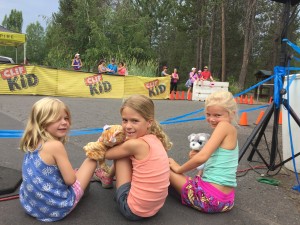 Finally Vans came running into the finish line area, about the time I suspected he would (49-50 minutes). The first words out of his mouth where, "You are freaking crazy! That was SO hard. You are crazy. How did you run 26 miles?!"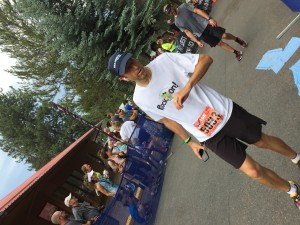 Be-Well-Run came in shortly after that and was joined by her two girls as they crossed the finish line.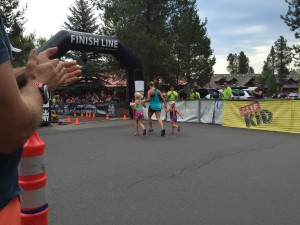 Immediately upon finishing, everyone headed over to the recovery tent and experimented with the compression boots!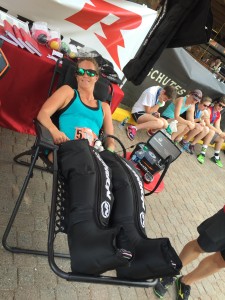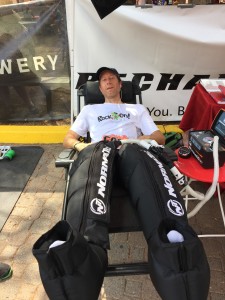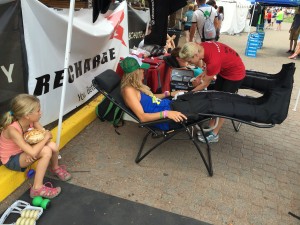 Of course post recovery, everyone had to enjoy their free Deschutes beer in the Bier Garten.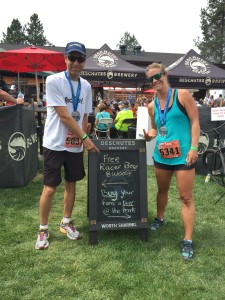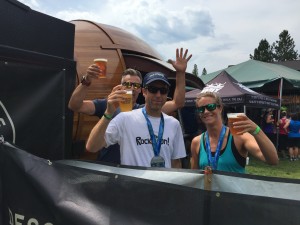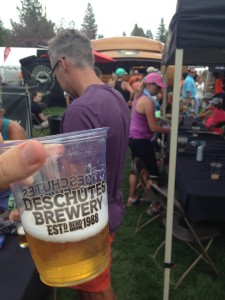 So Saturday and Sunday of our trip was clearly jam packed with all things active and fun. I am going to cut this post off now and leave you in suspense for just one more that will be filled with amazing photos, a cool surprise and the conclusion of our vacation.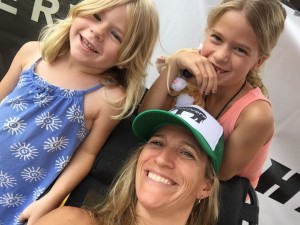 Happy Trails!
~Trailmomma