The last time I did the Western States Training in February was in 2010. You can read about that run here. Four years and another kid later, I found myself driving to Placer High ready to load the little yellow school bus once again.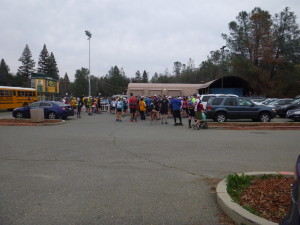 The night started off rough because I woke up and felt Squeaker kicking me in the back. Apparently she came into our bed in the middle of the night and I vaguely remember pulling her in next to me instead of taking her back to her bed like I normally do. I did that probably because I usually end up on her floor which is not comfortable.
My alarm went off and I got up and left the house. I knew I would be getting there early but I wanted a parking space in the lot and I kind of wanted to sit and think and sort of prepare myself for the run. You see, 20 years ago to the day, my mom passed away from a totally unexpected massive heart attack. I was sitting there pondering how odd it was that I am currently only 10 years younger than she was the day she passed, and I was about to run 20 something miles on the 20th anniversary of her passing. My heart filled with love and strength in that moment and I wanted to run this run today for her because her heart was not strong enough to carry her but mine is strong enough to carry us both.
I eventually got out of the nice warm car and ventured over to the check in. I ran into some old running pals that I have not seen in a long time. Then I ran into Coach Nikon and a few of the people I have been running with more recently. It is like one giant reunion when you go to this thing. I kind of felt like I was in high school again, migrating from group to group. When it came time for the course briefing, I found myself near Gold Country Girl.
We talked for a bit and then it was time to load the bus. She told me that the Folsom Lake Trail Runners were supposed to be on bus 4. When I ran this the last time, I think I was on bus one and I recall there was a reason but I couldn't remember what it was and I was having a nice time talking to Boo and Gold Country Girl so I figured why not get on bus 4.
I sat with Gold Country Girl for the hour long bus ride and discovered she tends to get car sick. Great. Luckily she was okay on the ride and we had a nice time talking about kids, running and running shoes. 🙂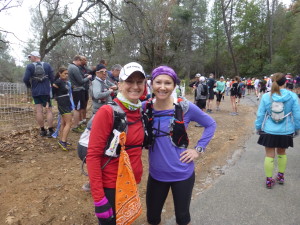 When we got to the drop off spot and unloaded the bus, everyone was gone. Everyone except bus 4. Now I recall why getting on the first bus was ideal. It was okay though. I wanted to make sure that I started out nice and easy so that I wouldn't blow up like I did during the Way Too Cool Training Run a few weeks ago.
Down the rocky road we went just warming ourselves up and waiting for the "free to pee" spot. The first mile or so is down hill and then you start the conga line.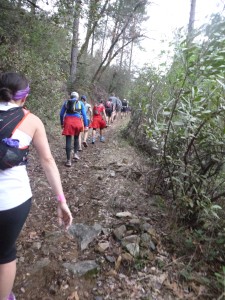 I just sort of stayed back of the pack. Then we all stopped to spread out and pee. It was sort of unnerving while running because we kept hearing gun fire off in the distance. As long as it sounded far enough away, it was okay.
When we stopped to pee we all took off a couple of layers as it was really starting to warm up. The sky was constantly overcast, never did the sun peak through but the temps were definitely warming albeit a little muggy too at times.
I normally change into a tank from long sleeves and today I didn't – most of the time I wish I had but those last 5 miles I was kind of glad I had t-shirt.
I am not quite sure what the mileage was when we came to our first hill. I had moved from the back of the pack to behind Boo. When we arrived at the hill everyone stopped to hike. I hiked for a bit and then I just felt like running. I love hills so I started up and Boo jumped on my heels to follow but I think at some point she gave up. I heard a "Go Trailmomma!" from Boss (who is #173 in this photo)Â … I love hearing that while running. Boss was running with Lily and when I got to the top I heard "there's my hill climber!" from a guy I will call Folsom Prison Roger since that is where I first met him (at a trail race on the Folsom Prison property, NOT the actual prison). However, a side note here is that I really wanted to nickname him Tommy Lee Jones because not only does he resemble him a little bit, he totally SOUNDS like him! It made me smile every time he said something.
Anyway, from that moment on, I tagged on the back of Folsom Prison Roger's group which consisted of another guy and Crazy Helen. We ran that way for quite a while until we came to our very first stream crossing that was quite large in size. The whole group stopped to try and figure out how to navigate around it. When I reached them, I paused to see what they were doing and instead just ran right through the stream. I heard Folsom Prison Roger say in his Tommy Lee Jones voice "Now that is what I am talking about!" and he quickly followed me. It was just the two of us and a few strangers for quite a while on the single track sections.
Folsom Prison Roger kept telling people that I wanted to pass (I didn't) but they'd move over and we'd be in front. Our pace wasn't fast by any stretch, but we were just cruising along chatting the whole way. He was instructed to stop at the wooden bridge for a photo so when we reached that, we parted ways although I told him that I would no doubt see him again.
I was anxious for the aid-station at this point. I knew from 2010 that it was roughly at mile 13 but I couldn't remember if there was a porta potty. Some how I didn't recall there being one but I was hopeful. I had such a sloshy stomach towards the beginning of my run. I have had some tummy issues this past week and I could hear Pigeon in my head telling me to take a salt tab. So I did. It worked, the sloshy stomach passed but it only created another problem, hence my need to find a porta potty sooner rather than later.
When I reached the aid-station, I had to remove both my shoes as I had mountains of pebbles in them and I didn't want to risk getting a blister like I had last weekend. Then I filled my flask bottle (I had one flask filled with water and one filled with coconut water) and was off hiking down the road. I ran into British Neal who is always nice to talk to and hiked with him for a while. Having never really talked in depth with him, we got off onto some rather funny topics, mainly the need to find bathrooms while trail running. Eventually, I had to say goodbye to Neal and instead climbed up an embankment to hike way back into the woods to take care of business. Sorry, but that is what happens when you trail run.
Back on the course, I was in business. I ran into Lily again and eventually caught up to Folsom Prison Roger and his crew. Once again, I tagged on the back of that group.
I was feeling great. I was fueling with my usual Picky Bar broken into pieces, water and some coconut water. My back, which has been quite sore lately was feeling pretty good. My feet, although a little achy, also felt well. I was happy and really felt like we were moving along.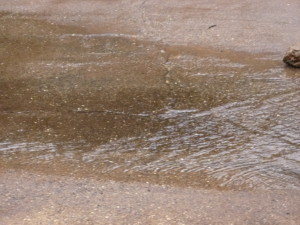 The course through this stretch is absolutely beautiful. The views were also pretty spectacular but unfortunately, I didn't get any photos of those. 🙂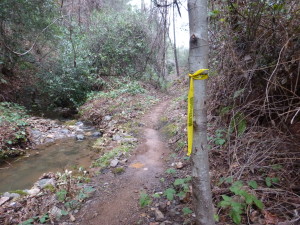 The run just seemed to be flying by compared to how I felt on this same stretch a few weeks ago. Before I knew it, we were at the Highway 49 crossing.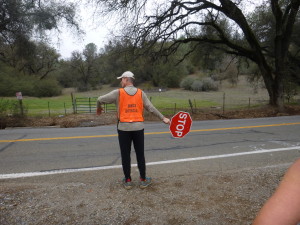 We crossed Highway 49 with Folsom Prison Roger leading the way. Up we climbed towards Cool. All of a sudden, Folsom Prison Roger starts running up the hill. His running person Veronica gave him a hard time about running and I started gunning up and told him I was on his tail.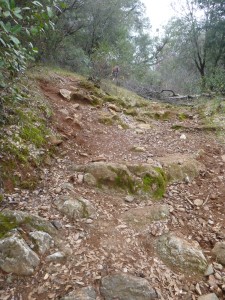 What started out as a joke turned into a cat and mouse chase that was pretty hilarious. Folsom Prison Roger and I were jamming up the hill with Veronica quick on our tail. When we reached the flat section we just kept going and then we hit the down hill section.
Pigeon usually flies down this section and I know a lot of people do. Folsom Prison Roger just took off like a bat out of hell and I tried so hard to keep up. I probably ran down faster then I ever have before. Veronica was behind me and told me she loves this section and I let her pass. I didn't run into them again until the aid-station at No Hand Bridge.
I did however, run into about six horses (all at separate times) and had to pull off to the side to let them pass. Some of those encounters were pretty quick, as in I just crested a hill and there I was face to face with a horse. Luckily running with Pigeon has taught me a lot when it comes to approaching a horse.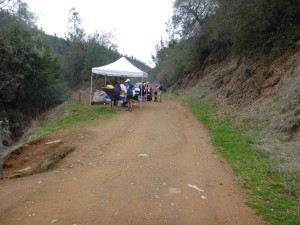 When I reached No Hands Folsom Prison Roger and Veronica were just finishing up and heading out again. I don't really need anything since I carry my own fuel so I quickly filled up my water flask and hopped on their tail again. I was getting to that point where I wanted to be done. I felt okay but the back was slowly beginning to ache and I knew that we were only 3 miles or so to the finish.
So the three of us ran towards Robie Point. The water fall here was really strong and flowing. It was beautiful!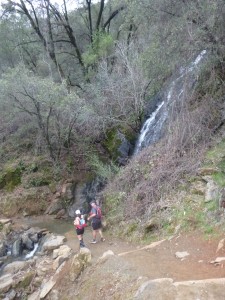 There were lots of people out hiking and taking photos so we decided to stop in the middle of the water fall stream for another photo session too.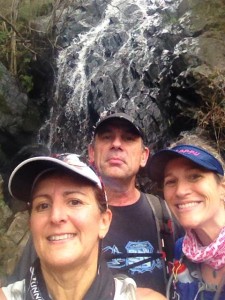 Soon we came to the Robie Point hill. The hike up this hill felt like a million miles long. When I ran this in 2010 I somehow had the strength and power to just run up this hill like it was no big thing. Not today. We did a combination of running and hiking but we eventually made it to the top.
The weather was really starting to change at this point. It was getting windy and it almost looked like the skies would open up and it would start dumping rain on us. It was at this point, that I was happy that I had a t-shirt and not a tank top.
Following the pavement back towards Placer High was rough. Your feet are soaking wet and heavy and the road is really uneven which is painful on already tired joints.
But we rounded the corner and saw the ladies sitting there ready to cut off our arm bands and declare that we had finished!
Immediately I hear "Heeeeeyyyy!" from a nicely bundled Coach Nikon sitting with his crew off to the side. I saw free massages happening so I quickly got in line but that proved to be a waste of time as the dude I had was pretty awful. The Peanut gave me a better massage when I got home.
I had finished. I was cold and wet but so incredibly happy. When I loaded my Garmin info into the computer when I got home I noticed a few things. According to time, I was 30 minutes slower then I was in 2010 but I also seemed to run a mile longer. I also stopped more on this run then I did on the previous one but on the previous one, I did spend time at the aid-stations.
Overall, I would definitely say I felt way better on this run than I did in 2010 which definitely makes me happier.
Today was also great because I ran it for my mom. I truly felt she was with me today running along side of me and enjoying some of the views. We take our health for granted and she is my reminder that I need to be healthy and active if I want to be here for my girls in 10 years.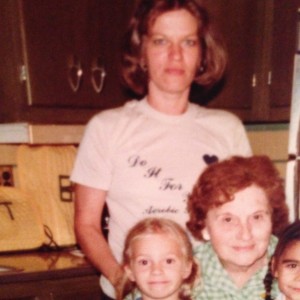 I was almost 6 years old in that photo. My mom was about 36. Ironically, I am now 37 so that means she would be leaving me and this world 11 years from when that photo was taken. In those 11 years her body greatly changed. She didn't exercise and her diet was just the Standard American Diet which didn't help her high blood pressure.
I wish I knew then what I know now about diet and exercise. Maybe that was her role in this life: to be an example so that I would change my future and the future of my family by following through with a healthy lifestyle and exercising. I wish that wasn't the case as I miss her a lot.
But she was with me today for 21 miles just as she is with me every day.
Happy Trails
~Trailmomma